Hi everyone, hope you are all having a nice week. It was good to finally see the wind ease and some sunshine earlier in the week, after enduring more unwanted drenching rainfall on both the Gold and Tweed coasts. Water quality throughout the Broadwater, Jumpinpin Channel and the Tweed River was average during the week, with plenty of dirty freshwater moving out of the swollen rivers into the main waterways. If the rain holds off, fingers crossed the water quality will clean up slowly and we may get back to normal eventually. Let's check out what's been happening this week. Gold Coast Coomera
With constant rain falling last weekend and the rivers getting plenty of freshwater run off, chasing a feed of mud crabs was top of the list when it came to best options to try your luck. Those who braved the rain did well, with some nice feeds of good quality mud crabs taken last weekend and this week. It's always going to be a bit of a gamble choosing the best place to set your pots during and after rain, though the Coomera River has been producing some consistent catches of crabs in both the south and north arms. The best way to find where the better numbers of crabs are on offer is to spread your pots out over a wider area, covering different depths of water and trying upstream and also towards the river mouth. Check them regularly during the first hour or two until you start to find better numbers of keepers, then concentrate your efforts in that particular area. Some other good spots to try are the Pimpama River, Paradise Point, Brown Island, Aldershots, Never Fail Island, Tipplers Passage, Jacobs Well, Cabbage Tree Point and the Logan River. Just be mindful of debris being washed out when navigating these areas. Best bait are fresh whole mullet, raw chicken pieces or fish frames from your last trip. I always recommend using a bait bag to stop all the little vermin and small crabs from stealing your bait before a good-sized mud crab gets a chance to get into your pot. Make sure you are up to date with all the latest rules if you are new to crabbing and keen to give it a go. Gold Coast Coomera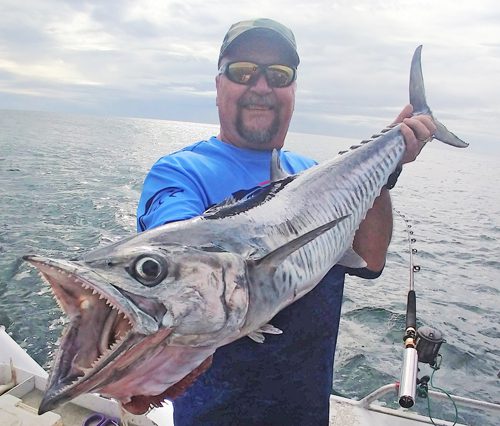 Wednesday this week saw a good little weather window, with light wind and minimal swell finally giving fishos the opportunity to get offshore and chase a feed of fish. The close reefs from 18 to 24-fathom lines should be holding a good mixed bag of fish to target, including spanish mackerel, snapper, jewfish, teraglin, tuskfish, maori cod and moses perch, and even the occasional cobia should start showing up. Getting an early start is always the best option, as we get closer to winter you don't have to get up as early to be out there at sunrise, which is a prime bite time – particularly for snapper. If you are anchoring up, I recommend getting a berley trail going. Don't feed too much, just enough to get the fish's attention and keep them in the strike zone around the boat. When choosing a rig, I prefer to use a basic float line set up with the lightest sinker… current depending. This allows you to drop your bait at a controlled natural speed which will also help you target fish that have moved up the water column in response to the berley trail.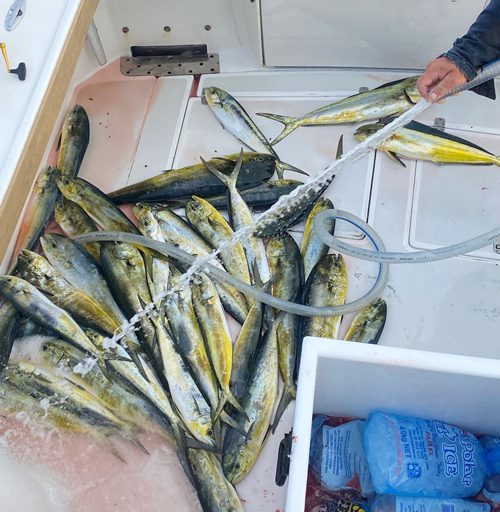 Fishing closer to the open ocean entrances of Jumpinpin Bar and the Gold Coast Seaway will once again be the best bet if you're keen to wet a line over the weekend. Try your luck towards the last couple of hours of a run-in tide when the water quality will be at its best. There is quite a distinctive colour change where the dirtier freshwater meets the clean saltwater in the channels – these areas are well worth fishing because the baitfish are quite often holding along the edges, in turn attracting a wide range of predators such as trevally, jewfish, tailor, squire, bream and flathead, to name a few. Occasionally, it's a lucky dip and you never know what might show up. Fishing live bait will always work well when the water quality is down – herring, sliver biddies, mullet, pike and yabbies should send out vibrations in the water that will switch on any predatory fish in the area. Also, try drifting some brightly coloured soft vibes, mental vibes or soft plastics along the dirty water edge and see if you can temp a bite. Gold Coast Coomera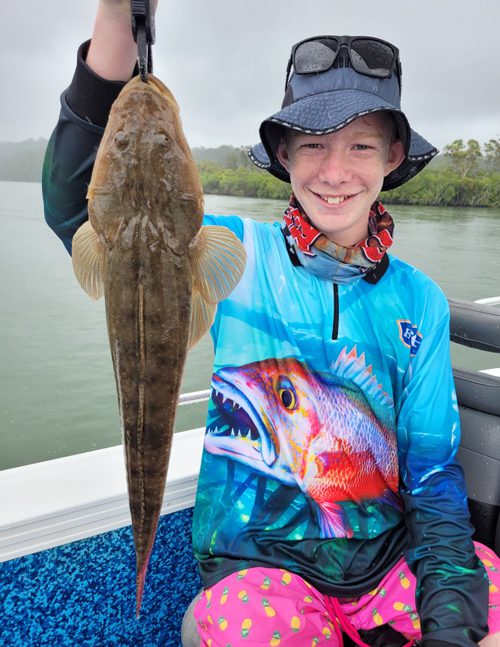 Gavin from Sea Probe Fishing Charters reports… on the 36 and 50-fathom lines there are still plenty of dolphinfish. The fish aggregating devices are bagging out very easily, which has been amazing – yellowtail kingfish, amberjack, pearl perch and snapper bottom fishing on the 50s using jigs, pilchard and livies, and jigs doing the job on kings and amberjack, but also unfortunately there have been plenty of sharks getting around and taking some fish. Snapper are definitely ramping up and once the cooler waters are here, they will be biting even better.Gold Coast Coomera
If you have any great catches or photos you would like to share, please email us and let us know how you went, brett@coomerahouseboats.com.au or brett@fishotackle.com.au
Stay up to date with all fishing regulations in Queensland https://www.daf.qld.gov.au/business-priorities/fisheries
Fisho Tackle and Coomera Houseboat Holidays now have Hire Tinnies follow the link to view https://www.coomerahouseboats.com.au/our-fleet-type/hire-tinnies/
Seabreeze is a great website to access a local forecast http://www.seabreeze.com.au/graphs/
Click here for more Gold Coast fishing reports!!
Good luck with the fishing.
Brett