Hi everyone, hope you are all having a nice week and had a good Labour Day long weekend. It has been a fairly decent week weather-wise, with the Tweed and Gold coasts having a fairly light wind and a few showers so far, giving fishos a good opportunity to hit the water for a fishing session. As we look towards the weekend and Mother's Day, at the time of writing my report it looks as though we'll see yet another southerly change move up the coast, bringing strong wind and an increase in swell and making sheltered waters the best option when getting out and about. Fingers crossed it doesn't hang around too long and we can access the offshore grounds again. Let's check out what's been happening on the fishing scene this week. Gold Coast Coomera
It was good to see some quality flathead being caught over the past few weeks, during May they normally started to show up in better numbers throughout the local rivers, Jumpinpin and the Broadwater, as the water temperature starts to cool down. The majority of fish are around the 40-55cm range, with the occasional 90cm fish caught and released during the Pirtek Fishing Competition two weekends ago. It will be worth looking around the North Bedrooms, Gold Bank, Kalinga Bank, Tiger Mullet Channel, Canaipa Passage, Jacobs Well, Brown Island, Currigee, the Nerang River and Wave Break Island. Trolling hard-body lures such as Zerek Tango Shads can be a great option to find fish. Casting soft plastics around the 3-5" with a 3/8 or 5/8 jig head will be very productive, also working metal or soft vibes in 1/2-3/8oz ounce in deeper water will do the trick. Trace line around 10-14lb depending on lure size is recommended because flathead have a very rough mouth and can rub through your leader even after a small fight. Gold Coast Coomera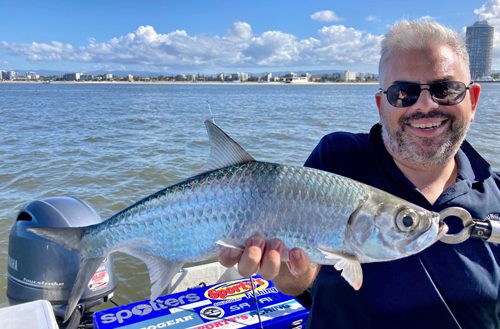 It has been good to see a few nice tailor being caught from the surf gutters along Broadbeach, Main Beach, The Spit and South Stradbroke Island over the past week or so, which is great news as we head closer to our cooler months – prime time to target tailor. Once the wind eases and the swell drops it will be a great time to hit your local surf beach and find a gutter to target. You will also start to see some bigger tailor school up offshore on the local reefs – these schools will tend to move closer to the mainland and into the gutters to feed. Try using a set of three ganged 4/0 hooks with a 20lb mono trace and start with a matched 5-ball sinker or a weight suited to the sweep on the beach you are fishing. Best bait are whole Western Australian pilchard along with bonito and mullet fillet. If the tailor are thick and on the chew you may need to change to a wire trace to stop bite offs, but try mono first as they can be quite tentative at times and your bait will present much more naturally on mono. I have had reports of a few smaller tailor being landed in the main Broadwater and Jumpinpin channels on the last of a run-in tide. Try towing some smaller hard-body lures around and if you see birds diving or some topwater action, try throwing metal slugs for a result. Gold Coast Coomera
Given the weekend forecast, chasing a feed of whiting will be a good option. We are lucky to be able to hide up the rivers and canals out of the wind to target these great fish. I fished the Pirtek Fishing Challenge on April 23 with my daughters and we got some great news –Rebecca managed third place Senior Queensland with a 42.4cm whiting and Jessica managed third place Junior Queensland with a 37.9cm whiting. The fishing was tough as it rained all day and blew 25 knots, but with persistence we managed a good result. Some good spots to hide out of the southerly wind are the Coomera River both south and north arms, the Nerang and Pimpama rivers, Tiger Mullet Channel, the Logan River, Currumbin and Tallebudgera creeks and the Tweed River. Whiting feed best when the water is flowing fast with tidal movement. As the tide eases, you're likely to get by-catch such as bream, tarwhine or catfish. You don't need fancy gear – a basic light estuary combo spooled with 6-9lb mono, a nice long 6lb fluoro carbon trace, 4-ball sinker to keep the bait on the bottom and a size 6 bait-holder hook will do the trick. When it comes to bait, fresh is best. I prefer to use either live bloodworms, beachworms or yabbies.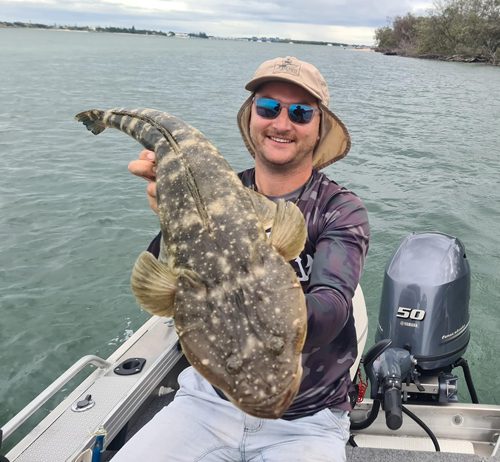 Brad from Brad Smith Fishing Charters reports this was once again a full week of charters, with a few days getting a bit wet from showers. Getting hit by the occasional rain squall did not bother us because the fishing was too good to be phased by the conditions. The fish are now slowly starting to move further up the river as the water quality improves gradually after the flood event. In saying this, keep an eye out while motoring up the river because there are still a lot of logs and debris floating around. The species caught on our lures this week were bream, flathead, whiting, trevally, grunter, tailor and school jew. Gold Coast Coomera
Clint from Brad Smith Fishing Charters reports… in the lead up to new moon, we had some good but inconsistent fishing. Some days the fish were feeding aggressively, other days they were shy. That's fishing though, they can't always be hungry. On the good days, we boated 50 plus fish, slower days around 10-20 – the dominant species once again were sand whiting, winter whiting, flounder, dusky flathead, tailor, tarwhine, squire and bream. Freshly pumped yabbies always catch fish, while the standout lures were Ecogear Marukyu Isome XL Worms in red and brown, Ecogear ZX40 in 440 colour and Samaki Vibelicious Fork Tail 70mm in Cleopatra Tiger colour. The best areas to fish were North Currigee and Runaway Bay. The water is continuing to clear after the floods, and water temperature is sitting around 22-23C. I'll be taking advantage of the bigger tides close to new moon by fishing the mid to upper reaches of the Nerang River. Next week is good for the deeper reef channels of the northern Broadwater in the 5-7m depth range, and the yabby flats on a run-in tide casting and twitching hard-body lures for flathead.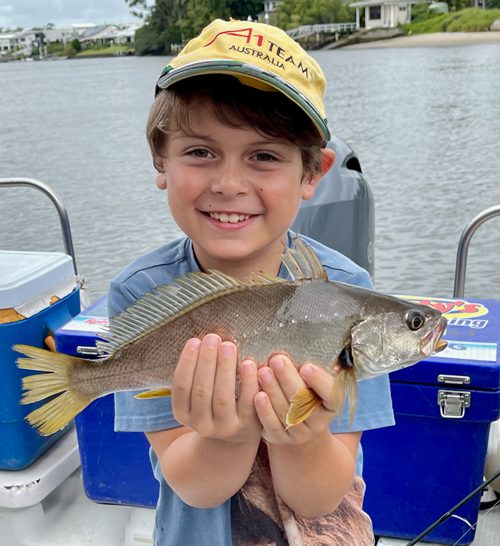 Gavin from Sea Probe Fishing Charters reports that spanish mackerel have been good the past few days in close using live bait, also picking up some tuskfish on the 24s. On the 36 and 50-fathom lines are still plenty of dolphinfish on the fish aggregating devices and yellowtail kingfish, amberjack and snapper bottom fishing.
If you have any great catches or photos you would like to share, please email us and let us know how you went, brett@coomerahouseboats.com.au or brett@fishotackle.com.au
Stay up to date with all fishing regulations in Queensland https://www.daf.qld.gov.au/business-priorities/fisheries
Fisho Tackle and Coomera Houseboat Holidays now have Hire Tinnies follow the link to view https://www.coomerahouseboats.com.au/our-fleet-type/hire-tinnies/
Seabreeze is a great website to access a local forecast http://www.seabreeze.com.au/graphs/
Click here for more Gold Coast Coomera fishing reports!!
Good luck with the fishing.
Brett