Hi everyone, hope you are all having a good week. We've had fairly nice conditions here on the Gold and Tweed coasts as school holidays continue and we head towards the Easter break. A fairly light wind in the morning has allowed fishos to get out and have some fishing fun this week. At the time of writing my report, we will see the southeast wind hanging around with a few scattered showers thrown in. Let's check out a few options if you're keen to get out on the water a catch a fresh feed of seafood for Easter. Gold Coast Coomera fishing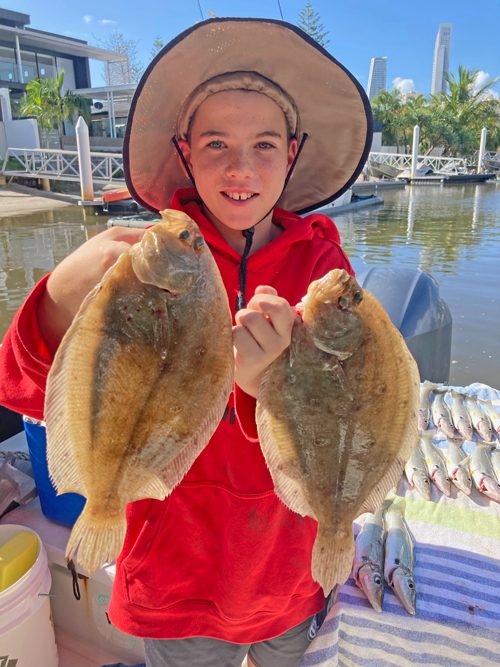 Looking at the expected forecast over the Easter break of stronger southeasterly wind and a rising swell, fishing inshore will be the best option for chasing a fresh feed of seafood for the table over Easter. Local fishos have been scoring some very consistent hauls of mud crabs. Wayne Young recently returned from a very successful houseboat holiday, managing to land a fantastic feed of mud crabs each day he was on the water. Mud crabs are still fairly widespread throughout the Broadwater, Jumpinpin and local rivers and estuaries on the Gold and Tweed coasts at the moment.
Muddies
It will be worth setting a few pots to see if you can score a nice feed too. The Coomera River including the north and south arms, the Pimpama River, Paradise Point, Aldershots, Tipplers Passage, Never Fail Island, Jacobs Well, Tiger Mullet Channel, the Logan River, Currumbin Creek, Tallebudgera Creek and the Tweed River are some good spots to have a go. I would recommend you work your pots and move them around a bit until you can find an area holding better numbers of legal bucks if you're crabbing during daylight hours, also try varying the depths of water you target. If you are going to soak the pots overnight, try setting them as late as possible in the afternoon and checking them as early in the morning as possible to try and eliminate the share farmers taking your hard-earnt catch. When it comes to bait, fresh is best – fish frames, chicken pieces and whole mullet are the better choices. Gold Coast Coomera fishing
Prawns
Prawns have been a bit quiet after the last dumping of rain, however a few lucky fishos managed to score a good feed during the week at Redland Bay. It may be worth having a look early morning before the wind kicks in around the Logan River, Redland Channel, and Russell and MacLeay islands if you're keen to throw the net – it can be very hard work if it is too windy. Gold Coast Coomera fishing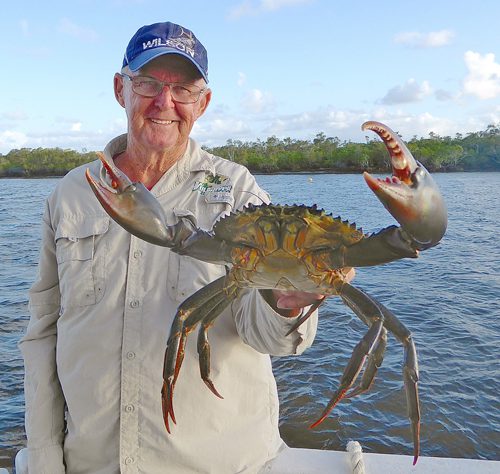 Inshore – chasing a feed of bread-and-butter species will be the go. There have been a few fairly good feeds of whiting being landed this week – they are a fun fish to target and very tasty to eat. Plenty of bream have also been around and some nice-sized flathead are being caught as the water quality improves. Currumbin Creek, Tallebudgera Creek, the Nerang River, Wave Break Island, Green Bank and the Bedrooms have been good spots to score a nice feed of whiting. When targeting whiting, tidal flow is very important. They will bite on both an incoming and run-out tide – as the tide flow eases closer to the change of tide, they will normally go off the bite. Try fishing around a sandbank and have your lines set in different depths of water to locate where the fish are feeding. The best bait have been live bloodworms, beachworms and yabbies.
Flathead have been much more active this week as the water quality improves. There seem to be plenty of bait schools throughout Jumpinpin and the Broadwater, which in turn attracts predators such as flathead – a fish that tends to lay in wait for a feed to swim past. Fishing around the edges and drop-off around Jumpinpin Bar, Kalinga Bank, Bedrooms, Crusoe Island, the entrance to Tiger Mullet Channel, Crab and Wave Break islands, Paradise Point and the Gold Coast Seaway rock walls are worth a go with soft plastics or soft vibes, or drifting bait such as small Western Australia pilchard, white bait and live herring should do the trick. Bream have been around in good numbers again this week, most land-based jetties, bridges and rock walls should be holding numbers of fish. When chasing flathead and whiting, bream will be in the same areas and will eat a good variety of lures or bait put in front of them. Gold Coast Coomera fishing
Brad from Brad Smith Fishing Charters reports…
Once again, due to the consistent amount of dirty water flowing down the Tweed River, I planned my trips on a run-in tide near the entrance of the river. We caught a lot of fish and some good variety trolling Slam and Pontoon 21 Crackjack lures, as well as drift jigging with Ecogear ZX 40 and Samaki Vibelicious. The species caught were bream, flatties, whiting, grunter, moses perch and a few small giant trevally.
Clint from Brad Smith Fishing Charters reports..
What a week! Wow, so many fish out there in the Broadwater. Everywhere we fished, there were bait balls and plenty of fish feeding on them. With smaller neap tides and a light wind, it was the perfect time to fish all the main channel areas between the Seaway and Sovereign Island. It's quite amazing how many sand whiting are widespread out there. They may have been flushed out of the rivers to the beaches by the floods and are now returning through the Broadwater. Run-in tides have still been the go with the water clearing during those phases. Run-outs get too dirty with Hinze Dam still at 103.6 percent capacity last Friday. We took full advantage all week – my clients enjoyed some great fishing and took home delicious fresh feeds.
Yabbies have worked very well for sand whiting, tuskfish and flounder, while Ecogear Marukyu Isome worms tempted winter whiting and flathead, and Samaki Vibelicious 70mm Fork Tail soft vibes in Cleopatra Tiger and Grey Ghost colours caught plenty of flathead and flounder. This coming week is the lead up to the full moon next Sunday, and the fishing gets trickier with bigger tides, but we should still do very well. Especially with light to moderate wind. The lower to mid-sections of the Nerang and Coomera rivers will be worth a look for flathead, whiting, grunter, trevally, tarwhine and bream. Hopefully the water starts to clear enough to fish well through a run-out as well as a run-in tide.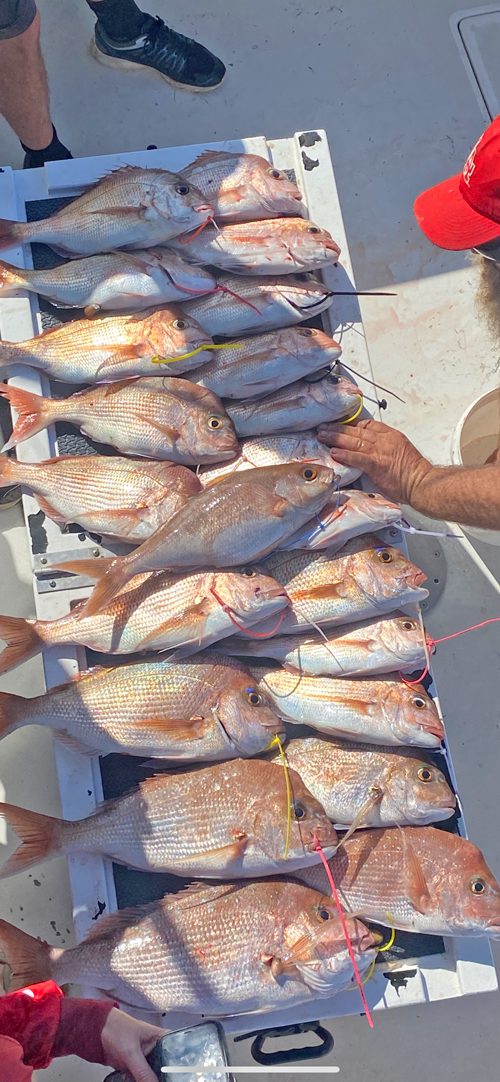 Gavin from Sea Probe Fishing Charters reports..
The 50-fathom line has been fairly consistent for catches of nice snapper, coming aboard using bottom bashers and floaters and also picking up few pearl perch, jobfish and the occasional samson fish and amberjack. Dolphinfish have been mainly on the 50-fathom fish aggregating devices, and though the sizes were small, there are plenty of them and they're a lot of fun to catch and release. Blue marlin has also been out wide on the shelf. Once the wind and swell drop, this will be a great option.
Easter is a very busy time on our local waterways, the boat ramps can also be very challenging. Just remember to take your time, be willing to help out your fellow boaties and enjoy a relaxing and safe Easter holiday.
If you have any great catches or photos you would like to share, email us and let us know how you went – brett@coomerahouseboats.com.au or brett@fishotackle.com.au
Stay up to date with all fishing regulations in Queensland https://www.daf.qld.gov.au/business-priorities/fisheries
Fisho Tackle and Coomera Houseboat Holidays now have Hire Tinnies follow the link to view http://www.coomerahouseboats.com.au/our-fleet-type/hire-tinnies/
Seabreeze is a great website to access a local forecast http://www.seabreeze.com.au/graphs/
Good luck with the fishing.
Brett