Hi everyone, hope you are all having a nice week, it's been a bit warmer this week thanks to some northerly winds pushing through increasing the daytime temperature on the Gold and Tweed Coasts. If you are thinking about heading offshore keep in mind that as of 15/7/2022 snapper and pearl perch are on the no take list in Queensland waters until 15/8/2022.Gold Coast Coomera
As we head into the weekend the weather is looking pretty good with a small swell and some light winds forecast with the chance of a shower on Saturday at the time of writing my report. Let's check out what's been happening on the fishing scene this week.
Good numbers of nice sized quality tailor were on the bite around the Broadwater and Jumpinpin earlier in the week closer to the open ocean entrances, it has been a good winter season so far with some pretty decent sized fish being landed. Tailor are usually most actively schooled up and feeding during the last few hours of the run in tide and the first hour of the run out tide when the water quality is at its best. When searching for tailor you are basically looking for any action like birds in the distance diving onto the water picking up scraps of bait fish left by tailor, they will normally tend to move around and follow current lines where bait fish can be restricted by the change of water temperature basically trapping them and making an easy feed for the predatory fish. If the fish are schooling a bit deeper in the water column keeping an eye on the depth sounder is important, you are best to try trolling some diving lures and get them down into the strike zone to temp the fish. Gold Coast Coomera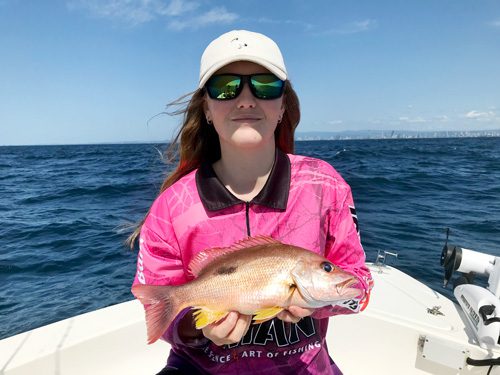 Once you have located a few fish that are hanging around a particular area it will be worth casting some different sized metal slugs and surface lures at them until you find out the size of bait they are feeding on, this is called matching the hatch as predators like tailor can become fixated on the bait fish they are feeding on and not respond to lures that are either too big or small presented to them. If you prefer bait fishing try either WA pilchards whole or cut in half, blue bait or white pilchards either un-weighted or lightly weighted casted or drifted around schools of fish. Some good spots to try are the Gold Coast Seaway Entrance, the Main Channel from the Seaway heading north towards Sovereign Island or south towards Marina Mirage. Aldershots, Jumpinpin Bar Mouth, Kalinga Bank, Crusoe Island, Tiger Mullet Channel and Canaipa Passage.Gold Coast Coomera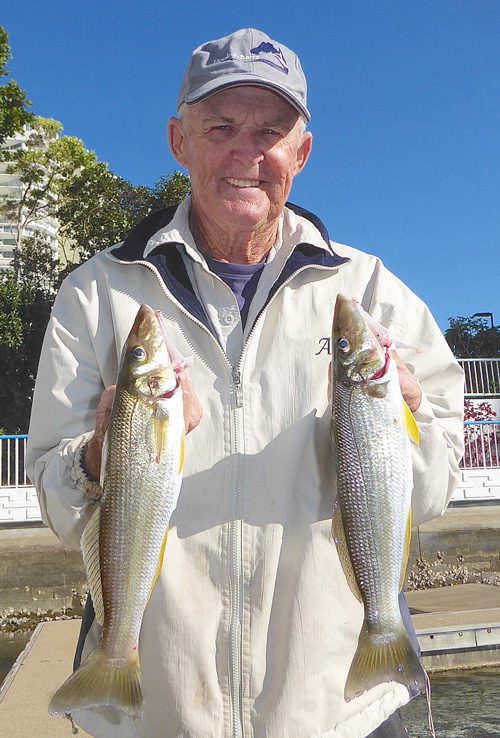 Fishos have been doing well throughout the Broadwater, Jumpinpin and Nerang River this week scoring some quality flathead on a mixture of bait and lures. Some good spots to try in the Broadwater are Wave Break Island, Paradise Point, Brown Island, Aldershots, Coomera River, Never Fails and Tipplers Passage. Around Jumpinpin try Cabbage Tree Point, Jacobs Well, Tiger Mullet Channel, Pandanus Island, Crusoe Island, Cobby Passage and Kalinga Bank. The Coomera River, Pimpama River, Nerang River and Logan River.
Try using a mixture of paddle and curl tails soft plastics in the 3 – 4" sized rigged on either a 1/4 or 3/8 of a once jig heads will cover most application matched with 12lb Flouro Carbon leader to tackle the flatheads abrasive mouth and limited bite-offs on bigger fish. Trolling hard body lures like Zerek Tango Shads, Rapala, Storm, Manns or Tilson lures in the shallower areas has also been working well. If you prefer to use bait try drifting these areas listed above, it's a great way to temp flathead that tend to be lazy and wait for a feed to come to them, WA pilchards, white pilchards, mullet fillet strips, prawns or yabbies are great bait. Flathead are ambush predators so keeping the bait on the move to cover more ground and increase your chances of finding better numbers of fish. It has been a great week so far with good numbers of flathead being landed, the forecast is looking pretty good this weekend for you to get out and have a go.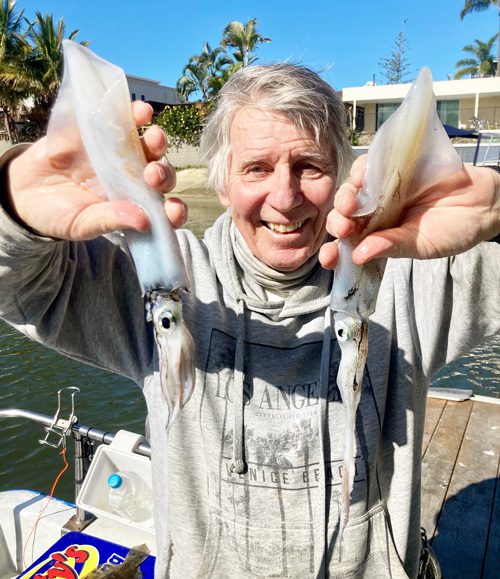 Brad from Brad Smith Fishing Charters reports I decided to move back down to the lower reaches of the Tweed this week as the water upstream was a bit dirty after last week's rain. As expected at this time of the year flatties dominated the catch with some nice quality fish in the mix. Other species caught were bream and a few small chopper tailor which I was a bit surprised with as normally at this time of the year the tailor should be a lot better quality. Provided we don't get any more rain I think the schools of big tailor will move into the river on the lead up to the next full moon.
Clint from Brad Smith Fishing Charters reports that it was good to see flathead numbers increase as the week went on – they are everywhere now. Samaki vibes were catching them, as were the 4 inch Knockin Tail plastics rigged on 1/4 oz 3/0 hook jigheads. Bigger flounder are turning up too, and can be caught on vibes and yabbies. The squid aren't around in big numbers, but they have suddenly appeared in bigger size. The Ecogear Dartmax 2.5 and 3.0 size squid jigs and Samaki vibes have been nailing them. Best areas to fish have been Benowa, Runaway Bay and Southport. The water has been cold and hovering around 16-17 degrees. Just find the bait on the fish finder and you'll find the fish. This coming week has some good-looking weather and favourable tides for the Broadwater to chase tailor and squid in the deeper channels north of the seaway, and flathead over the shallow sand flats. Gold Coast Coomera
If you have any great catches or photos you would like to share, please email us and let us know how you went, brett@coomerahouseboats.com.au or brett@fishotackle.com.au
Stay up to date with all fishing regulations in Queensland https://www.daf.qld.gov.au/business-priorities/fisheries
Fisho Tackle and Coomera Houseboat Holidays now have Hire Tinnies follow the link to view https://www.coomerahouseboats.com.au/our-fleet-type/hire-tinnies/
Seabreeze is a great website to access a local forecast http://www.seabreeze.com.au/graphs/
Good luck with the fishing.
Brett