Hi everyone, hope you have all had a great week. We had more wind and rain around the Gold and Tweed coasts earlier in the week. The good news is the weekend is looking great, with a light wind and a smaller swell finally giving anglers the best opportunity we've had in many weeks to get out on the water and have some fun. Even next week is looking much better with a great forecast to start the week, fingers crossed we see the last of the wind and heavy rain as we move closer to autumn. Let's have a look at a few options worth trying this weekend. Gold Coast Coomera fishing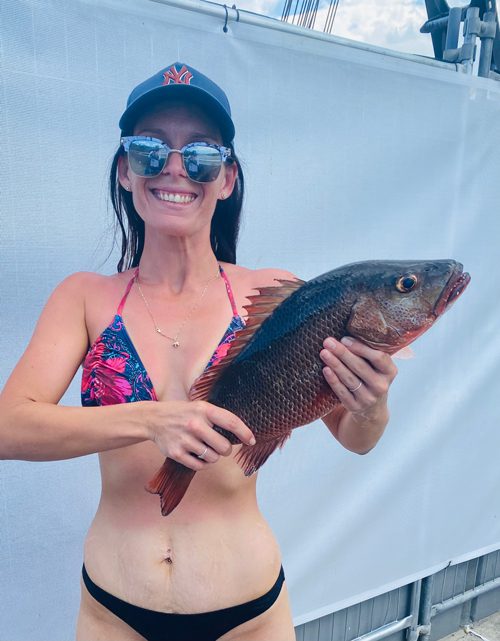 For the majority of anglers, this weekend will be the first time in weeks we've seen a drop in the wind and swell giving you a chance to head out offshore and try your luck. The recent southerly wind should have pushed some warm clean water into the shallow reefs making targeting spotted and spanish mackerel a good option. It will be worth having a look around Mermaid and Palm Beach reefs, the Gravel Patch, the Bait Grounds, and the 18 fathoms and 24 fathoms off Southport. For targeting spanish mackerel, I would recommend getting an early start and trolling a mixture of deep and shallow diving lures, rigged dead bait or slow trolling live bait around the reefs listed above and any bait schools you are able to mark on the sounder in these areas. I recommend rigging a small length of 69lb single-strand wire on the lures and bait to limit your chances of getting bitten off by these toothy critters with a mouth full of razor-sharp teeth. If you are keen to target spotted mackerel again, an early start is best – try to have a good sound around the area you've chosen to target. Once you have located bait and life in the area, anchor up and start a berley trail using small cubes of Western Australian pilchard to attract the predators. I always have a metal slug rigged up on a rod and try to put in plenty of casts to lure the mackerel close to the boat and into the berley trail – this method will also result in plenty of hook-ups on lures. Matching the hatch is very important, a metal slug between around 20-40g will cover the bait they're usually feeding on. The best bait to try are half or whole pilchard rigged on light multi-strand wire and even live yakka will attract the bigger fish to bite. Gold Coast Coomera fishing
Bottom fishing is always worth a go depending on the strength of the current. At this time of year, the 18 and 24-fathom reefs off the Gold Coast should be holding some good-sized snapper, jewfish, teraglin, moses perch, maori cod, tuskfish and the occasional cobia. Out wider, the fish aggregating devices on the 36 and 50-fathom reefs should produce some good catches of dolphinfish, while trolling skirted lures or dropping live bait on bait schools around the deeper reefs should do the job if there are any marlin or wahoo in the area. At the time of writing, the weather was looking good but make sure you have the most up-to-date forecast before heading out on the water. Gold Coast Coomera fishing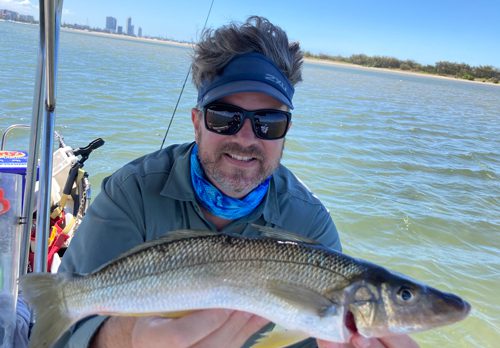 With a good forecast on the way for the weekend, chasing mangrove jack will be a great option around our local rivers, canals and in the Gold Coast Seaway. For the bait fishos, live bait such as herring, silver biddies, mullet, yakka, winter whiting, garfish and pike all make great options. Dead bait such as mullet fillet, butterflied whole poddy mullet, yakka and garfish should get the job done. Some good spots to have a look are the Coomera River Bridge, the old Koala Town site rock bar, the rock walls near Sanctuary Cove in the main river. Then if you work your way down the south arm, try Jabiru Island east towards Paradise Point, Sovereign and Ephraim islands, Paradise Point canals, Runaway Bay canals and the Nerang River. The Gold Coast Seaway has been producing top quality mangrove jack on live bait this summer. Some great-sized estuary cod have also been caught this week and make for a fun by-catch, and are not too bad on the plate if you want to keep one for a feed. You may even encounter the illusive southeast Queensland barramundi if you're lucky, we have seen a few nice barra caught and released the last couple of weeks.
Brad from Brad Smith Fishing Charters reports it's been a windy week with only a couple of settled-weather days in the middle. Trolling my favourite Pontoon 21 CrackJack 48mm lure has produced some nice flathead on run-in tides over the shallow flats at the Tweed River. These amazing little lures will catch most species in estuaries including flathead, bream, whiting and trevally. This week's lead up to a full moon and dropping wind will see some great catches in the rivers.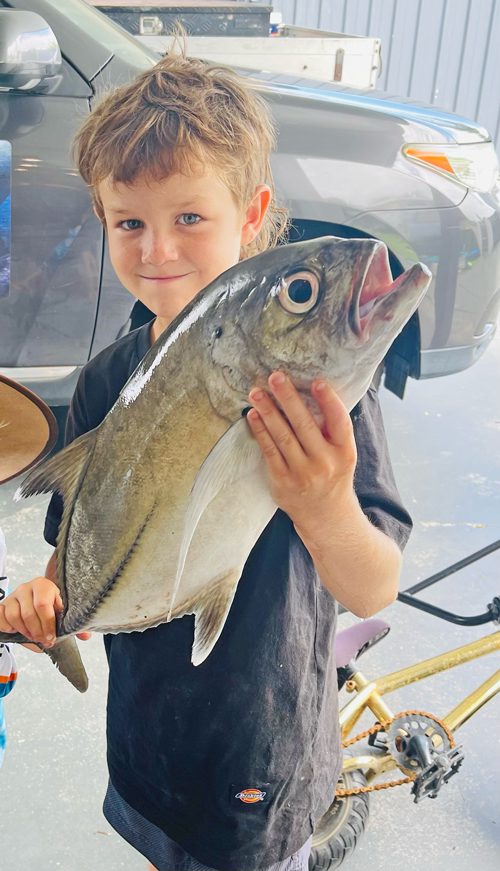 Clint from Brad Smith Fishing Charters reports that after some very windy days, it was such a pleasure to see beautiful weather on Thursday and Friday. On Wednesday, we fished the deeper main channel in the Broadwater, slightly north of the Seaway. Despite the small tides and low almanac, the fish were hungry on the run-in tide, with plenty of flathead, whiting, tuskfish, slatey bream, squire, flounder, tarwhine and grass emperor falling for Ecogear Marukyu Isome worms, Magbite Snatchbite Shrimps and Samaki Vibelicious lures. It's quite amazing how well the Ecogear worms work in the Broadwater. They smell of blueberries and don't dry out like other similar products. I went whiting wading with Andrew and Richard. After a slow start we recovered well and found a good feeding patch on a run-in tide. Richard did well to catch his best-ever whiting of 41cm.
Gavin from Sea Probe Fishing Charters reported plenty of snapper were on the 50-fathom grounds last week when the current was down, with a couple of dolphinfish still hanging around the fish aggregating devices occasionally – though hard to get them to bite around the FADs. A few marlin have been hanging around Spot X, along that line and working the bait schools also – a few mackerel should be around on the close reefs.
If you have any great catches or photos you would like to share, email us and let us know how you went – brett@coomerahouseboats.com.au or brett@fishotackle.com.au
Stay up to date with all fishing regulations in Queensland https://www.daf.qld.gov.au/business-priorities/fisheries
Fisho Tackle and Coomera Houseboat Holidays now have Hire Tinnies follow the link to view http://www.coomerahouseboats.com.au/our-fleet-type/hire-tinnies/
Seabreeze is a great website to access a local forecast http://www.seabreeze.com.au/graphs/
Good luck with the fishing.
Brett