Surfs up – As we continue to see big easterly swell hitting the bar with southeasterly wind, the surfers sure are happy! Sunshine Coast Noosa
For those heading offshore, the windows have been very narrow with wind tending to puff up early. A few boats made the run-out, but reports were limited. For those itching to get out, the reef species will be out and about with some huge sweetlip and coral trout taken from Sunshine. With sharks ever present, you may need to step up your gear to give you the grunt to wind hard and fast. With hundreds of rods and reels to pick from, now is a great time to gear up. Spanish mackerel will be out there with floated pilchard a great way to pick up a few. They love a solid berley trail and will often follow it right to the back of the boat. Be sure to grab some pellets and tuna oil as well as some metal slugs for casting at the Spaniards and the tuna because they are waiting for you! Sunshine Coast Noosa
Surf fishing has seen consistent catches of whiting and dart along the coastline for those armed with medium light surf rods. For those with long cast reels and heavier rods, small snapper and sweetlip are in range around the many rocky areas that litter the coast south of Noosa. Simple single hook paternoster rigs are best for distance casting, as is a grapnel sinker to hold your bait still in the swell. Sunshine Coast Noosa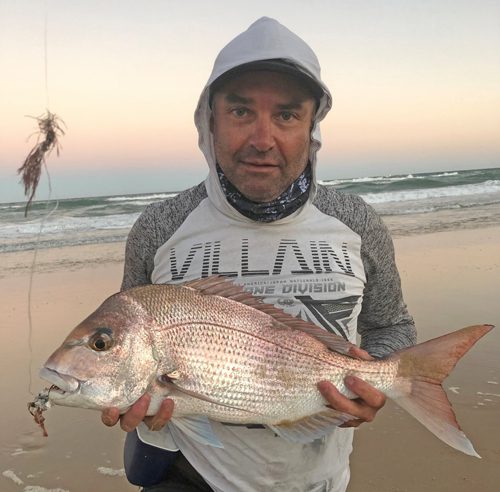 The river is seeing a few great captures of late. Flathead and mangrove jack are now dominating the species list, with whiting, bream and golden trevally making up the rest. With a lack of heavy rainfall, things are starting to clear up and as such you can start thinking about different lure options. The new Chasebaits Armour Prawns are in stock and should be a firm favourite for anglers after big flathead and mangrove jack. They have a jointed tail and a hard-body – ensuring they'll last you many extra-large fish. These can be worked around the dog beach snags – though be sure you are fishing heavy because the big fish are going to smash this. Also new in are the soft plastics from MMD which should go well for anglers in both the estuary and the fresh on bigger species. The new Fat Skipper when loaded with scent and slow rolled along the bottom is going to be a great lure for jack and flathead too. No matter where you fish, the neap tides this week should see more of an open bite window, giving you more time to find the fish. If you need to know what's biting and where, be sure you pop in.
Freshwater has seen some very fat bass taken from the surface and even a few yellowbelly from Lake MacDonald. Both fish will hit a slow-trolled lure and even a spinnerbait. If casting is your thing, you can try the small Snoop Dog lures from Fish Craft, especially if fishing light. For working the deep schools of fish, the trusty Keitech 3" Easy Shiner on light gauge jig heads slow rolled through the schools of fish is always a great fallback option.
Now for all the latest information, log onto www.fishingnoosa.com.au for up-to-date bar and fishing reports, and don't forget to drop into Tackle World Noosa, Noosa Boating and Outdoors and Northshore Bait & Tackle in Marcoola for all the right equipment, bait and advice to get you catching.
Be sure to follow us on Facebook and remember tight lines and bent spines!