Hi everyone, hope you are all having a nice week. It was fantastic to have much nicer weather on the Gold and Tweed coasts after the strong wind, big swell and rain battered us late last week. We have been lucky enough to see a return to sunshine and much lighter wind, making conditions a lot more pleasant for everyone to get on the water and have some fun. Remember, if you're thinking about heading offshore once the swell eases, keep in mind that as of July 15, snapper and pearl perch are on the no-take list in Queensland – see www.daf.qld.gov.au/business-priorities/fisheries/recreational/recreational-fishing-rules/closed-seasons-waters/tidal-waters for more information. Let's have a look at a few options for the weekend ahead. Gold Coast Coomera
Given the recent weather conditions, chasing flathead has been a great option for fishos keen to get out on the water during the past week. The cooler water temperature combined with plenty of bait in the system has seen some great flathead fishing on offer throughout our local waterways, which is great news. Good numbers of fish are on offer if you can find a good area to target – some fishos have been landing 40 plus fish in a session, with a mixture of sizes from small up to 80cm plus crocs. If you are lucky enough to manage to catch and release a large flathead, this will be a big breeding female fish. These larger fish will tend to attract good numbers of smaller male fish, usually around the 40-55cm size range, which are great fun to catch and also a good size to keep for a feed if you're chasing a meal of fresh fish. If you are finding good numbers of smaller fish, this in turn means you're in with a good chance of landing that prized trophy monster flathead for a photo before releasing it back to the water. Gold Coast Coomera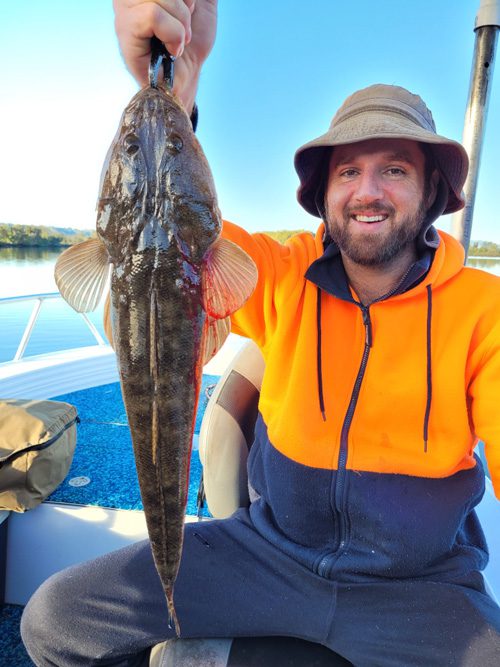 When organising a trip it pays to work around the tides and come up with a plan that will give you the best chance of finding fish. A run-out tide will give you the best chance of finding fish. As the tide goes out and the sandbanks start to show, this gives you a much smaller area to target and find where fish are concentrated. When fishing the rising tide, you may have to search around a lot more because the fish have a lot more area to hide in and will make their way into very shallow areas around islands and sandbanks, as well sit in deeper holes in search of baitfish swimming past.Gold Coast Coomera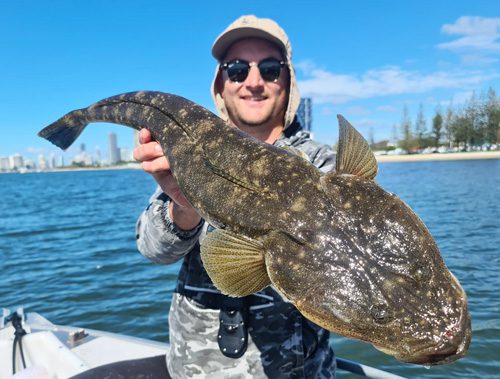 It pays to have a few different options when it comes to tackle onboard. Trolling hard-body lures works well and is a great way to cover larger areas when searching for fish in water depths of up to 2m. Once you locate numbers of fish, throwing soft plastics around 3-4" in size of either 1/4 or 3/8oz jig heads or smaller soft vibe lures are a great way to target an area by fanning out your casts and hitting as much of an area as possible. When it comes to deep water, it's a similar approach but you will be using slightly heavier gear and upping the size of your plastics to 5-7"and jig heads accordingly – anywhere up to 1-1.5oz, depending on current. Also, big soft vibes tea bagged in deep water are irritable to a hungry flathead. Keep in mind when trolling or casting that flathead will normally sit head on into the current and lay in wait for a baitfish or prawn to swim past for an easy feed, so trolling or casting with the flow of water is important. If flathead have to turn and chase a lure, they will quite often miss the lure, usually resulting in not hooking up and a scuffed trace line though no fish. Gold Coast Coomera
Drifting bait is another great way to target fish if you're not into lures. White pilchard, prawns, blue bait, mullet fillet and yabbies all make good bait. It's a matter of casting out the rods, drifting with the tide and waiting for a flathead to pounce on your bait. Flathead tend to have a very rough mouth – much like a file – and will tend to rub through your trace fairly quickly, depending on how they are hooked. I would recommend using a trace between 12-20lb, depending on the lure, or bait sized to match similar sized tackle. Some good areas to look for fish are the Tweed River, Tallebudgera Creek, the Nerang River, Wave Break Island, Crab Island and the middle banks north to Sovereign Island, the Coomera River, Aldershots, Tipplers Passage, Dux, Bedrooms, Kalinga Bank, Crusoe Island, Tiger Mullet Channel, Cabbage Tree Point, the Logan River and Russell Island.
Reports of decent numbers of bream and some quality whiting being landed is good news for anyone chasing a feed of these great bread and butter species. The better-quality bream have been mainly landed at night – they seem to feed well on extra cool nights, making it worth the effort. Some good-sized whiting have been caught mostly during daylight, making them a good option because winter days can be quite pleasant. If you're targeting bream, try your luck along the rock walls in the Tweed and Nerang rivers, Gold Coast Seaway rock walls, Lands End, Paradise Point, the Coomera River, Jacobs Well, Kalinga Bank, Short Island and the Logan River. Try to fish around structure in these areas, and the best bait are mullet gut, mullet fillet, bonito fillet, prawns or squid. Some nice whiting have been landed in the Nerang River, Wave Break Island, Crab Island, the Coomera and Pimpama rivers, Jacobs Well, Bedrooms and Tiger Mullet Channel. The best bait for whiting are bloodworms, beachworms and yabbies.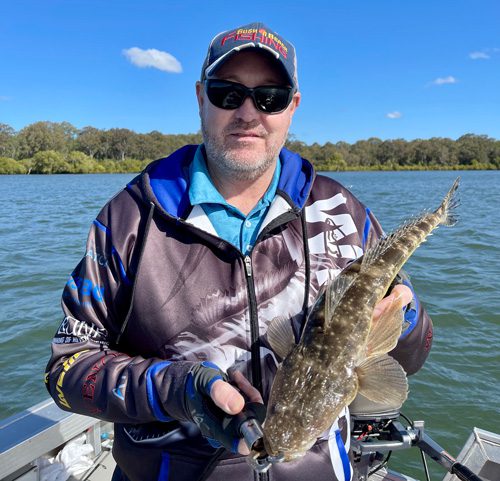 Brad from Brad Smith Fishing Charters reports… I was lucky to be on the water this week and see the sunshine after all the wind and rain the previous week. We found some nice fish including small school jewfish and bream, the highlight being a heap of flathead with a lot of great quality sized flatties in the mix. Drifting and deep-water jigging with Ecogear ZX 40s and Samaki Vibelicious did the damage and produced the best results.
Clint from Brad Smith Fishing Charters reports… I mixed it up with some sand flats wading using yabbies and hard-bodies, Broadwater channel drifting with vibes for a variety of fish and some squid and chasing bream in the Nerang River. You can watch the action on my YouTube channel 'Gold Coast River Charters'. Fortunately, the weather looks much better after all the wind and rain we received last week. There should be a few squid, tailor and a variety of fish in the Broadwater on offer. Gold Coast Coomera
If you have any great catches or photos you would like to share, please email us and let us know how you went, brett@coomerahouseboats.com.au or brett@fishotackle.com.au
Stay up to date with all fishing regulations in Queensland https://www.daf.qld.gov.au/business-priorities/fisheries
Fisho Tackle and Coomera Houseboat Holidays now have Hire Tinnies follow the link to view https://www.coomerahouseboats.com.au/our-fleet-type/hire-tinnies/
Seabreeze is a great website to access a local forecast http://www.seabreeze.com.au/graphs/
Good luck with the fishing.
Brett