The big wet – As forecast, the rains certainly hit us hard along the coast mid-week and Friday. This saw some localised flooding and yet more rain flooding the Noosa River. The swells were as predicted, and First Point had consistent 1m of swell reeling off down the point. The good news is the Noosa River channel will see yet more sand removed and as such should be easy to navigate through at all tides. Noosa fishing
Offshore loves nothing more than a good stir up and once the sea settles, you can expect the fishing to be nothing short of excellent! Once the sea calms down, anticipate finding sizable sweetlip and snapper – though snapper must be returned, as the closure kicked in on July 15. This makes owning a release weight – which we have in store – important. This aids fish that struggle to swim back down, so they can be returned to the bottom to equalise.
With all the local reefs getting a good stir up, it will be a case of pick your spot and have a good drift around. Lure anglers will find that almost anything will work, but prawn-style lures will perform very well. The Berkley Shimma Shrimp in 120mm size fished in sub-20m will certainly get smashed by a big reef fish. Soft plastics will also work well, with pearl options such as Squidgie Prawn standing out in dirty water. Bait anglers will do well dropping to single hook rigs or snell rigs on 30lb Shimano Ocea leader. Keeping leaders relatively light ensures you get the bite. Out wide around North Reef and around 50-60m depth, you can try searching for big schools of bait over rubble. This is a great spot to find jewfish and they too love prawn-profile soft plastics and jigs.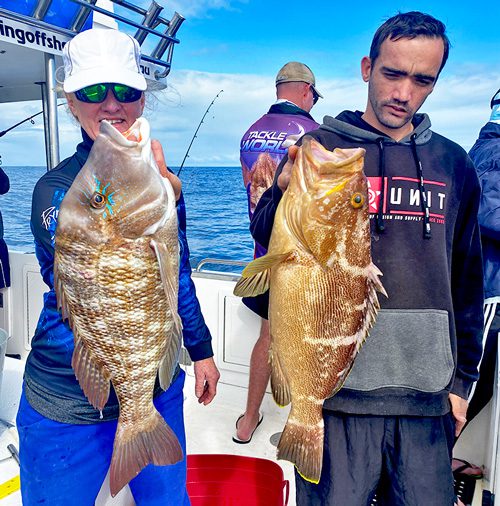 From the surf, chopper tailor have been consistent around the mouth and points. With the increase in swell, always make sure you keep your eye on the swell and always fish in pairs. Next week we are expecting to see the swell drop and open up surf fishing again. With the new moon coming, those who are looking to target jewies should start getting gear ready. Long mono leaders and 8-strand casting braid is the order of the day for beach anglers, so be sure to come in and check out our ranges.
With the river running dirty, you are best to fish around a high tide and the river mouth. This is where the biggest concentration of saltwater will be found and as such, fish will be holding here. Flathead, trevally and bream will be the main species, so be sure you fish the trees of the dog beach, the rocks of the mouth and the drop-offs around the sand bags. These areas are all great locations for bait and lure angling. Bait anglers will find larger oily bait will do well, with mullet, herring and squid working well. Lure anglers should use paddle tail plastics and soft vibes. With the dirty water, fish will be using their lateral line to detect vibration and oily bait will draw them in. Don't be afraid to use pellet berley when land based. A consistent small trail of pellets will bring the fish in, making for a great session. Why not make it extra special with some tuna oil and a bit of sand to bind it all together? Noosa fishing
Now, for all the latest information log onto www.fishingnoosa.com.au for up-to-date bar and fishing reports, don't forget to drop into Tackle World Noosa, Noosa Boating and Outdoors and Northshore Bait & Tackle in Marcoola for all the right equipment, bait and advice to get you catching. Be sure to follow us on Facebook and remember, tight lines and bent spines!