Hi everyone, hope you are all having a nice week, June has certainly produced some of the best weather we have seen all year and the good news is at the time of writing my report the weekend was looking great for both inshore and offshore fishing off the Gold and Tweed Coasts. I always recommend having the most up to date forecast before planning to go fishing. With some lighter westerly winds on the way it may be a cold start to the day but will be well worth the effort. Let's check out what's been biting and have a look at some option this weekend. Gold Coast Coomera
At the time of writing the weather was looking great for heading offshore and chasing a feed of reef fish this weekend. The fishing has been consistently good the past week with some nice catches coming in on a regular basis since the run of good weather has finally blessed the Gold and Tweed coast. In close the 18 to 24 fathoms reefs have been fishing well with some pretty big snapper being landed, along with big jewfish, cobia, tuskfish, trag jew, moses perch, maori cod, tailor, bonito, the odd Spanish mackerel and mac tuna also showing up.
It pays to get an early start when targeting the shallower reefs with the dawn bite producing the best quality snapper, once the sun comes you may find yourself having to move around a bit to locate fish actively feeding. In saying that, quality fish can be landed at any time during the day if you are in the right area. Before choosing a spot, it is always important to take the time to sound around a mark, carefully looking to locate signs of life such as bait or schools of fish to drop on. Once you have located an area you can fish it a couple of different ways; drifting is popular, particularly with larger boats. This allows you to cover ground and you can mark where you catch fish to concentrate your efforts on.
My preferred and most effective method is to anchor up on the show and start a consistent burly trail. Float line your baits more naturally down with the current. This is a very effective way to fish and will tend to draw fish in that get a sniff of the burley trail. Quite often a lot of the snapper we land spit out a mouthful of burly onto the deck. That is a fair indication the burly is doing its job.
For those keen to head a bit wider the 36 and 50 fathom grounds have been also fishing well for snapper along with the tasty pear perch, tuskfish, cobia, yellow tail kingfish, samson fish and amberjack. The dusk bite has also produced some great quality fish if you are keen for a nighttime run. Best baits are WA pilchards, whole large squid, bonito fillet, mullet fillet, mac tuna fillet, butterflied yakkas and to get your arms stretched live yakkas. Just make sure you have the most up to date weather forecast before heading out. Gold Coast Coomera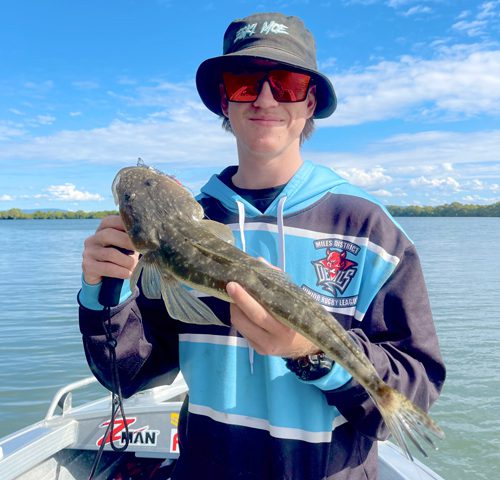 With the swell tipped to ease, a beach fishing session will be well worth a go with plenty of top-quality tailor on offer on our surf beaches from Tweed Heads to Stradbroke Island this week. The tides are looking great with either an early morning or late afternoon high tide combing the best time of day to fish with the high tide seeing predators moving into the beach gutter to feed. As well as tailor there will also be good numbers of dart, bream, tarwhine, flathead, whiting and even the chance to land a prized land-based jewfish. Finding the ideal gutter is important as your fishing window is often small. If possible, try and scout the area you are looking to fish at low tide. This should give you the best indication where the gutters worth targeting are located. At low tide you are basically looking for a deeper section of water close to shore with a sand bank directly behind it and an entry point at one end and exit point at the other. Gold Coast Coomera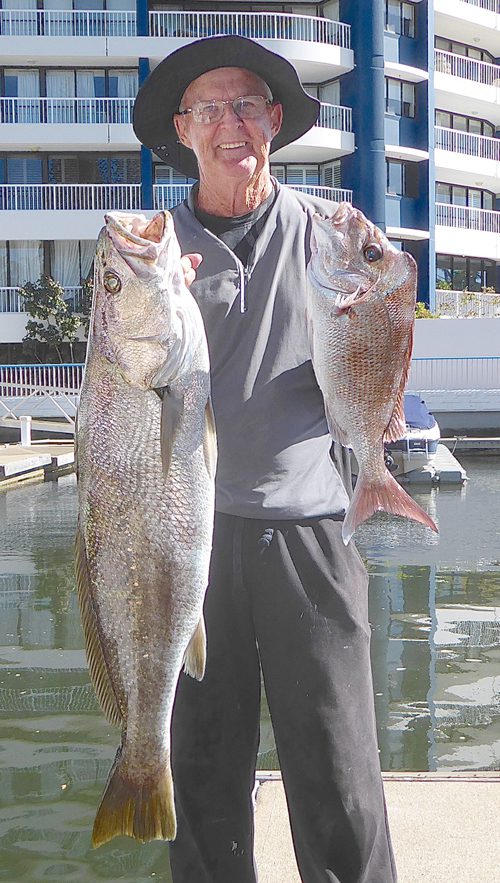 As the tide rises bait fish will move into the gutters seeking shelter and the predators will then move into the same area looking for a feed. This enables you to chase the fish pretty much close to shore in a more confined area. Birds working an area is a great sign of bait fish and normally predators like tailor will be either close by or actively feeding at the time. When bait fishing selecting the best weighted sinker to suit the sweep in the gutter is important. If you go to light your bait will just wash up on the beach. A traditional 3 gang of 3/0 or 4/0 hooks run on a mono or wire trace is a standard tailor rig. This will also work for jewfish and flathead. For other species like dart, bream, tarwhine and whiting just use a running sinker rig with a bait holder style of hook. Best baits are WA pilchards, mullet fillet, bonito fillet, beach worms, pippies and even yabbies. Gold Coast Coomera
Flathead have been active this week throughout the Broadwater, Jumpinpin and the local rivers with good numbers of school-sized fish and a few bigger models hitting soft plastics, soft vibes and trolled hard body lures. Try looking around Wave Break Island, Crab Island, Brown Island, Coomera River, Pimpama River, Aldershots, Jacobs Well, Cabbage Tree Point, Bedrooms, Kalinga Bank, Crusoe Island, Tiger Mullet Channel and the Logan River.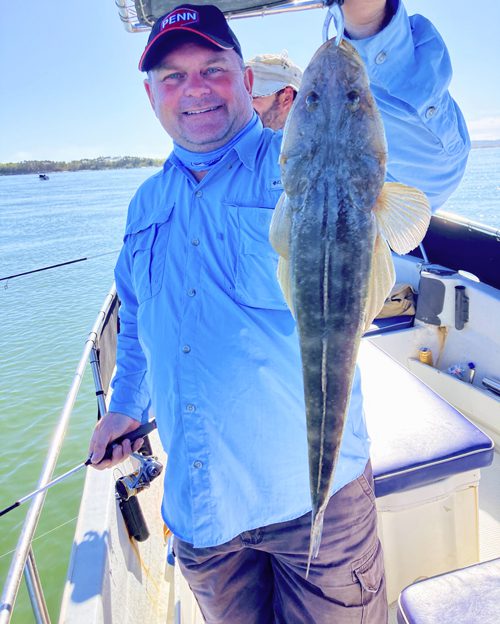 Brad from Brad Smith Fishing Charters reports how unbelievable is this long run of perfect weather and some of the best fishing conditions for this year. Once again, we caught a heap of fish with our lures not lasting too long in the water without being crunched. Big numbers of quality flathead dominated our catch rate with a combination of trolling Pontoon 21 and Slam lures as well as jigging with Ecogear zx 40 and Samaki vibes. Other species caught on our lures this week were mangrove jacks, small school jew, whiting and of course the ever-reliable bream.
Clint from Brad Smith Fishing Charters reports a busy week. The fishing has steadily improved and the water has mostly cleared since the big tides came through around full moon. Species caught include flathead, winter whiting, tarpon, tuna, tailor, bonito, flounder, moses perch, a few squid, queenfish, and more. Mainly lure fishing this week and the Samaki vibes in whitebait colour have been getting smashed, as are the Samaki spinning lures. It has been great to see good numbers of flathead turning up through the Broadwater. There are a lot of small ones but also some good quality. Run-out tide is fishing better for the bottom fish, and run in for the surface pelagics.
Gavin from Sea Probe Fishing Charters reports that the 50 fathom grounds have been very quiet and also the dolphin fish have moved on but 36s have been good with a mixed bag of snapper, tuskfish, pearl perch, yellow tail kingfish, trag jew and moses perch. Gold Coast Coomera
If you have any great catches or photos you would like to share, please email us and let us know how you went, brett@coomerahouseboats.com.au or brett@fishotackle.com.au
Stay up to date with all fishing regulations in Queensland https://www.daf.qld.gov.au/business-priorities/fisheries
Fisho Tackle and Coomera Houseboat Holidays now have Hire Tinnies follow the link to view https://www.coomerahouseboats.com.au/our-fleet-type/hire-tinnies/
Seabreeze is a great website to access a local forecast http://www.seabreeze.com.au/graphs/
Good luck with the fishing.
Brett