Hi everyone, hope you are all having a nice week. It was great to finally see some sunshine for more than one day in a row on the Tweed and Gold coasts, which was more than we've had all year. The strong northwesterly wind hammered the coast earlier in the week – making fishing conditions very hard – bringing with it some cool weather to kick off winter. At the time of writing my report, the weekend was looking good and Sunday the pick of the days, with a lighter wind for heading out on the water in search of a feed. Let's check what's been happening this week and a few good options for this weekend.
With winter here and a good forecast for the weekend, it's time to head offshore in search of a feed of snapper. Reports from during the week – once the wind eased – were very promising, with local fishos doing well on the close reefs float lining the 18 and 24-fathom grounds off the Gold Coast, with plenty of good-sized fish hitting the deck. With fewer than normal boats being able to fish over the past few months, it has given fish a chance to move around the closer reefs without the pressure they would normally face – this is good news for fishos keen to get out and score a feed. As always, the earlier the start the better when targeting snapper on the shallower reef systems off the coast. Best to get out there before sunrise, have a sound around until you can find a show off fish or bait to anchor up on and get a berley trail going to lure the fish in around your boat. Float lining is the preferred method for targeting better quality fish because as the fish get bigger, they also get smarter, which means you need to present the most natural-looking as possible bait to them. Float lining is basically using a running sinker the correct size to suit the current that sits directly above your hook. This method allows control over the speed you drop your bait down, trying to make it look as natural as possible, which in turn entices snapper to swim up your berley trail and hit your bait in the way down. Gold Coast Coomera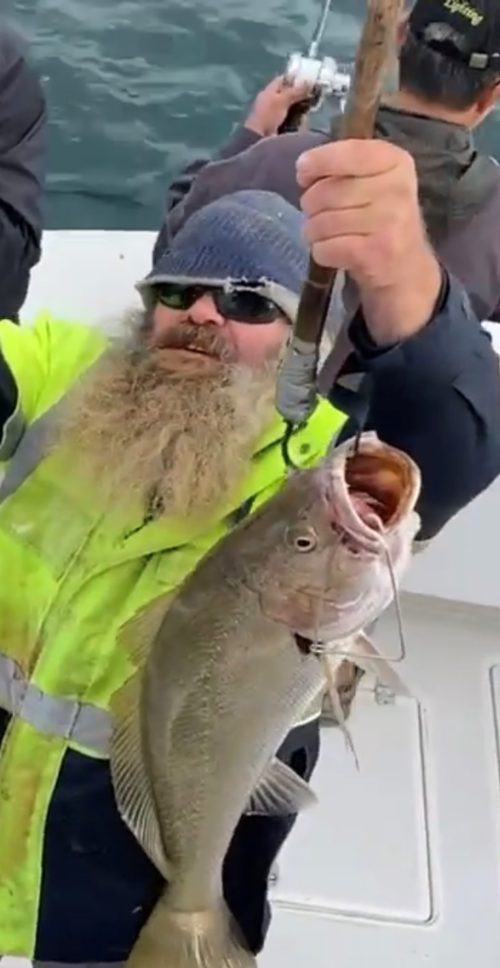 When using the traditional paternoster rig with a big sinker on the bottom, this style of rig flies past the fish at speed and will most of the time only attract smaller fish sitting hard on the bottom of the reef. This rig is recommended for fishing in much deeper water, where the fish tend to haunt closer to the bottom on the reefs. When fishing closer reefs, you should also have a chance at a good range of other species such as tuskfish, moses perch, spangled emperor, teraglin, silver jewfish, maori cod, cobia and tailor. Out on the 36 and 50-fathom grounds there have still been a few dolphinfish on the fish aggregating devices, while the reefs are producing good catches of snapper, tuskfish, pearl perch, samson, amberjack and yellowtail kingfish. Best bait are Western Australian pilchard, whole squid, mullet fillet, bonito fillet and yakka – live or butterflied. Gold Coast Coomera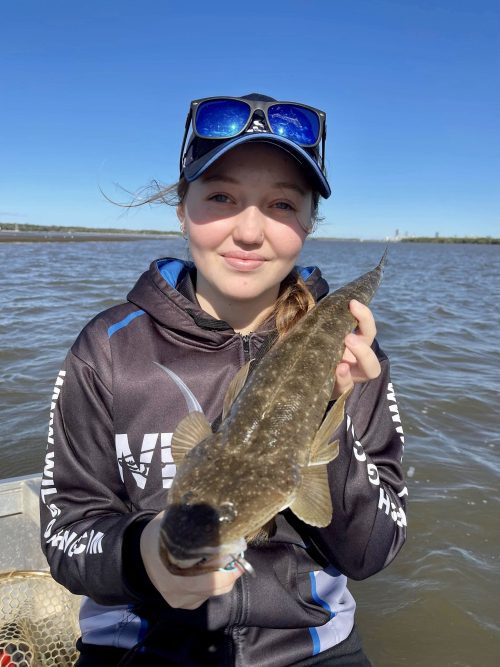 The early winter westerly wind signals that it's a good time to hit the surf beaches – swell permitting – and chase a feed of tailor, dart, bream, tarwhine, whiting, flathead or even a jewfish if you get lucky, depending on which species is your favourite to target. There should be some good beach gutters scattered along the coastline from the Tweed River to South Stradbroke Island, giving fishos some good areas to wet a line. When targeting a feed of tailor, dawn and dusk bite times are best. If you can coincide this with an incoming tide, you should be in with a good chance because fish tend to move into the gutters following bait schools in closer to shore, putting them pretty much at your feet to easily cast at. Most anglers will prefer to use a traditional three-hook gang rig on either a wire or mono trace, a running ball sinker to suit the sweep and a whole Western Australian pilchard or a strip of bonito or mullet fillet as bait. Another productive method that will allow you to cover more ground until you can locate the target species, is to cast and retrieve metal slugs and surface lures. This is a very effective way to fish and quite rewarding to see the fish hit a lure. Live beachworms make great bait and work very well when targeting whiting, dart, bream and tarwhine in the surf. You can purchase live worms from selected tackle shops or even have a go at catching your own, it's great fun and very rewarding and if you have kids, they will think it's great.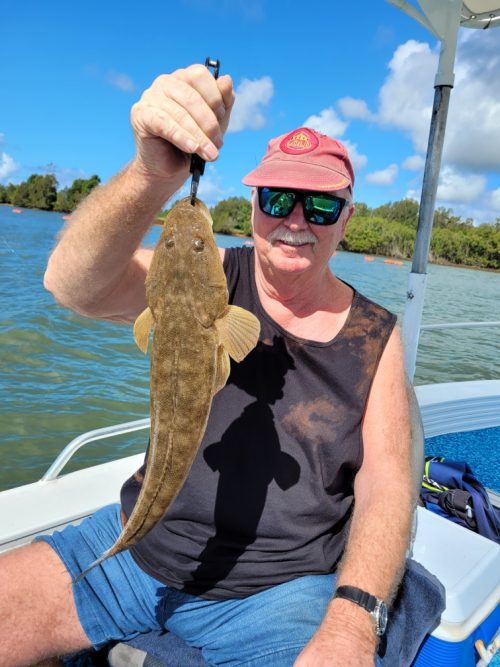 The Gold Coast Seaway has been fishing well over the past week, with good numbers of jew on the chew and the last couple of hours of a run-in tide and the first couple of hours of a run-out tide are the best times to target them. Unfortunately, sharks have been a major issue, taking their fair share of fish if you are too slow to land them. I would recommend using a slightly heavier tackle if you are going to target jew. If you are using light gear, you will only end up feeding the sharks your hard-earned catch. Live bait has been the best option – pike, herring, mullet and yakkas will all work if you are fishing in the right areas. Keep an eye on the sounder for signs of fish schooling up and bait schools that will attract the predatory jew. Gold Coast Coomera
Gavin from Sea Probe Fishing Charters reports that with the westerly wind, dolphinfish have slowed down a little around the FADs, but the close in grounds have been fishing well, with plenty of mack tuna, cobia, jewfish, spanish mackerel and sharks. Live bait have been the go-to for all of these fish. And a few teraglin, snapper and tuskies have been biting. Gold Coast Coomera
If you have any great catches or photos you would like to share, please email us and let us know how you went, brett@coomerahouseboats.com.au or brett@fishotackle.com.au
Stay up to date with all fishing regulations in Queensland https://www.daf.qld.gov.au/business-priorities/fisheries
Fisho Tackle and Coomera Houseboat Holidays now have Hire Tinnies follow the link to view https://www.coomerahouseboats.com.au/our-fleet-type/hire-tinnies/
Seabreeze is a great website to access a local forecast http://www.seabreeze.com.au/graphs/
Click here for more Gold Coast fishing reports!!
Good luck with the fishing.
Brett