Hi everyone, hope you are all having a nice week. Finally, when it comes to weather on the Gold and Tweed coasts, we have cracked the jackpot. With the first full week that I can remember this year of light wind, sunshine and no rain – giving everyone an opportunity to spend a little quality time outdoors fishing. The mornings are very cool, but if you rug up and make the effort it will be worth it, with plenty of fish around to be caught. At the time of writing, the weather report was looking good for the weekend – though make sure you have the most up-to-date forecast before heading out. Let's check out what's been happening this week and some good options for this weekend. Gold Coast Coomera
As predicted, fishos reported good hauls of tailor coming out of the beach gutters up and down the Gold and Tweed coasts – given the good weather forecast, this will be an option to try over the weekend. There may be a bigger swell hanging around over the weekend, however given the light westerly wind forecast at the time of writing my report, it will be well worth a go. The tides should be fairly favourable, with an incoming tide for both the early morning and late evening, which are both major bite times when fishing surf beaches. Scanning the beaches during the day around low tide is a good idea because you tend to be able to spot the areas that will fish the best easily. You will be able to spot most of the gutters in the area at low tide – they will pool water close to the edge and have a sand bank clearly visible behind them, separating the gutter from the breaking waves. Once you have located an area to try, I would recommend timing your fishing trip around two hours before high tide, leaving plenty of time to fish each gutter until you can locate a school of tailor actively feeding. The bite can switch on and off quite quickly, so it pays to be organised and ready to make the most of your opportunity. Gold Coast Coomera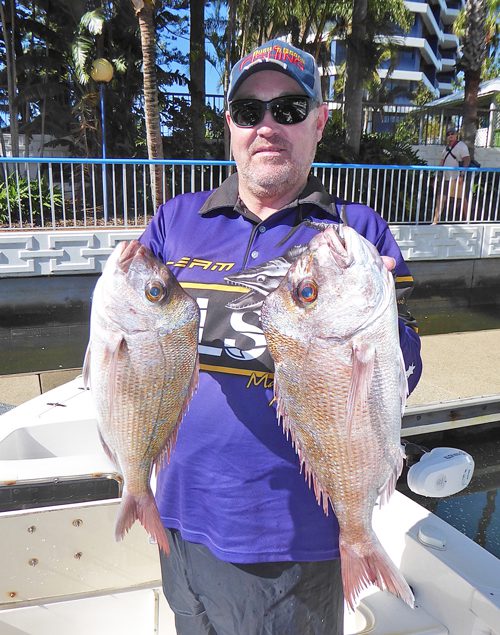 A fish wading bag is a great option because you can keep your bait, lures, tackle and fish you catch on you, rather than having to walk back and forth up the beach each time you land a fish. A wading bag also helps to keep your fishing spot from other anglers – if multiple anglers are fishing the same gutter, they tend to move to your spot if they see you land a fish. Dart, whiting, flathead, bream and tarwhine are other bread and butter species that can be readily targeted land-based in the surf. Best bait – depending on what species you choose to target – are Western Australian pilchard, bonito fillet, mullet fillet, pippies and beachworms. Tailor will also respond well to lures such as metal slugs and surface walkers – it may take a few casts and a couple of different lure changes until you find the correct size lure to match the bait the fish are eating before you start to land fish. Gold Coast Coomera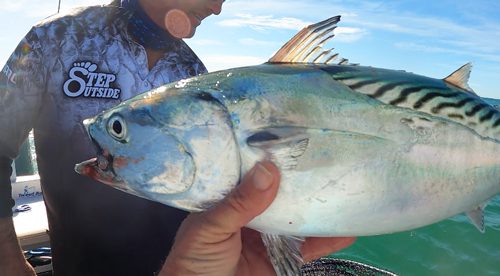 With a good forecast predicted, I managed to sneak out offshore last Sunday with Wayne Young. Plenty of anglers had the same idea with it being one of the few weather windows we've had for such a long time. Conditions were fairly good – the northwesterly wind was up fairly early but didn't increase in strength until towards the middle of the day, which made it fishable for everyone. We headed out of the Seaway nice and early, leaving us plenty of time to have a hunt around on the sounder to find a show worth hitting for the dawn bite. Given the wind direction, we opted to stick around the 18 to 24-fathom reefs, making the run home much more comfortable. We managed to find a nice show of fish to target and, after getting a berley trail going, we were lucky enough to land a couple of nice snapper that hit the float line rigs on the drop. When chasing snapper, it's always a good sign that the fish are actively feeding when hunting higher in the water column. Once the sun had come up, the snapper bite shut down and plenty of bonito turned up, making it hard to get a line past them. Bonito make great bait, so we kept a few to stock up for next trip. We kept on moving and searching the sounder from spot to spot and found plenty of shows of fish to have a drop on. In the end we managed our bag limit of eight good-eating sized snapper, a nice tuskfish and some nice bonito for the freezer for bait. It was great to see other boats also getting stuck into snapper, jewfish, cobia, maori cod and teraglin. Fingers crossed we have more of this weather during winter, giving everyone the opportunity to get out offshore and have some fun. Gold Coast Coomera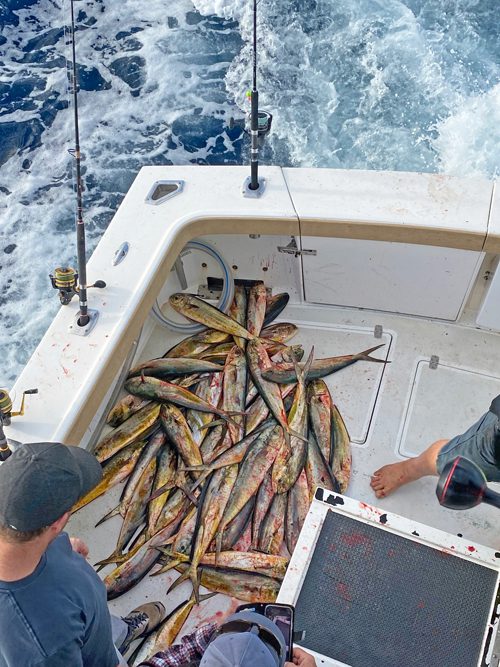 Flathead are starting to show up in better numbers as the water temperature starts to cool down around Jumpinpin and the Broadwater. Plenty of baitfish and small prawns are around after the rain, keeping the flatties well fed. It will be well worth a look over the weekend as the tides are looking good, with high tide early in the morning and a low before lunch, a morning session is a good option. Working the tops of sandbanks on a high tide in search of fish feeding is always worth a go. I find the best time to target flathead is on the run-out tide when they start to move off the flats and out of the creeks looking for a bit deeper water. This gives you a much smaller playing field to locate numbers of fish to target. On the run-out tide, try working the edges of sandbanks, gutters and any creek entrances you can find – these are perfect spots for a flathead to lay in wait, ready to ambush baitfish and prawns swimming past. When trolling lures, casting plastics or working soft vibes, always keep in mind that flathead normally tend to sit head into the current, so working your lures with the current or tide flow will help increase your hook-up rate substantially. Some good spots to look are Wave Break Island, Currigee Channel, Crab and Brown islands, Aldershot, Tipplers Channel, Never Fail Island, Bedrooms, Tiger Mullet Channel, Cabbage Tree Point, Canaipa Passage and the Logan River.
Brad from Brad Smith Fishing Charters reports… we a had a great finish to the week on the Tweed River with massive numbers of fish coming onto the deck. The areas where the clean ocean water meets the dirty water after all the rain is holding a biomass of bait. This bait is attracting a heap of bream and lots of school-sized flathead that are averaging between 40-50cm in length. Also, in among the bait balls are a heap of school jewfish, which have only been around the 40cm mark – a very good sign of the health of the river. I am surprised with the number of fish we have been catching that we haven't nailed a couple of extra big flatties or jew, but I have a gut feeling that this week will produce the biggies, with better tides on the make. Well, I am frothing to get on the water next week as there are certainly good numbers of fish around regardless of size and you can't complain about keeping a constant hook up and a bend in the rod for the day. Gold Coast Coomera
Clint from Brad Smith Fishing Charters reports… I went for a fish with Paul Burt our local legend weather guru to do some filming for his Step Outside TV show, which airs on 7mate every weekend. On one day we did some crabbing and on another we chased tailor and tuna. Great fun and always a lot of fun fishing with Burty. These episodes will be aired in the next few weeks. There have been plenty of tailor and tuna busting up in the Seaway, Jumpinpin and along the waves at South Stradbroke Island. They are so much fun on medium tackle. Casting and cranking Samaki Torpedo V2 metals and Flash stickbaits are all you need. Run-in tides are still the best time to fish, with clearer and warmer water. I noticed at the Pin the other day, the water temperature was 16C and murky on the run-out tide. The tides are small for the next few days, so fishing around the mouths are the go until we get closer to the full moon on June 14. There are plenty of whiting around in the southern end of the Broadwater between the Spit and Sundale Bridge. Using live yabbies and the deeper parts of channel are the best places. North of the Seaway there are plenty of flathead, flounder, tailor, mack tuna, tuskfish, bream and tarwhine to be caught. Morning run-in tides are most productive. There are plenty of tailor, flathead and bream in the beach gutters from South Straddie to Palm Beach.
Gavin from Sea Probe Fishing Charters reports… with westerly wind and cooler conditions off the Gold Coast, dolphinfish have started to slow down a little around the fish aggregating devices, but there are some to be caught still. The close in grounds have been fishing well, with plenty of mack tuna, cobia, jewfish, spanish mackerel and sharks. Live bait have been the go-to for all these fish. And teraglin, snapper and tuskfish have also been on the chew. Gold Coast Coomera
If you have any great catches or photos you would like to share, please email us and let us know how you went, brett@coomerahouseboats.com.au or brett@fishotackle.com.au
Stay up to date with all fishing regulations in Queensland https://www.daf.qld.gov.au/business-priorities/fisheries
Fisho Tackle and Coomera Houseboat Holidays now have Hire Tinnies follow the link to view https://www.coomerahouseboats.com.au/our-fleet-type/hire-tinnies/
Seabreeze is a great website to access a local forecast http://www.seabreeze.com.au/graphs/
Click here for more Gold Coast fishing reports!!
Good luck with the fishing.
Brett