Winter westerly wind – As mentioned last week, winter is renowned for light offshore wind, clean water and great fishing. The start of winter did not disappoint, and many anglers found themselves offshore after what has felt like a very long time. Noosa fishing
With conditions nothing short of excellent, the mid-week brigade got stuck into a great mix of summer and winter fish. With water temperature sitting around 23C, you can expect to find spanish mackerel alongside snapper. Bigger snapper will mainly be holding in the deeper colder water but reports of bigger fish are starting to come through. Noosa fishing
For the majority of offshore anglers, Double Island, Barwon Banks and the Hards were the popular spots. Anglers were quick to catch anything from mackerel to cobia and pearl perch. The humble pilchard floater on a Tru-Turn gang hook accounted for some cracking fish, with spanish the main target. Using a small length of single strand wire is advisable if you are losing fish. It is best to try to catch one without wire because they can be put off if not in a feeding frenzy. Noosa fishing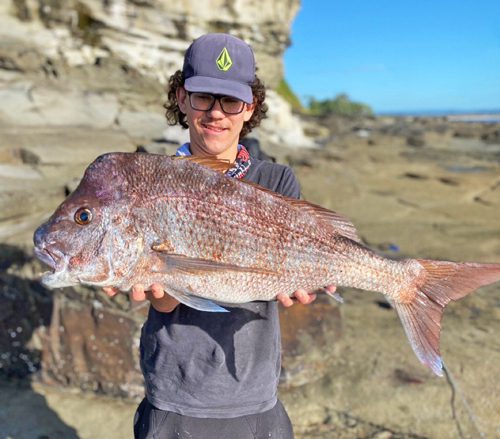 Snapper are on the increase, with many in the 3-4kg range. These fish will hit everything you offer them. Deep-dropped pilchard on Black Magic paternoster rigs have been working around Sunshine and North reefs for those on anchor. If this is you, be sure to run a light berley trail. Mackerel will follow a berley trail to the point of hanging around the back of your boat waiting for more. Big snapper will also come off the bottom in search of a feed, so keep your polarised sunglasses on because you never know what could be under your boat.
Longtail tuna are also showing up with numbers of fish appearing at the beginning of the week only a few metres off the shoreline. This is the time of year when big fish in the 20kg plus range will take plastics intended for snapper, so be sure you are running enough line to cope with these speedsters. If you need new braid, we can put this on to your reel with any additional backing required.
Beach fishing has seen a few anglers head north to fish for tailor. A few are turning up along the open beaches, as are jewfish, but you have to work hard at times to find them. This is the time of year where 12-14' rods are the norm and gang-hooked pilchard with some bait elastic is a must-do approach. If you are looking to get started. then be sure to come in and check out or range of surf casting gear.
The Noosa River has seen a change, with the clean high-tide water around the mouth. This has caused fish to congregate and feed on incoming baitfish. Running live herring and small poddy mullet have been doing well with flathead and big bream. As the river is still running dirty, try to fish around the mouth, the dog beach and the sound. With the neap tides now in place, you will find the current will slow down and the water should start to clean even further. Trevally will also be holding around these areas, with bigeye and diamond popular targets.
For lure anglers, small JigPara jigs will work well when hopped along in the current because these resemble small baitfish. Aim to use long 6-8lb fluorocarbon leaders such as YGK Nitlon DFC for the best presentation. With the full moon approaching towards the end of next week, we should see fishing intensity increase. This means between now and then will be a great time to head out.
Freshwater is still recovering from the huge influx of floodwater. With the clarity still very low, dams are going to have to be explored and fished hard to locate the fish. As for the previous weeks, you would be best to use high vibration lures such as Jackall TN60s and TT Lures Vortex spinnerbaits.
Now for all the latest information log onto www.fishingnoosa.com.au for up-to-date bar and fishing reports, don't forget to drop into Tackle World Noosa, Noosa Boating and Outdoors and Northshore Bait & Tackle in Marcoola for all the right equipment, bait and advice to get you catching. Be sure to follow us on Facebook and remember Tight Lines and Bent Spines!