Hi everyone, hope you have all had a good week. The rain was quite persistent at times this week with some quite heavy falls around the Gold Coast. At the time of writing my report the weather pattern of moderate wind and rain looks to be hanging around until early next week. Saturday looks the pick of the days with strong southerly change tipped to move in on Sunday. Let's have a look at some options if you are keen to wet a line this week. Gold Coast Coomera fishing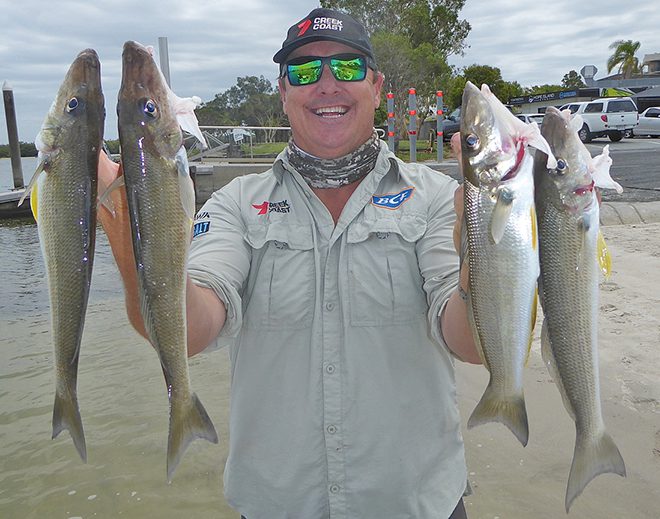 Weather permitting the fishing offshore has been pretty consistent the past week seeing some nice catches coming in from fishos on the Gold Coast. The closer 18 to 24-fathom depth line has been producing some good mixed bags consisting of some big snapper, jewfish, teraglin, tuskfish, moses perch, maori cod and tailor. An early start is important when targeting the close grounds as the fish seem to respond well to the dawn bite and it also doesn't hurt to try to beat all the other boats heading out in search of some action. I always recommend spending some time sounding around the reef to try to find the most life possible to anchor on or drift around. You are looking for signs of bait fish and more solid fish arches which will indicate predators are in the area on the hunt. Floating lining is the most productive method of fishing and will usually always produce more quality fish that a paternoster drop style rig in the shallower depths as the bait is lowered in a more natural manner triggering a strike on the way down. Whole Western Australia pilchard, large whole squid, mullet fillet, bonito fillet or live or dead yakkas are my pick of the best bait to try. This time of year, fishing the 36 and 50-fathom lines is very current dependent, if you can crack a day will little to no current the bottom fish should be great producing samson, amberjack, yellowtail kingfish, pearl perch and snapper. If the current is up it will be worth a look around the fish aggregating devices as a few rat dolphinfish have started to show up. Gold Coast Coomera fishing
Fishing Jumpinpin the Broadwater or your local rivers and estuaries this weekend will depend on how much rain we have received during the week, at the time of writing the report the tale end of the week was looking to be the wettest with a large amount of rain due to fall. If you are looking to target a feed of bream the rivers and estuaries will be your best bet after the rain as they seem to fire up and feed well. The Nerang River, Tallebudgera Creek, Currumbin Creek, Coomera River, Pimpama River, Jacobs Well, Cabbage Tree Point and the Logan River should all produce a feed. Try using prawns, white pilchard, blue bait, mullet fillet and yabbies for bream. Closer towards the ocean entrances it will be worth a look if you are looking at targeting some larger predators as they will frequent areas that have better quality water on the incoming and the freshwater pushing out of the system will tend to concentrate bait schools on the tide lines in turn you should find flathead, squire, trevally, jewfish and tailor. Fishing live baits like herring, silver biddies, pike or mullet should do the trick, if you prefer lures soft plastic between 3-5"should match the hatch along with soft vibes, metal vibes or micro jigs. Gold Coast Coomera fishing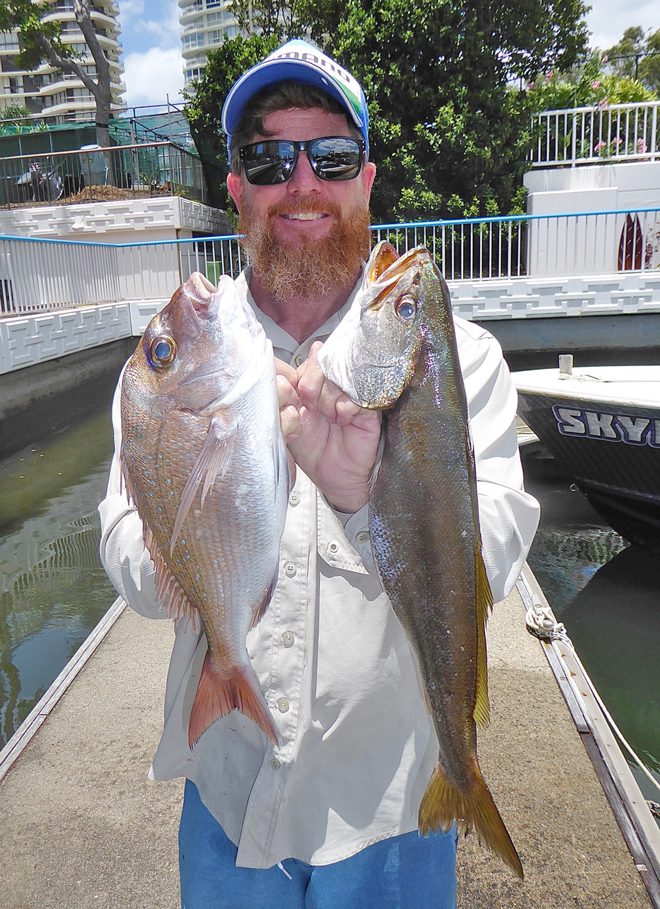 Clint from Brad Smith Fishing Charters reports we've been going hard chasing monster whiting on the flats. We're now in peak season for these magnificent fish until about February next year. Last summer on wading charters we caught around 30 whiting over 40cm in length, and lost count of how many were over 35cm. The Gold Coast is a premium fishing destination for huge sand whiting and so far this summer is looking good again. The water temperature around some flats were as low as 20C this week, which seemed to put the whiting off. Once we found an area with temp of 23C or above it was game on. The channels have been quiet lately with smaller fish, we do need some heavy rain to flush things out. The almanac looks low on average this week, but if fish are hungry, they will eat.
Brad from Brad Smith Fishing Charters reports once again I spread the week out fishing both the Tweed and Goldy. The main species caught were flathead with most fish being very good quality averaging around the 50cm mark. The flatties were smashing the Slam minnows on the troll and were scoffing both Ecogear ZX40 and Samaki Vibelicious lures bounced along the bottom in the deeper holes and channels. The other species caught were some nice giant trevally which are an amazing sports fish on light tackle. We also spotted some birds and baitfish being hammered which at first, we thought were trevally but ended up being school mackerel.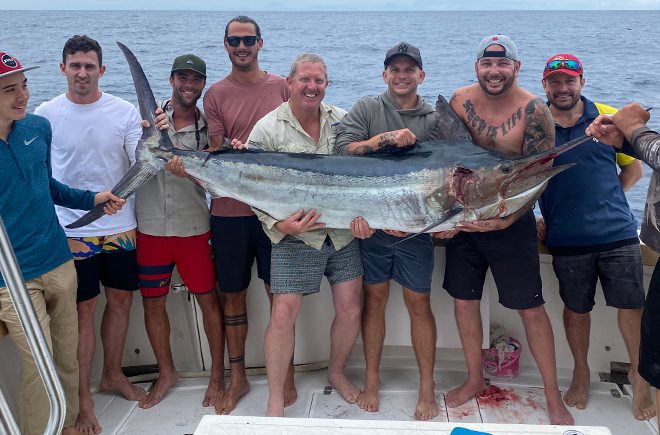 Gavin from Sea Probe Fishing Charters reports there has been plenty of dolphinfish around all the FADs this week, also still snapper, pearlies and kingies around. It's been good to see a few black marlin are starting to show up along the 50-fathom line on lures and also live baiting the usual spots. On the 24s plenty of trag have been biting along with some nice snapper.
If you have any great catches or photos you would like to share, please email us and let us know how you went. brett@coomerahouseboats.com.au or brett@fishotackle.com.au
Stay up to date with all fishing regulations in Queensland https://www.daf.qld.gov.au/business-priorities/fisheries
Fisho Tackle and Coomera Houseboat Holidays now have Hire Tinnies follow the link to view http://www.coomerahouseboats.com.au/our-fleet-type/hire-tinnies/
Seabreeze is a great website to access a local forecast http://www.seabreeze.com.au/graphs/
Good luck with the Fishing.
Brett