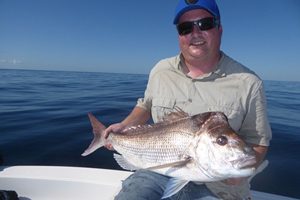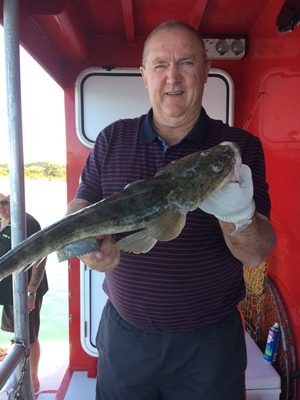 HI Everyone, hope you've all had a great week, the wind has made fishing a bit difficult this week with a mixed bag of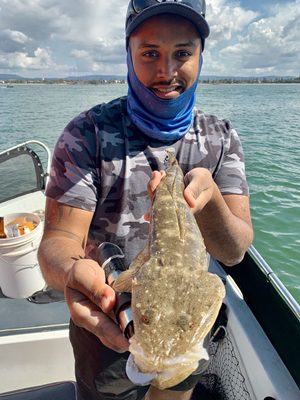 directions from north to west to south and bit like a yoyo up and down with speed. Good news for the weekend with Saturday looking great for getting outdoors for a fish on the Tweed and Gold Coasts. Let's have a look at some options for the weekend.
Customers have been scoring some nice Bream this week, Jumpinpin has been fishing well around Tiger Mullet Channel, Short Island, Crusoe Island, Eden Island, McKenzies Channel, Kalinga Bank and the Powerlines. Most bridges and jetties around Paradise Point, Runaway Bay, Southport and Nerang River are all holding some nice bream. Prawns, mullet fillet, squid, white pilchards, worms and yabbies are all great bait. Small soft plastics, Vibes and surface lures worked around structures are an exciting way to fish for bream if you like to mix up your fishing methods.
A few tailor have been showing up the in the surf beach gutters along the Tweed and Gold Coast on the night time incoming tide for those that like their beach fishing. Whole WA pilchards on gang hooks will work, I start by using a mono trace rather than wire. You will find you get a lot more bites if the fishing is a bit slow, I only go to a wire trace if the fish are thick and you are getting regular bite offs.
The Broadwater has been fishing a bit hot & cold for tailor, there is no shortage of bait schools around it's just a matter of looking for the feeding birds and activity on the surface.  Try the main channel near Currigee and around the Seaway and the Pin bar mouth and around Crusoe Island.
Some big snapper have started to move into the closer reefs last week which is great news, local anglers Bob did well landing an 10kg monster and Ben (see photos in report)a 80cm fish on separate trips. We have a big spike in swell due over the weekend so offshore fishing will be best when the swell eases early next week.
Big bait schools have been hanging around the 18 and 24 fathom reefs off the Seaway, just keep an eye on the sounder for fish arches around the bait this will be a predator such as a big trophy snapper. Live yakkas or slimy mackerel are great bait, the old humble WA pilchard is still my favourite go to bait, whole large squid the mullet or bonito fillet will also work well.
Smithy from Brad Smith Fishing Charters reports on the Tweed  what a hot then cold and windy period we have been through earlier in the week. The fishing and the conditions were very tough with wind as well as water temperature and barometer drops. The great news is that as from today and right through until next week the weather is looking fantastic with the water temperature and the barometer already starting to rise.
The wind made conditions very hard to do much deep water jigging earlier in the week so trolling a combination of deep and shallow running lures around the mid to upper reaches of the river was the way to go. Some flatties, bream and the odd whiting was caught on the troll with the majority of the fish favouring the shallow warmer stretches of the river.
Now that the weather has come good I will be able to mix it up with some deep water jigging for some jewies around the tide changes as there are good schools of baitfish showing on the sounder in the deep holes. Deep water jigging under these bait schools should also produce some flatties as well and hopefully some nice bream and the odd tailor. I also intend to start doing some surface fishing for some bream and maybe a couple of early season whiting of the shallows.
Clint form the Gold Coast reports Typical winter days warm up nicely here with light winds as the westerlies drop. The fish have been coming on the bite as the week goes on, especially as the barometer rises again. I'm finding a lot more bait fish are now present in the Broadwater everywhere from the Spit to Ephraim Island, resulting in catches of big flounder, dusky flathead, bartail flathead, sand whiting, winter whiting, squire, tarwine, bream, grassy sweetlip and a few squid.
Simply look for bait on the fish finder and drift with it, changing lure colours until you crack the code on the day. The mid size tides have made it possible to fish the deeper areas, which helps when the water is clear. On the run out tide there has been some slightly discoloured water running along the inside of South Stradbroke island.
This helps predators such as flathead ambush their prey at close range, and it's in these areas you'll find nest of fish feeding, ideally with a water temperature of around 18 degrees. Tarpon are still around, you'll find then near the seaway and along the main channel running north.
Best lures this week: Ecogear ZX40 in colours 415 and 440, Gulp Crabby in camo colours. Yabbies are catching plenty too.
Hope you all have a good weekend and get out for a fish, if you have any great catches or photos you would like to share, please email us and let us know how you went.
Fisho Tackle and Coomera Houseboat Holidays now have Hire Tinnies follow the link to view http://www.coomerahouseboats.com.au/our-fleet-type/hire-tinnies/
Seabreeze is a great website to access a local forecast http://www.seabreeze.com.au/graphs/
If you have any great catches to report or fishing photos please email them to  brett@fishotackle.com.au
Good luck with the Fishing.  Brett
Fisho Tackle operates with Coomera Houseboat Holidays.  We are open 7 days a week offering a great range of Fishing Tackle on the Gold Coast for our local area as well as bait & ice. We have the experience and local knowledge to get you out catching fish in no time.  We offer off street parking and also a courtesy jetty for customers arriving by boat. Call 07 5502 6200
Coomera Houseboat Holidays Website www.coomerahouseboats.com.au
Fisho Tackle Website https://fishotackle.business.site
Fisho Tackle Facebook page https://www.facebook.com/FishoTackle/
Coomera Houseboat Holidays Face Book page www.facebook.com/CoomeraHouseboatHolidays