What a weekend! Hooked on Miles
The Miles District Fishing and Recreation Club would like to thank our sponsors, visitors, competitors and volunteers for making the Hooked on Miles Fishing Classic a great success.
We had 115 people register to compete in our fishing event, held at Karingal Reserve in Miles over the Labour Day long weekend.
Competitors fished throughout the Western Downs Region, with daily weigh-ins and prize draws, along with kids' activities and demonstrations, from spinnerbait making to professional fishing experts.
Yabby races and the Miles Devils Rugby League Club kept us entertained on the Saturday night and our Master of Ceremonies Pat Staines made sure the kids were up to date with local fishing regulations with 'Pat's Q&A time'.
The classic was held to provide a community event to raise awareness of noxious fish in our region, provide an outdoors adventure for families and friends, and to help boost the local economy through tourism.
We believe we successfully achieved our goals and look forward to locking this in as an annual event.
Proceeds from the event will be used to further develop Karingal Reserve and the local waterways, along with provide funding for our club's monthly fishing events.
Again, thanks for the support from our sponsors and we look forward to a bigger and better event next year.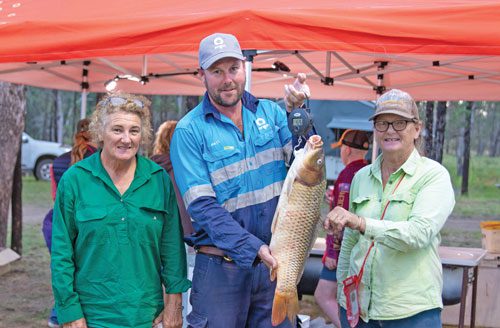 Results
Juniors yellowbelly
Girls, First Olivia Foxlee with 37cm and Second Ruby Steinberg with 34cm
Boys, First Axel Smith with 46cm and Second Dallas Brown with 42cm
Juniors eel-tailed catfish
Girls, First Ruby Steinberg with 41/.69cm and Second Hayley Honnery with 41/.63cm
Boys, First Dallas Brown with 50cm and Second Lewis Forsythe with 48cm
Juniors blue claw
Girls, First Amber Brooker with 24cm and Second Natalie Brooker with 23cm
Boys, First Axel Smith with 26cm and Second Ashton Johnston with 25cm
Juniors carp
Girls, First Kendall Camm with 59cm and Second Ruby Steinberg with 53cm
Boys, First Tennyson Camm with 58cm and Second Bodhi Stuart with 53cm
Seniors yellowbelly
Ladies, First Kristen Forsythe with 55cm and Second Jossie Tattam with 42cm
Mens, First Bryson Austin with 41cm and Second Andrew Austin with 38cm
Seniors eel-tailed catfish
Ladies, First Krystal Brown with 49cm and Second Kristen Forsythe with 48/1
Mens, First Barry Green with 48/1.27 and Second Paul Forsythe with 48/.95
Seniors blue claw
Ladies, First Kristy Steinberg with 25cm and Second Kayla Smith with 24cm
Mens, First Kev Steinberg with 24cm and Second Steve Brooker with 24cm
Seniors carp
Ladies, First Jossie Tattam with 70cm and Second Isabella Stonehouse with 65cm
Mens, First John Stonehouse with 69cm and Deon Matthee with 65cm
Junior Girls Carp Princess was Kendall Camm with six carp.
Junior Boys Carp Prince was Bodhi Stuart with 16 carp.
Senior Ladies Carp Queen was Jossie Tattam with 12 carp.
Senior Mens Carp King was John Stonehouse with 68 carp.
Our club works hard at helping eradicate carp by holding dedicated carp events and focussing on carp in the Hooked on Miles Fishing Classic.
Our fishing events are run under a strict biosecurity permit to allow us to handle, record and destroy all carp caught at events.
This data is then passed on to biosecurity to help better understand the volume of carp in our waterway and work on a plan to reduce their numbers.
At this year's Hooked on Miles Fishing Classic, we removed 215 carp with a total weight of 267.98kg and total length of 94.96m.
Over the three days there were more than 150 lucky entry prizes handed out to participants, 44 winning categories and multiple raffles, with our major prizes saved until the last event.
Third prize consisted of a 'Stay in the Downs' accommodation package, consisting of a one-night stay in four different motor inns in the Western Downs Region, won by Luke Abbott.
Second prize was for a Kayaks 2 Fish Pro Fishing kayak, won by Harriet Brown.
First prize, donated by Chinchilla Container Cash and the Windsor Pub, was won by Ann Smith from Toowoomba.
Ann is a long-term club member, travelling each month from Toowoomba to compete in our club events.
Ann also generously donates multiple prizes to the lucky draws, so a well-deserved winner.
When traveling west to events, Ann ensures she stays at our sponsoring accommodation providers in return support.
With Ann's generosity, she had to put one last spin on our event… as Ann has retired and was not able to use her new boat, she shocked us all by offering a swap with our third-place winner for the accommodation package.
Goosebumps from us all, Ann is a truly amazing person.
Peter Delaforce
Club President