After leaving the crystal blue waters of the Whitsundays, the plan was to spot-hop along the coast until we reached Gladstone, where my wife and daughters would fly home and I would spend a few days fishing with Team Cruise Craft. Exploring
It's moments such as these that having a very understanding wife is great… though my stay in Gladstone actually was 'work'… at least that's what I tried to pass it off as. Exploring
However, before I managed to wet a line, we still had a few places to visit. Exploring
You could literally spend weeks or months exploring up and down the coast, but we only had a few days so opted to check out a couple of places we hadn't visited before. Exploring
Cape Hillsborough was one these places and we planned to stay a couple of nights – not that there were heaps of things to do there, but having a lay day occasionally makes these types of trips much more enjoyable.
It may be a little harsh to say there wasn't much to do because there were walking trials, fishing, bird watching, swimming pools and sensational sunrises with kangaroos on the beach.
Kangaroos on the beach were one of the hooks that led us to this remote location and, while the experience was extremely enjoyable, it wasn't as 'natural' as we had thought or imagined it would be.
As we wondered down to the beach prior to the sun popping its head above the horizon, we saw a ranger marking out a line with cones for everyone to stand behind.
The ranger was also putting some food in the sand for the kangaroos to dig up and eat.
Regardless, it was great to see these native animals on the beach with the golden glow of the sun in the background – albeit a little staged.
I guess this ensures the kangaroos make an appearance every morning.
However, if you sleep in, there are usually a few kangaroos feeding on the grass around the campsite, so you can also get your fix sitting in your camp chair under your awning.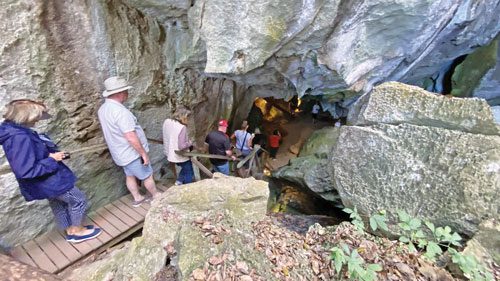 One highlight of the Cape Hillsborough Nature Tourist Park that the kids loved was the large swimming pool with slides.
Despite the weather cooling, the kids enjoyed the pool and spent plenty of time in it – relaxing pool side wasn't too bad either.
If you can't get into the tourist park, there are other places nearby that are worth checking out, such as the Halliday Bay Resort, Golf Course and RV Park.
If time permitted, I would have played a round or three and spent a heap of time exploring the rivers and headlands with the hope of some remote fishing action.
Another spot on the list to spend more time at!
Unfortunately, I didn't have the cartopper for this trip, so fishing was limited.
There is obviously a limit to what you can and can't take on these trips, especially due to weight constraints when towing large vans, though the unladen JB Scorpion does allow for over 500kg of payload.
However, if you plan on going off-grid for extended periods of times and don't have water, that's when things can come unstuck.
Add three 90-litre cans of water and it doesn't leave a lot of 'room' for much else.
Thankfully, the JB caravan can be upgraded with a couple of modifications to carry a bigger load – now we only need Queensland Transport to sort out their regulations and come in line with other states, so the Toyota Landcruiser can be upgraded a little more.
Revising the regulations would make touring with big vans and boats much simpler and safer.
Our next stop was on the coast again, at a place called BarraCrab Caravan Park at Clairview.
There are no designated spots and no power, so you need to get in early to get the waterfront sites that have power and water.
Even though we didn't have a beachfront site, it was easily visible from most of the park, and allowed us to have some space to sit around a fire.
While the view was great, this was one of the more expensive places we stayed at.
Once again, a boat would have been the go – it felt as though the blue water was teasing me.
Thankfully, we had only one night in Rockhampton left on the plan before I would be wetting a line.
The Riverside Caravan Park sits on the Fitzroy River, and despite our 'riverside' camp being unavailable – due to a booking error – our 'roadside' one was fine.
Regardless, this was only a place to get some rest after a tasty dinner at the Criterion Hotel, which was a short stroll away.
The next morning, I dropped my Collins girls off at the airport for their flight home, the Bocks continued on their trip down the coast and I headed to Boyne Island to wet a line and put some fish in an Esky… but that's another story.
I would like to thank my wife Greta and Kylie Bock for all the planning they put into this trip before we set off.
It made the time away flow much better, allowed us to see heaps of things and also encouraged some rest and relaxation.
Well done ladies!