Getting away from the rat race and exploring our amazing country is awesome. Big Crystal Creek
You seem to put the stresses of normal day-to-day life in the background and focus on what each day holds. Big Crystal Creek
Unfortunately, when you finally point the car and van in the direction of home, the realisation that the way of life you've been enjoying for however long you've been away for is going to change. Big Crystal Creek
Despite this, we were still keen to check out random spots on the way back down the east coast.
Having travelled this road many times, I thought I'd seen a lot of it already.
However, the reality was that I'd mainly been going only from Brisbane to a set destination and back again, and not actually seeing anything on the way.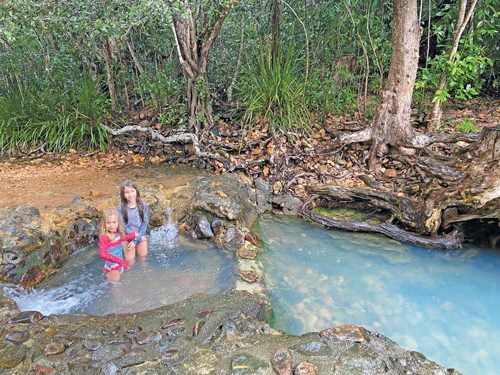 In the planning stages, we started to look a little more closely at what the east coast had to offer in terms of places we wanted to visit.
And the more we looked, the more we found.
As we were bound to a four-week time frame, we cherry-picked a few spots that we thought would provide us with our tourist fix.
Given this was more of a family trip than a fishing sortie, our time in Cardwell was limited to breakfast in the main drag… while overlooking the waterway to Hinchinbrook, which was an awesome view.
We also ducked out to the Cardwell Spa Pools – a magical place, with the colour of the water a mystic blue.
Cardwell had a great feel to it and is a place I'd like to get back to for a more thorough explore, especially with a boat in tow.
The east coast is filled with little pockets worth investigating – maybe when I retire, I might have more time!
One other destination that made the cut was Big Crystal Creek, situated about halfway between Ingham and Townsville.
The road in from the highway is sealed with only the last section dirt, and though a little wet, it was in good condition.
One positive to the rain was that there was no dust, however the road was a little slippery and had soft wet edges, so caution was needed when passing an oncoming vehicle.
At Big Crystal Creek, you can either day trip or camp as we did.
The camp site was well maintained with non-potable water available, which we used for showering and washing up.
Toilets and cold-water showers were at the campground.
Thankfully, the JB Scorpion has both gas and electric hot water, so we have plenty of creature comforts even when off-grid.
Plus, the three separate 90-litre water tanks mean you can keep your drinking water separate from the other water, and it's all managed through digital gauges and valves on the pump.
Generally, if we had sun and water, we were fine, especially with a 300Ah lithium battery.
Even though it was a little cool and had been raining, the kids and I were keen to get to the water hole.
A short stroll from the camp site, you're greeted with a magnificent flowing stream.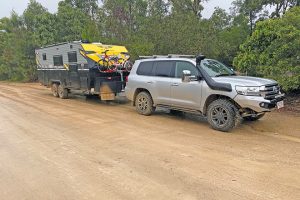 There is nothing better than a dip in a freshwater stream to reinvigorate yourself after a day behind the wheel.
After checking out the water depth and current flow, the kids had a ball jumping off one of the little rock ledges.
Once all refreshed, it was time to get the fire going and ponder on the next day's adventures.
Note that you will need to bring your own firewood, as it is a national park – you'll also need get to a permit to stay there.
All the camp sites are generous in size and it was easy to drive around to have a look at the camping area to pick out a prime location.
The next morning, we ventured a little further down the road to another swimming hole with a waterfall and rockslides into a rock pool.
However, due to the rain and the amount of water travelling over the rocks, we didn't let the kids on the slides.
They did get to have a dip in the pool below the waterfall though.
Due to our schedule, the morning dip was quick, but you could easily spend hours in this pristine place, listening to the crystal-clear water rush over the rocks.
When we were travelling, Townsville was a hotspot for COVID, so we bypassed it and made our way to our next destination… Airlee Beach.
We stayed here for a few days at Greta's aunty and uncle's place to recharge the batteries before the final trip home – via Cape Hillsborough and Rockhampton – which I'll cover in the final article next month.
Visit bnbfishing.com.au for Parts 1 – 6.