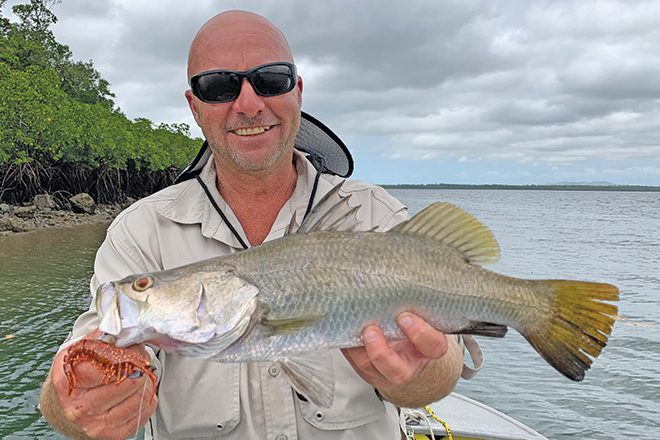 Each year I manage to get up to Lucinda for few days. This year my brother and I planned the trip around a great set of tides in late August. We have found fish bite a lot better around a larger tide coinciding with a new or full moon. Over the past few years we have been very lucky with the weather, with calm sunny days being the norm. Electric action Hinchinbrook
This year was a bit different. The forecast was looking terrible, with strong wind and plenty of rain on the menu. We normally fly into Townsville where Dad lives and drive to Lucinda with his little tinnie. This year, we decided to hire a 4.1m Polycraft with an electric motor for the four days we were there.
We arrived at Lucinda on the Thursday afternoon and picked the hire boat up on the way through. Electric action Hinchinbrook
It was the pick of the days before the horrible weather came through. The tide was perfect for one of our favourite mangrove jack creeks, so we left Dungeness Creek and started to make our way up the channel. Unfortunately, we didn't get very far, with the motor spluttering and eventually dying. We got it started again after five minutes and managed to idle back to the ramp. Electric action Hinchinbrook
That put a bit of a dampener on the trip – my brother and Dad drove back to Townsville that night to pick up his tinnie, so we had something to fish out of the next day. The weather wasn't too bad the next morning with a 10-15 knot breeze pushing up the channel. We managed to get to Haycock Island around the tide change where we scored a nice little fingermark, with Chris getting monstered by a proper one.
A couple of jumbo-sized tarpon got in on the action, along with a sand bass and a couple of small cod. The wind picked up as the tide turned, so when the waves started coming over the back of the boat, we had to look for calmer water. We packed enough gear to rival a small tackle shop on this trip because every year we work out something different that requires a certain type of gear.
We were really keen to cast a heap of surface plastics around for jack and barramundi, which was the main reason for hiring a boat with an electric motor. We tried to set up some drifts that would give us a chance to get a few frogs in among the mangroves, but the wind made it nearly impossible and the constant starting and stopping of a two-stroke outboard wasn't helping.
I did manage to get one small jack before we pulled the pin to head up the back of the creeks. As the tide dropped the channel calmed down a bit, so we went back out to fish some rocky banks around the bottom of the tide. Normally the cod are thick in these spots, but we couldn't even catch one of them.