The weather is cooling fast and we might get to experience a real winter this year. Win fishing battles
Though the weather is still rough, with wind and rain wreaking havoc on tours and my aging body.
My friends tell me snapper are starting to move and that in close a few squire are lurking ready to smash you on the drop.
The tuna are still here, with some monsters around. Win fishing battles
Diamond trevally are moving in – it would be good to crack a few more of them this winter.
Occasionally, days of hot queenfish action mark cooling water temperature.
And hopefully with that, the sharks are slowing too!
Snapper put up a fair battle, however lack the endurance of a pelagic.
And generally, the sheer size and weight of the pelagics make for a more testing battle.
I prefer to run 20 and 30lb leaders for snapper.
They are usually a little more wily than a pelagic.
And the smaller tides and cooler weather will create conditions with higher clarity, therefore leader size may impact on your success.
Cooling water triggers a slowing in the taxman's metabolism, so they become more lethargic and slower.
Our target species are less likely to get monstered. Win fishing battles
Therefore, a lighter tackle change up may be advisable.
Fishing at this time of year can be a bit more technical but it can still be good if you can get your skills up to scratch.
It's essential to learn how to perceive the bottom, estimate the position of your lure in the water column and sense those light bites.
I prefer 20lb outfits – they are lighter in power and will most times run a 3/8 or 1/2oz jig head.
I favour grubs or sometimes soft vibes on these sticks.
The 30lb sticks are my pelagic spinning sticks, with a switch down from a 40lb leader to 30lb.
Run metal jigs mostly slow pitched on 3/4 and 1oz heads with soft grubs, prawns or jerk shads.
Heavier lures will give more bottom contact and a much more accurate presentation when targeting the fish revealed with my Lowrance sidescan sonar unit.
There is a good chance tuna will play a strong role in charters perhaps as far into the year as June.
That would be great, because they are often a great way to start your lure fishing career.
And even in winter, we catch longtail tuna when targeting snapper.
I get the feeling the species may even school together at times.
So it is important in these waters that your 20lb outfit is a nice balance of feel, sensitivity and power.
Other species that will continue in to winter will be trevally.
Both golden and diamond trevally are another fish that definitely school with snapper.
Brassy trevally should get thick on certain areas, and while most of them are smaller, some will rival the much larger goldens in terms of pulling power.
The first run of a brassy or tea-leaf trevally will often have you thinking it's a fair-sized golden or a big snapper.
Another great thing I find about the cooler water is the battles are less taxing on the fish.
I spend less time reviving fish – but in saying that, I still try to be fast when fighting fish.
You will see queenfish jumping less, with their battles being probably a tad more dogged, as opposed to frantic and airborne.
I am keen to get into winter because hopefully we'll get those cold mornings with an offshore wind that will turn into flat warm afternoons.
The runs home are lovely in this type of weather and it is sometimes the highlight of the day, for me at least.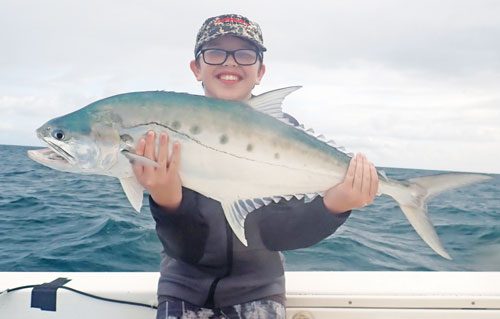 The fishing is more difficult with less surface action but if those fish school up strong, the Lowrance unit will make life easier by displaying them on the structure scan.
And an accurate drop of a lure into a huge school of fish may result in a tiny pluck on the line that buckles the rod over when you set the hook.
Hervey Bay's winter-time lucky dip is fun.