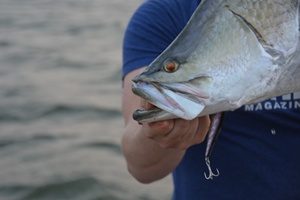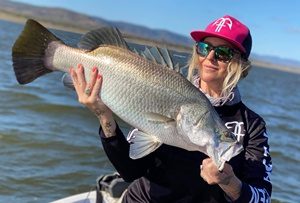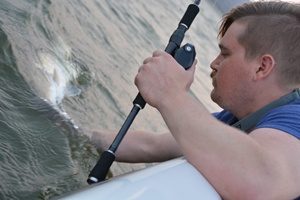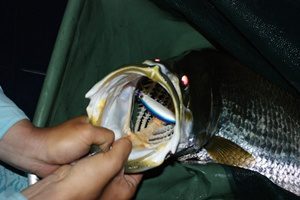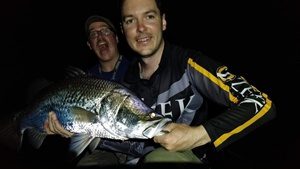 EVERY year when December rolls around many barramundi anglers simply pack their gear away for three months and wait with bated breath for the season to re-open in February. What's interesting is that a good portion of these dedicated barra nuts choose not to tap into the many freshwater impoundments littered up and down the coast that hold fantastic numbers of big barra.
Anyone who says dam fish don't fight like their wild counterparts definitely hasn't caught one, and I absolutely relish the challenge of these exciting and enigmatic fish. Impoundment Barramundi
Gearing up
Standard estuary barra tackle might not cut it in the dams. Depending on the waterway you fish, you may run into fish in excess of 25kg and 120cm, so it pays to scale things up a bit. As a general rule, I like to start with rods in the 3-6kg range at the absolute lightest – spin or baitcast – and I run braid of at least 30lb on my reels. Impoundment Barramundi
Leaders are an important factor and my standard for impoundment 1m-plus specimens, which are common, is 70lb fluorocarbon or mono. I find monofilament is more hard-wearing around structure and it doesn't scare barra off – a species that aren't known to be leader shy.
The allure of dam barra
Lure choice is where the fun begins and having a decent range in your boat will put you in with a good shot at cracking a pattern on these fish. If I had to list lure types to have on hand at all times, I would class hard-bodies, topwaters, swimbaits, soft plastics and vibes as essential. From there it's a matter of working out what the fish want, how they want it and when they want it.
Knowing your battleground
Each impoundment has its own character, so spending a bit of time at a particular venue will be of huge benefit in the long run. Unfortunately, success early on is far from guaranteed, and this caper can leave you scratching your head thinking about what you did wrong. Talking to those who fish there regularly will be your best tool, but don't be surprised if quite a few aren't keen to divulge secrets and techniques they've worked hard to learn themselves.
Local tackle shop staff are always a good starting point when it comes to networking, as these people are anglers and they want to get you fishing. Once you're on the water, it's then a matter of finding the actual fish. Impoundment Barramundi
Understanding dam barra
In all barramundi lakes there are a lot of fishless areas, and the first step once you're on the water is to rule these out. Sounders with sidescan and even 360 sonar technology have been game changers on the barra scene over the past 10 years. Don't be fooled however, even though you may see fish on the sounder, it doesn't mean they will want to eat.
Wind is a good indicator of where fish will be and usually it's whichever direction the wind is blowing to. Wind generates current in dams, which pushes bait around and barra follow the bait. Barramundi are a fairly lazy fish and will swim with the current rather than against it. Impoundment Barramundi
Cruising along and casting to likely areas is one way to fish, but seasoned anglers will often sit stationary in places and wait for fish to come to them. An electric motor with a spot-lock function, an anchor, or a rope for tying off to structure are all perfectly suitable for this ambush style of angling.
Casting repeatedly to an area that 'funnels' bait and barra is the key. These funnels could be the crest of a wind-blown point, the back of a bay, a channel between weed or a small cut through dense timber. Basically, you want an area where you know barra will be moving past at some point, and your sounder is your biggest help here. Impoundment Barramundi
Sitting in locations and scanning for fish moving past is a great way to find them and work out what they're doing. If you're seeing fish cruise past and they aren't chewing, one of two things are wrong – they don't want what you're throwing or they're not eating yet and you'll need to wait for a 'bite period'.
Bite periods occur around moon rise, high moon, low moon, tide changes in nearby river systems – and the list of things that make dam barra bite continues to grow as we learn more about them. Suffice to say, if you find fish in an area, don't leave them.
An alternative to this is trolling deep divers in the main basin of the dam, which is particularly effective in the peak of summer. As thermoclines form in deeper water, barra seek refuge in these areas and will respond to trolled lures. Impoundment Barramundi
Give it a go
However you decide to go about it, remember you won't catch big barra sitting at home dreaming of that tell-tale thump on the end of your line. Make sure you book a trip to one of these amazing places and stay a few days to get the most out of the experience. Impoundment Barramundi
If you're still not confident, many dams have guides who operate and live to teach others about their passion. With impoundments such as Awoonga, Monduran, Maraboon and Callide lakes, Lenthalls, Kinchant, Teemburra and Peter Faust dams – all within driving distance of Brisbane – what are you waiting for?