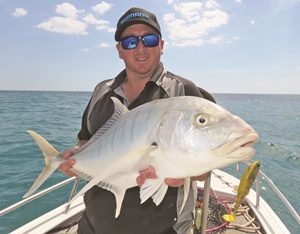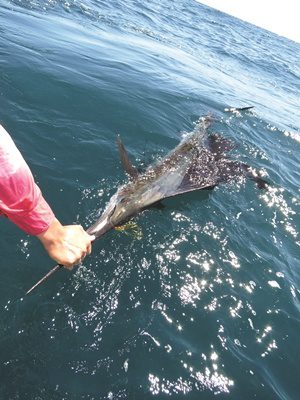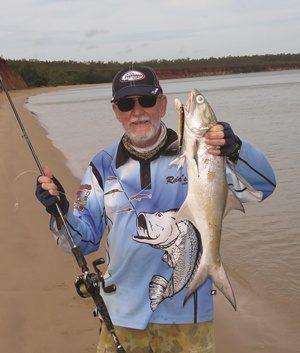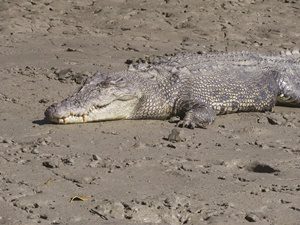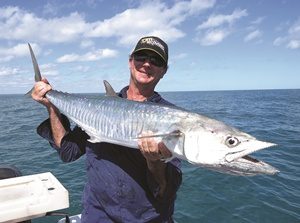 WITH the Gulf of Carpentaria barramundi season closing on October 7, and the east coast due on November 1, it's time to look at targeting other species. This closed season only applies to recreational fishers in Queensland waters.
after barra
It is perhaps ironic – and provides a huge promotional and economic boost – that our sister state the Northern Territory runs its Million Dollar Fish campaign when so-called 'smart state' fishers are forced to stow their barra gear in a cupboard until the end of January. I've travelled to the Northern Territory a couple of times for this competition but have not been lucky enough to score one of the tagged barra worth $10,000 as yet, let alone the big prize.
Still, that event keeps local charter operators and accommodation venues busy with clients at a time of year that is notoriously slow, while boat traffic with local and visiting anglers is very heavy indeed. However, it is another example of how Queensland's tourism and fisheries departments are out of touch with the economic benefits of a healthy recreational fishery. after barra
During my time spent on the Fisheries Management Advisory committees, I tried for many years to have a reduced bag limit instigated for Queensland recreational fishers during the closed seasons. At one stage, I produced figures that showed a bag limit of one per person in possession for recreational fishers would have little effect on breeding stocks, but this initiative was rebuffed by commercial fishers, indignant that because they couldn't fish the entire community had to follow suit.
Rather than taking an independent view on the issue, as has happened in the Northern Territory, our managers chose to side with the net lobby and shut the fishery down completely. A measure of the diversity of our fishery, particularly in the Gulf, is that there are still plenty of species worth chasing when barra are off-limits.
Many other fish choose to spawn during hotter months, and the imminent arrival of the wet season prompts our finny friends to get all hot and bothered in preparation for making fingerlings. This activity can make them very hungry at times. The Bureau of Meteorology has recently declared that a La Niña event is imminent, which usually indicates an early arrival of the wet season in northern Australia. after barra
This means that if you're contemplating visiting the Cape during November, you'd be better off to do your trip in the first half of the month, rather than later. The Peninsula Development Rd usually remains trafficable even after the first few weeks of rain, so there's no need to panic if there's a bit of water around. On the other hand, a close eye should be kept on any low-pressure systems that may pop up off the east or west coast. after barra
One other seasonal event that often confuses fishers both local and visiting, is the state of the tide during summer. In Weipa, there is generally only one low tide during each 24-hour period – a phenomenon easily accommodated during winter when that low happens during daylight hours, but it becomes very hard to interpret when the low tide changes to night-time through summer. after barra
What this affectively means is that fishers are confronted with an all-day high tide situation from November to February, making it difficult to work out the best times to fish. Many locals, myself included, download hourly tide charts so we can determine when any movement of the tide occurs. The well-known adage of 'no run no fun' can still be applied if you have knowledge of when the tide movement occur. after barra
Occasionally, these events can be as short as a couple of hours and it is well worth making the effort to target them. OK… let's have a look at several species worth chasing while the barra closed season is effective.
Queenfish
In the rivers and creeks, the prime time to chase queenies is during the early part of the run-in tide. They can usually be found around river mouths and junctions, as well as working baitfish that hang around structure such as rock bars, man-made jetties and channel markers. These silver beauties are one of the most aggressive species around and will grab almost any type of lure, from poppers to soft plastics.
The main thing to remember is that they prefer a lure retrieved quickly, so if they're chasing though not striking, you're not winding fast enough! The other spots to look for queenfish are headlands, shallow offshore bommies and bait schools. A good way to locate fish is by casting poppers along rocky foreshores and outcrops but watch out for big giant trevally. They will be sure to liven up your day. in more ways than one.
Golden trevally
While goldens are not generally taken on surface lures, they'll take almost any other type you throw at them. From metal wobblers and jigs to hard-bodies and soft plastics, goldies will grab virtually anything that goes past. Like all trevally, they fight very hard and can take a while to land if you treat them too softly.
As a bonus, they are one of the best eating of all the trevally species but need to be killed and bled immediately on capture for optimal results. Their flesh makes great hummus or pickled fish and comes up well as raw sashimi with soy and wasabi. Look for goldens in the same areas as queenfish or on the sand flats adjacent to the shore. Wearing polarised sunglasses will assist in spotting any schools swimming in the shallows, where a carefully placed cast in front of moving fish will generally draw an immediate response. after barra
Threadfin salmon
Both blue and king threadfin are active during summer and can be targeted with live bait or lures. The blues like to travel the edges of beaches chasing baitfish but can also be found in deeper holes in rivers and creeks. Big king salmon can often be sighted right up in the shallows on the rising or falling tide chasing prawns and bait but will usually exit the mud flats when the water leaves the mangroves edges.
Soft vibes work well for both species when using a steady sink and draw technique. While I'm not a big fan of blue salmon fillets, I rate fresh king salmon much higher than any piece of barra. If they're killed and bled on capture, the flesh comes out juicy and white on the plate. after barra
Mackerel
Mackerel activity generally slows once the wet season approaches but a few school, grey and spanish hang around offshore reefs to make things interesting. Trolled lures such as Halco Scorpion and Laser Pro, Reidy's Judge and Rapala X-rap lures are a few of the popular macko-takers, while cast metals and jigs also account for their share. The big decision where mackerel are concerned is whether to use a wire trace or not.
Personally, I try to avoid using wire because it can put fish off at times, but I do lose quite a few lures in the process. The only type of wire worth considering is single-strand brown stainless of a breaking strain at least twice that of the line you are using. Avoid black nylon-coated stranded wire and cheap snaps at all costs. Mackerel require careful treatment to retain its great eating qualities. after barra
It should be brain spiked and bled immediately upon capture, then placed flat on ice as soon as the bleeding stops. Do not lay them in full sun or allow the body to bend – this will seriously affect their table quality.
Sailfish and marlin
Billfish are still an option until the wet arrives and dirty water pushes pelagic fish offshore. Trolling with garfish is the most popular local method, though using small queenfish will occasionally raise a big black marlin. The local club holds a 'female anglers only' tournament in early November, which tends to attract a large number of entrants.
Crocodiles
Visitors are always keen to sight a croc or two but by the time November comes around, that's a fairly rare event. The big males are out looking for females, which are in turn searching for nest sites. On occasion, males can be sighted right out at sea, as they travel large distances searching for a mate. after barra
And with water temperatures up around 30C, crocs are keen to expose not more than 25 percent of their body to the Queensland summer sun because any exposure will increase their body temperature too much. It's also the time of year when female crocs can get very cranky, particularly if someone starts sniffing around one of their nests.
November can be hot, humid and very uncomfortable but the great fishing definitely makes up for the inconvenience.