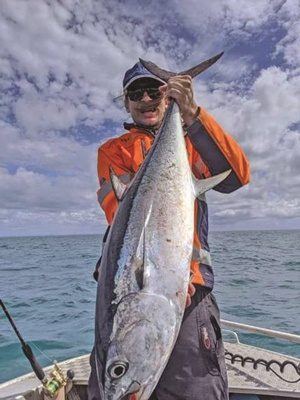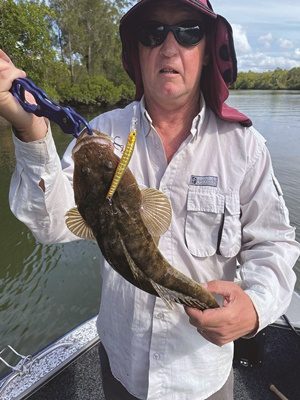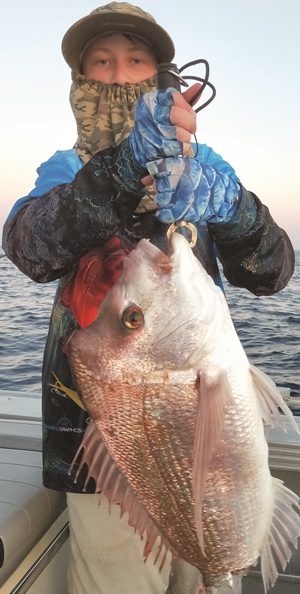 WE certainly had the weather turn on for a week or so during the recent school holidays and the fish even decided to play the game as well. Adam and Jet headed off Cape Moreton with a couple of friends on one of the better days to do a bit of trolling around. They found big mahi mahi in plague proportions and had to move a few times to avoid them.
It was a good thing they did because not long after ditching the excess baggage, young Jet hooked up an absolute screamer that decided to go deep on the first run. Jet didn't even get a chance to take his jacket off with the beast keeping the pressure on. After a 50-minute epic battle with the brute – cooking with his jacket on and not letting up for a second or even thinking of having a break – Jet boated an absolute beast of a 65kg yellowfin tuna. Moreton tuna
I talked to Jet's dad Adam and he ran through the battle sequence blow for blow. You could tell how proud he was of Jet, starting and finishing the job at hand without help, which was there if needed. I know I've hooked up a couple of what I thought were monsters over the years but looking at the beast, I think Jet puts me and a few others to shame.
At age 16, Jet has done an outstanding job with his catch, and I dare say that over the next few years he – and his adventures of chasing the big game out there – is going to be one fisher to follow. We will keep you posted, and we hope your arms return to their normal size soon Jet! Moreton tuna
Moreton Island was a destination for many families over the school break, and young Tori did just that – hitting Moreton Island with the family to chill for a few days. Any keen young angler knows that you can only relax for so long before you need to wet a line… Tori included. He headed to the Jetty and got stuck right in. With a smile on his face, Tori did a great job. Job done Tori.
Now you need to hit up the flathead and bream along the Sandgate-Brighton foreshore! As we all know, when you head out to Moreton Bay, there is a fairly good chance that the taxman will pay you a visit. Drew and his father Wade took a trip out to the usual spot in the bay, but in true fashion the snapper didn't get the memo and failed to turn up. Moreton tuna
After cruising to a couple of other spots, they finally started to turn the reels and captured a couple of quality snapper. I don't know if it was because of Drew's age but the taxman had appeared to lower his rates and took only a small slice of his snapper. Good one Drew, and you came away with more than the rest of normally do.
Dave from Sandbar Charters managed to take a day off and hit Pumicestone Passage to troll a couple of the new Nomad lures on the market. Dave said the conditions may not have been perfect, but the Nomad Styx Minnow did the damage on the local flathead population. If you want to have a crack at an estuary charter, jump onto Sandbar Charters on Facebook. Moreton tuna
Overall, the Moreton Bay region has been turning all the right cards for our local fishos, with cobia, snapper, yellowfin tuna, dollies, great whiting and flathead making for great action. Darcy managed to get out and have his arms stretched a bit with a cracker longtail tuna – quite a few feeds will be coming out of this one.
Generally, it doesn't matter if you're boating on Moreton Bay, taking a charter or if you have been land-based, we are seeing cracker catches being and many from our younger anglers. There are numerous awesome female anglers out there who love to wet a line, and I must say from experience these fishers put many seasoned piscators to shame on countless occasions! Moreton tuna
So, if you have a female angler as partner, friend, best mate or a junior angler who you feel should be represented, send a photo to Tackle Land of them with their catch and bit of a story – we'll do our best to put them in the spotlight.
Until next month, be safe and fish hard.
Maintain the passion!