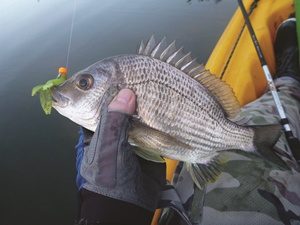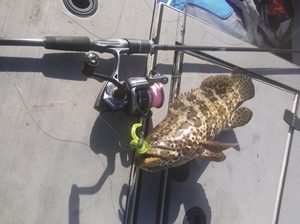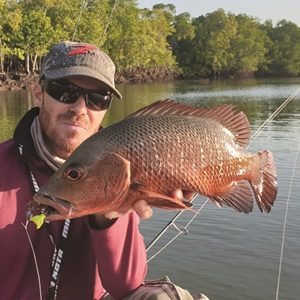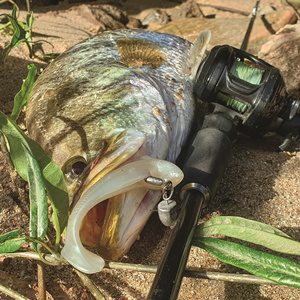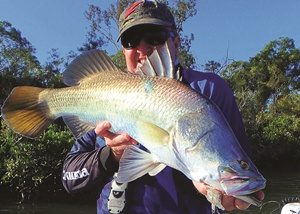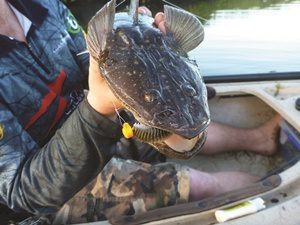 THE weather is warming and we're starting to see more bass, barramundi and mangrove jack photos popping up on social media. Many of the photos feature a soft plastic and a weedless jig head locked firmly in the jaw hinge of the fish, making it difficult for it to throw or dislodge the jig head during the fight.
weedless soft plastics
Many species – including those mentioned – love structure such as weed, lilies and timber, so fishing these areas with traditional lures can translate to snags, lures fouled with weed and lost gear. Weedless rigged soft plastics come into their own in these scenarios and can mean not only more time fishing, but more fish landed. weedless soft plastics
I fish a wide selection of Z-Man 10X Tough ElaZtech soft plastics when weedless rigging because they have three main advantages over traditional soft plastics.
First, when rigging weedless you are only securing a small section of the plastic in place, and the 10X Tough durability ensures it doesn't tear away easily when casting hard and when the fish strike the lure, allowing more fish to be caught on a single soft plastic. weedless soft plastics
Second, the plastic is extremely soft and flexible, letting the hook clear much more easily when a fish strikes and increasing the hook-up rate. Finally, the plastic is naturally buoyant, meaning you can rig weedless and unweighted to fish the surface or weight the soft plastic to fish a required depth.
When rigging this style of plastic, it's important to use a jig head that has a keeper designed to stop the plastic from sliding down the hook, such as the 'chin lock' keeper from TT Lures –found on the ChinlockZ, ChinlockZ Finesse, ChinlockZ Snagless Weight System, SnakelockZ, SnakelockZ Finesse and NedlockZ EWG.
Let's take a look at each of these jig heads, why we might use them and what species may be the target. For surface fishing, the ChinlockZ has the 'chin lock' keeper but no additional weight on the hook, allowing you to easily swim the soft plastic across the surface. weedless soft plastics
This is a popular option for rigging frogs to fish on the surface for bass, mangrove jack, barramundi, saratoga, Murray cod and other species that feed off the top. This setup is ideal for buzzing lures across the top of weed beds and among lilies, reeds and timber.
The strikes can be brutal, so be ready to keep the fish out of structure. This weightless jig head is also popular for swimming crustaceans, and paddle and curl tail plastics across the surface or walking jerkbaits over structure for the aforementioned species. weedless soft plastics
It is even used in larger sizes in open water for species such as kingfish. The ChinlockZ is available in a finesse version as small as a #4 for tiny plastics, right through to a 12/0 for fishing large plastics.
A little weight may need to be added for casting distance, especially when the wind is up, while also allowing a slow natural sink to the presentation. This is where the ChinlockZ SWS comes into its own. The belly weight on the bend of the hook provides the additional weight required for casting and creates a natural, slow and horizontal sink. weedless soft plastics
Anglers often use this jig head on frogs, while it can be rigged on virtually any plastic, such as sinking crustaceans into the mangroves for barra and jack, fishing a paddle tail around the weed beds for barra or bass, and even fishing heavy weed for flathead.
The ChinlockZ SWS is available in a 2/0 to 12/0 to cover bass and flathead to barra and kingfish. If you wish to add more weight or move the weight to the front of the jig head, check out the SnakelockZ or SnakelockZ Finesse – again available from a tiny #4 hook through to an 8/0.
This allows you to weight your plastic to fish deeper and, with the Z-Man plastic being buoyant, the plastic will stand up off the bottom as if it is alive. You can rig virtually any plastic on this range of jig heads and fish it where you would not normally be game to cast. weedless soft plastics
The SnakelockZ features a stainless-steel quick twist wire attachment on the head weight, which lets you mix and match head weights and hook sizes to suit your chosen plastic, target species and the environment you're fishing. This is a go-to option for anglers targeting all of the snag dwelling favourites such as bass, jack and barra.
Finally, the NedlockZ EWG is designed for fishing the Ned Rig System, whereby the natural buoyancy combines with a mushroom style jig head to create a rapid stand up of the plastic to attract fish and trigger strikes. This jig head features a custom heavy-duty #1 black nickel hook that is ideal for rigging 2-3" finesse plastics for bass, bream, flathead and more.
Fish the snags, hop it through the weed and you should find yourself hooked up to bass, yellowbelly, bream and flathead among others. If you're keen to unlock the snags and access fish holding in there, check out these options and give weedless rigging a go.
Additional tips would include scenting up for a more solid strike and hook set, and if you are getting bites but not hooking up, hold the pauses on the bottom shorter and keep the plastic moving a little more to encourage a solid corner of the jaw hook-up. weedless soft plastics
This style of rigging should see you getting the plastic in and out of some crazy structure with minimal chance of fouling or snagging… when the fish eats it though, it's over to you!
See you on the water…