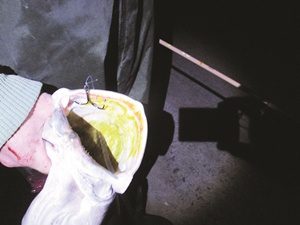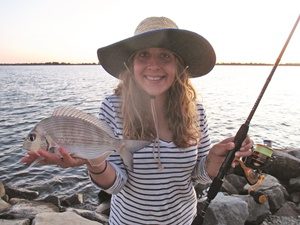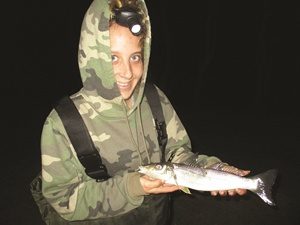 I LEARNT early in my jewfish targeting career that they can be finicky feeders at times, especially when using live bait such as mullet. By that I mean, one day jewfish will swallow the bait right down into the gut and the next they will slam it and kill it all within seconds.
Jew lisa simpson
In the 1980s, when there would be a low tide during the day, just before dark in Mobbs Bay at Ballina I would catch sand mullet and keep them alive in the back of my four-wheel-drive until after 12.30am in the morning when all the other anglers had left to catch the last ferry home, then I'd go out to the wall and fish the run out tide until daylight.
My standard live bait rig then – and now – for mullet was two 10/0 Eagle Claw hooks, with one pinned behind the back of the neck and the other underneath the fish above the anal fin. Most times jew will take the bait, as you'd expect them to, but there's always the odd occasion that they would either very quickly just take the mouth of the mullet and let it go or slam it really hard and kill it – in both cases it all happens so quickly that I hardly have time to strike.Jew lisa simpson
One night when they were in their finicky feeding mood, I decide to swap my two 10/0 hooks for two 1/0 trebles and, as soon as I felt the fish touch the mullet, I struck and bingo – fish on! Now sure, I still miss the occasional fish but gone forever are the long nights of utter frustration.
Back to 2020. Recently, Mischa and I were fishing for jew with his girlfriend Rebekah and our mate Ted McLean, and the jew were having one of their finicky moments – both Ted and I missed a couple of fish each. After an hour or so of Mischa's smart-aleck comments about us being too old and slow, I challenged him to take one of his 3/0 trebles off his hard-body lures and fish how I used to years ago.Jew lisa simpson
Mischa eagerly took up the challenge but upped the ante by saying he could catch one on his kid's toy Lisa Simpson rod – that Rebekah had picked up on the side of the road in a council kerbside rubbish pick-ups – that he now used to jig live herring with. Fitted to the rod was an Alvey A550 reel, with about 80m of 15lb line and no more than 20m of 30lb backing.
Ted and I nearly fell off our chairs laughing. The challenge was on. I swear that rascal had not had bait in the water for more than ten minutes when he yelled out that he was on, and within a further ten minutes he had a 11.1kg jewfish flapping at his feet! Well, to say that Ted and I have never lived that moment down to this day would be an understatement.Jew lisa simpson
Read Tye's touching tribute to Ted here.
We probably never will, but it definitely rates as a 'you had to be there' moment, and we are both glad we were. The Lisa rod is now officially in retirement and hangs proudly on Mischa's wall.
A couple of weeks after, Ted called in for a coffee before we headed out to the breakwall for a fish, and we were talking about the rubbish on social media complaining how hard it was to catch a jewfish. Mischa mentioned that one bloke had even said catching a unicorn would be easier than catching a jew.
No sooner had the words come out of his mouth when his girlfriend Rebekah came into the room – wearing a unicorn onesie. I quipped to him that that is what he needs to wear to catch a jew because if you want to catch a unicorn, you should at least dress like one. As we were getting into the car to leave for the wall, Mischa came out and jumped in wearing – you guessed it – Rebekah's onesie.Jew lisa simpson
I tell you now that if Ted and I not already had our seatbelts on, we would have fallen out of the car laughing. In short, the night ended up with Ted and I scoring our usual zilch diddly-squat nothing, but of course Mischa ended up snaring an 11kg fish on a soft plastic lure – while wearing the now infamous unicorn outfit. After these two events, I can definitely say 11kg jew are absolutely dumb beyond belief, I am forever thankful that it was pitch black on both nights, and finally that 'arse beats class' every time, hands down.
On the fishing front the big news is that whiting have finally moved into the Clarence River in large numbers and while most anglers fish for these tasty critters during the day, I prefer to fish for them at night, when the smaller pickers are less prevalent and a much better sized fish on average will be encountered.Jew lisa simpson
Tailor have been patchy off the local beaches in recent weeks, however there are plenty of fish around the 1kg mark to be had by spinning the headlands at first light and late evening. Offshore catches are still being dominated by snapper and teraglin but by the end of the month, the first reports of spotted mackerel should begin to filter in.
While on the topic of pelagics, at least one longtail tuna has been boated off Woody Head each month through winter, and it looks as though the odd fish decided to stay and not make the usual migration north. Anglers who use soft plastics for jewfish are over the moon at the news that Shimano Squidgies lures have begun to make their famous drop bear plastic again.Jew lisa simpson
However, I believe the 13cm lure everyone used to use will be replaced with a 15cm model. Brett Hyde at Ballina Bait and Tackle has ordered heaps of them in various new colours, so give him a call on 02 6686 2527. This month concentrate on the break walls for the jew of your dreams, using bait such as live mullet or yellowtail and dead bait similar to octopus and squid, or perhaps try spinning the headlands with a mixture of 6" paddle tail soft plastic lures or a hard-body minnow.
Don't forget, if you want to have a crack at catching a jew off the headlands with a feather, my handmade white and red, and white lures are available exclusively at Ballina Bait and Tackle. Stay safe and enjoy your fishing.