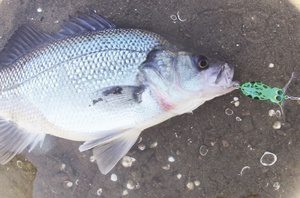 IN the spring, a young man's fancy turns lightly to thoughts of surface fishing… I may not have quoted Lord Alfred Tennyson's poem word for word exactly. In the realm of sportfishing anglers, almost inevitably they will find a few scenarios to which they are drawn repeatedly.
Surface strikes
For several it's a preferred species, for others it may be a location and for many it's a technique that finds favour through their fishing career. Many anglers experience nothing more exhilarating than the sight of a fish taking a lure presented on the surface.
Whether it's a blue marlin crashing a skirt on the continental shelf, a tuna, queenfish or giant trevally belting a popper inshore, a sooty grunter or jungle perch crashing a tiny fizzer, even trout sipping down a fly – the adrenaline rush is assured. One of our first endemic species to be commonly targeted with surface lures was the ever-popular Australian bass.Surface strikes
Bass feeding habits in the natural environment lends perfectly suits an angler wishing to enjoy surface action. Our large, deep lakes aren't ideal locations for topwater – as it's become known – but streams and shallow, weedy lakes are perfect.
When I first started casting lures for 'perch' during the late sixties, surface lures were by necessity imported and usually from the US. Arbogast Jitterbugs were a very common sight on Aussie bass streams, as was my personal favourite the Heddon Crazy Crawler – mainly because its folding wings allowed for easy storage in tackle boxes.
Paddler style lures like those, with their natural swimming action and melodic plip-plop sounds, seemed perfectly at home on a quiet bass stream. Fortunately, there are numerous home-grown surface lures on the market now and none more effective than the new Predatek Krickett.Surface strikes
Following on from the success of their 60mm Bass Bug, the little 45mm Krickett is scoring plenty of runs on east coast bass streams. Like its larger sibling, the Krickett flies true on the cast, starts paddling the instant the retrieve commences and generates the same fish-attracting acoustics.
Anglers who prefer to shop on-line or enjoy a bargain can purchase the Krickett direct from the manufacturers at predatek.com/shop at factory prices. Periods of low light are most productive for surface fishing, with dawn and dusk being prime times.Surface strikes
During these hours and through the night, bass will often leave their secure positions and actively prowl open water. Mid-stream shallows can be hotspots at night, where they'd be devoid of fish during daylight hours.
Of course, that knowledge doesn't mean we should ignore traditional bass hideouts such as snags, overhanging banks and edges of weed beds. It does give anglers the luxury of being able to place casts a little further away from snags, which may claim a lure when distance is misjudged in the darkness.Surface strikes
When fishing surface lures in freshwater, paddlers in particular, think 'slow'. The retrieve should be made at the most sedate pace possible in order for the lure to achieve its desired action. This sees your offering remain in the strike zone longer and gives a cruising fish time to hone in on the disturbance.
Though the explosive strikes make controlling reflexes difficult, try not to strike because this will skip the lure away from any short strikers. Instead, keep the rod tip low and maintain a steady retrieve until the fish is hooked. Try a surface paddler on your favourite bass stream this spring, you are sure to find it exhilarating.