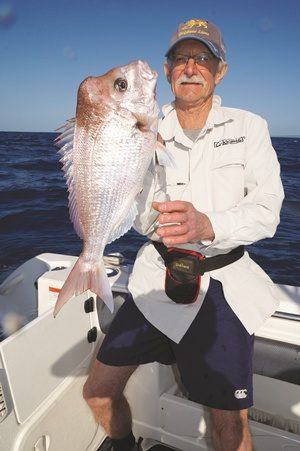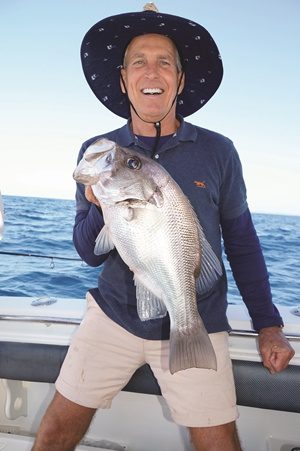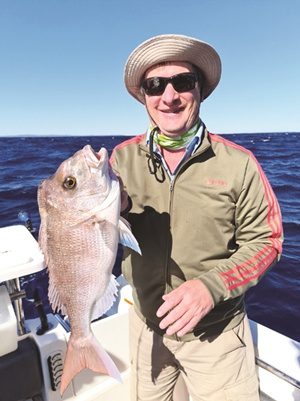 RECENT trips offshore have seen more days of slight current, which has resulted in good snapper being caught on the 29, 33 and 35-fathom reef lines. While I haven't had snapper success beyond this depth lately, the quality of pearl perch in depths anywhere from around 75-105m has more than made up for this.
COVID fishing
Float lining for better snapper has been essential and what worked very well for me were the Klik sinkers. Made by a Brisbane-based company, a Klik sinker is of a hinged clam shell type design that opens to allow it to be slid onto the line and clicked together without the need for knots.
If the sinker size is too big or too small, simply open the sinker hinge and replace it instantly – without the need to cut and re-tie the leader. A large strip of mullet or a large squid half hitched in place onto a single 8/0 Mustad UltraPoint Demon circle hook to make the bait swim and fed a considerable distance down the water column, with the bail arm open, has been the deadliest float-lining technique on snapper.COVID fishing
Paternoster rigs of the triple surgeon's knot variety have been the go on pearl perch and black spot pigfish found out deeper. Particularly concerning for anyone who has tried to head out to the South Passage Bar from Manly – and this region throughout the year – has been the atrocious placement of the navigation aids.
More to contend with in the Rous Channel, eastwards from the junction of the small boat channel past the Chain Banks, where it links with the Rous. From that point outbound it is fair enough to expect a change in channel location from the always slowly shifting sand banks in that area, which is precisely why the area is marked with buoys not beacons.COVID fishing
In September 2019, Maritime Safety Queensland officers were acknowledging the need to do serious navigation aid relocation in the Rous Channel, and despite occasional prodding, nothing has happened in that regard until a few weeks prior to penning this article. And what has been done is a partial job, with more attention required in the Rous.COVID fishing
The buoy relocation in the Rous had been let go for so long, several navigation aids are now in the middle of sandbanks and others are sitting way out in the middle of the channel. It was so bad that a few of the green starboard buoys had to be passed on the opposite side intended, as that was where the deeper water was – one is still way off the good water.COVID fishing
In particular, as a result of the starboard buoys sitting over sandbanks, it was not uncommon to see vessels aground, waiting for the tide to rise and float free. Those skippers were simply following the navigation aids and were blissfully unaware of their incorrect location until… whoomp… they ran aground.
Ironically, there was mention in the press recently about the number and types of marine incidents that had occurred in Queensland waters, and skippers were reminded of their obligations. I would think that MSQ also have an obligation to more frequently relocate their navigation aids when the situation requires keeping their thousands of marine stakeholders safer.
In this case, their inability to meet their obligations has been the cause of quite a few marine incidents, and the recreational and commercial vessel community deserve better. Though, I am unsure how they would categorise those particular incidents in any future report.COVID fishing
Has the bloke who said we couldn't go boating during the early days of COVID – and had his edict overturned by his own Minister the same day to allow 'fishing for food' – been asleep at the helm when it comes to servicing the needs of boaties who use the Rous Channel? Surely the pandemic can't be blamed for this situation being allowed to get so out of hand.
If it was a shipping-related matter, it would have been done pronto. But typically, non-shipping matters often seem to fall well down the pecking order. Everything that has been neglected by governments of late tends to be blamed on COVID, but this situation is ridiculous and farcical because it has such a simple fix.COVID fishing
To give MSQ a little credit, they recently made several changes to three of the most critical starboard lateral marks and the situation marginally improved in the most critical areas. However, after several weeks and at the time of writing, I am yet to see a Notice to Mariners issued in respect of those placements.
Apologies if this is an oversight on my part. Interestingly, a new channel has formed from the second starboard buoy heading east in the Rous, past the sand island that has formed opposite Amity, linking directly to the northern end of the Rainbow Channel, and it is a considerably shorter distance to the bar if using this 'channel'.
Unfortunately, it is in the turtle and dugong protection zone, where vessels must stay in a not-planing attitude. If you can't plane through there, it really isn't a worthwhile short cut for most people because they would be risking a fine if caught planing in that zone, so efficiency for small vessels is being hindered by red tape.COVID fishing
MSQ and Marine Parks are aware of this and both agencies have given a verbal indication that they would support the placement of navigation aids to mark this channel, but there is a huge impediment to removing the not-planing status of that area, even though much of the channel is deeper than 2m at low tide. Obviously, both agencies need to work together to overcome this hurdle and deliver a common sense outcome.
Further, in some parts of the Rous Channel, the deeper water is now eating across existing turtle and dugong protection zone boundaries, meaning boaters planing through the deepest available water are in theory breaking the law and risking a fine. While Marine Parks have been very reasonable in its attitude to this, it does acknowledge the need for more flexibility in legislation to alter boundaries on as-needs basis when sand banks and channels shift.COVID fishing
Let's hope there is a victory for common sense, and something happens soon.