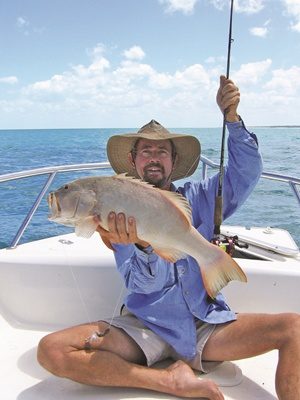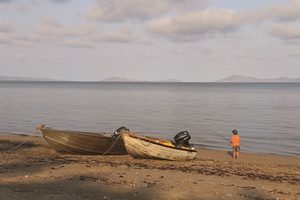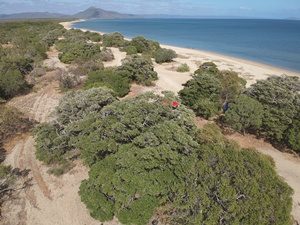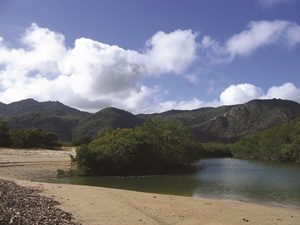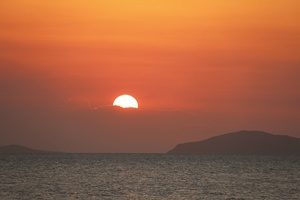 MY final article on destinations in southern Cape York focuses on the magical Cape Melville area, tucked away in a remote corner of the east coast. This place of stunning scenery features picturesque coastlines and islands set against the rugged backdrop of the Melville Range's huge granite boulders.
The main camping area is within Cape Melville National Park at the beachfront at Bathurst Bay. Camping is allowed along the many kilometres of beach, with gnarly Wongai trees offering wonderful shade. You can launch your boat off the beach and fish a wealth of country – from mangrove creeks to the west, rocky headlands along the coast, around islands and of course, over coral reefs and rubble patches. Cape Melville
In good weather that is! Bear in mind that Bathurst Bay is one of the windiest places on the Cape, with the southeast trade wind blowing at well over 30 knots for much of the dry season. The local saying is that you add the predicted wind speeds together to get a realistic idea of wind velocity. Under such conditions, I don't reckon it's worth the trouble to visit – better to wait for a period of calmer weather.
We've even had steaks blown off our plates at Bathurst Bay! So, occasionally we will go to Rinyirru (Lakefield) National Park first and wait for a window of opportunity, if it happens. November is typically one of the better months on the east coast as the trade wind weakens out. Mornings are often glassed out, with a vigorous northeast sea breeze kicking in during the afternoon. Cape Melville
Fishing-wise, head to any island or structure to fish for the usual pelagics and reefs for coral trout, red emperor and tricky snapper, to name a few. Spanish mackerel and cobia are usually around in good numbers, including off the Flinders Group of islands, where you typically encounter absolute stonker queenfish and giant trevally. Good fishing can be had off the beach for sooty grunter, flathead and blue salmon, while beautiful barramundi inhabit the boulder country at Cape Melville itself – noting the season closure on November 1.
The higher part of the tide allows access to the Muck River and adjacent creeks to the west for corker estuary fishing. These are particularly good systems for mangrove jack, fingermark and barra until the closure. One of the magical things about Bathurst Bay is sitting back at camp after a great morning of fishing and watching the marine wildlife. Cape Melville
Here turtles, dugong, dolphins and crocodiles are part of the scenery and the very healthy ecosystems that still exist. And the magical sunsets over the bay – breathtaking! Good freshwater is usually available in the spring creek that flows out of Melville Range's boulder fields – just follow the divergent track upstream.
When I say usually, there have been rare years following a poor wet when it gets a bit ordinary late in the dry season. Bathurst Bay is situated approximately 205km north of Cooktown using the coast route that is Mount Webb Wakooka Rd. Expect to take nine hours plus via this route, depending upon conditions. Has taken me 12 hours on many occasions! Cape Melville
The much easier way is via graded roads from Laura, Cooktown or Musgrave to Kalpowar Crossing in Rinyirru (Lakeside) National Park. Then you've got a long easy hour to Wakooka, followed by around three hours of rough stuff – the remaining 45km to the bay. Soft sand about 12km back from the beach tends to snare many vehicles, so be prepared to air down or use recovery gear. Cape Melville
The other recommended destination up this way is Ninian Bay, and the sign-posted turnoff to the camping area is located approximately 21km south of Bathurst Bay. It's about 17km to a small beach with rocky headlands and Barrow Islands sit off to the east. As the southeast wind blows directly onshore here, you can't sneak along the coast like you can at Bathurst Bay. Needless to say, for both places you need to be self sufficient in all regards, and mindful of possible storms at this time of year.
Until next month…