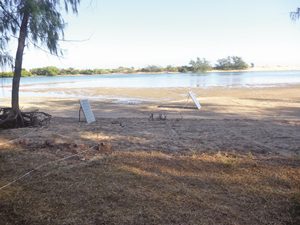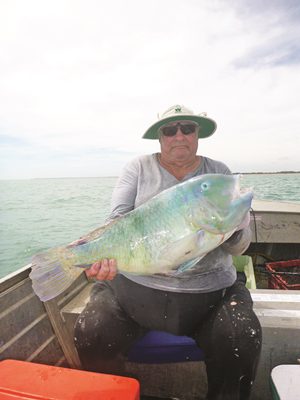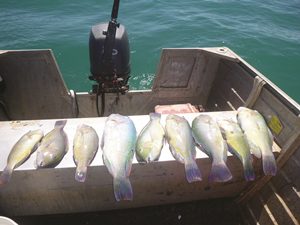 MY annual trip north with my friend Dave is over, but it was a cracker. We weren't sure if we'd get to Weipa to begin with because people on the northern forums said it was closed for the rest of the year due to COVID-19.
Weipa camping
A good friend, who was heading north to camp at the same spot (and has a relative at Queensland Health), told us Weipa would be open in time for our trip, so with that in mind I prepped my gear ready to go, just in case. I did all the usual maintenance – checked the four-wheel-drive and boat trailer wheels, the bearings, and changed the oil and filters on the motors and gearboxes.
That done and gear packed, we planned to head off on Wednesday July 15, after my last two shifts on Monday and Tuesday. The day came and Dave turned up. We loaded his gear and hit the road. We decided if we were stopped going north and weren't able to get to Weipa, we'd come back and stay at Stanage Bay. Weipa camping
A couple of days later, we pulled in at Barramundi Gardens at Julatten – a barra farm owned by Snow, Linda, Tim and Gayle and stayed the night. We left early and as we drove past the quarantine station north of Coen, Dave and I high-fived because we were in the northern zone and our trip had officially started!
We arrived in Weipa around 2pm the same day and shortly after headed to Mapoon. We met our friends Arthur and Sandy at Cullen Point, where we stayed the night. The next day, we aired down and found a cracking campsite. Two other sites were being used but as they both within two days, we had the place to ourselves for days.
It was unreal and we were glad we made the trip north. Fishing this trip was as good as I've experienced, with big grass sweetlip and blackspot tuskfish everywhere we fished, and enough trout and fingermark as well. About a week later Rodger and his family arrived and set up camp. Weipa camping
Deon and Lane showed up and established their site around the same time, and not long after Deon's friend Spud and his wife came and chose a spot near Deon. Over a week of fishing, we got to know Deon and Spud. Rodger, Deon and I hatched a plan to do a 100km run up the 'hard to access by 4×4' west coast of the Cape to Vrilya Point in our boats – Deon's 4.55m TABS Territory and my 5m Quintrex.
Sure, this trip's a non-event for locals but it was a trip I had wanted to do for over 20 years. We planned to take our swags and stay overnight on a random sandy beach. Dave sat this sortie out. Rodger and I went in my boat, and Deon and Spud in the TABS, with extra fuel, ice and tucker. Weipa camping
It took a few hours to get south of Vrilya Point – where I just started looking for new ground – and the country was so flat, I knew if I found any little lump it would be loaded with fish life. Rodger put out a lure and caught a few just-legal school mackerel, though after a couple hours of looking I found nothing along the contours, so we headed 12km north where my dad and I caught good red emperor back in 1987.
We got nothing there either, so we decided to look for a feed of blacklip oysters on the red rocks. We called Deon on the VHF radio and suggested they come over for a feed too. A little later, Deon said he and Spud would go and start cooking, so Rodger and I fished our way back to the mouth of the Cotterell River. Weipa camping
Here we found Deon baking a whole 55cm tuskfish on coals with potatoes and onions in foil. Next day, we were back in the boats and spotted feeding tuna, so we decided to try and catch one for bait. After seeing them, I told Rodger that my dad and I used to find reef by finding tuna, which were usually chasing bait off a reef.
Rodger flicked out and was on to a mack tuna. Under the tuna we found a great little bommie about 1.5m high and covered in fish life. Once the tuna was landed, we anchored up and were on big grass sweetlip and marginally under legal-size nannygai and red emperor. Every good fish Rodger hooked was taken by a shark, however I pulled big tuskfish past them on my 80lb handline!
For about an hour I must have let go dozens of big sweetlip and tuskfish, but any red fish was either slightly under legal size or taken by a shark. Fishing our way back down the coast to camp, we arrived around 4pm with fish to clean. A week later we packed up and headed for home. Weipa camping
Until next time, be safe on the water.