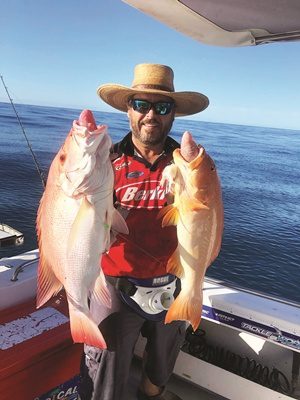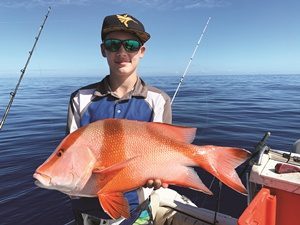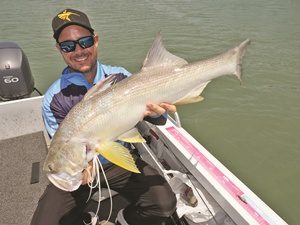 OCTOBER is a month of mixed emotions. It's one of the best months to chase saltwater barramundi on the Capricorn Coast, but sadly it's the final month of the season. East coast saltwater barra closed season starts on November 1 through to January 31. This means October is the time to grab your barra gear and head out for a crack before it's too late.
There's a question that keeps coming up when fishing the mighty Fitzroy River in Rockhampton: "What lures should I bring if I want to catch barramundi or threadfin salmon?" I joke with a few close friends about this very subject all the time. We generally hit the river with a boatload of lures, but at the end of each day there's generally a couple of standouts – often the 95mm Zerek Fish Trap and Berkley 3" Gulp Shrimp.
Fish Trap lures are a soft vibe you can work at any depth and the Gulp Shrimp can be run with a standard jig head or weedless hook and thrown straight into the thick of cover. These are two different lure options that cover many different scenarios and will catch fish. Barramundi last
So, what's been happening around the local area of late? There seemed to be an influx of smaller threadies around 50-60cm in the town reaches of the Fitzroy. It's fantastic to see the little tackers attacking lures and it proves there's been good recruitment in the past few years.
The giant threadfin reports have slowed somewhat, but barra captures have taken over with the warm water temperature. I'm really hoping we'll have a good wet season this year. A big flood around November is what we need, and barra numbers will go nuts if it happens.
Mud crab reports have been patchy but if you put in the effort you should get the rewards. The fishos who constantly move and think about pot placement get the big rusty bucks. Try and get the freshest bait possible to increase your chances when crabbing.
There have been a few chances to punch out wide and now the westerly wind is gone, we should see better consistency from the wide ground about 50-60km from the harbour. Make sure to check the weather forecast because storm season is coming, and 60km offshore is not a good place to be if the weather turns bad!
Our last trip wide chasing red emperor was an absolute cracker. We covered a lot of ground and found great new country south of Barcoo Bank. We worked hard to secure live bait and also fresh flesh bait, and the results reflected the hard work put in. We scored a few nice redthroat emperor, with the biggest taking a tiger squid head and going over 10kg.Barramundi last
The rest of the icebox was made up of maori cod, tuskfish, reds, coral trout and spangled emperor. We don't usually chase spanish mackerel when we are out wide because we put all our focus into quality bottom species. Most of the offshore anglers I've chatted to have said they've been getting good results, which is encouraging for everyone.
Those putting time into pelagic have also been doing very well. The current lines off Perforated Island have been turning over giant trevally and top mackerel. Bigger tides around the full and new moon have been the picks. The headlands and wrecks north of Yeppoon have been another great location for local pelagic.
Fingermark have been the main target, with black jewfish as a regular by-catch. Jewies go back in but fingermark aren't so lucky. Soft vibes worked close to the bottom have been doing the damage. This month will see the Fitzroy River Barra Bash go ahead. We're so glad to have at least one saltwater barra competition this year.
I have heard a sneaky rumour there are a few spots left, so if you're quick you might get a shot. It starts on October 7, so get on it if you're keen. That's it for me this month – now it's time to get some barra pre-fish on, which I've been waiting all year for.
Stay safe and be sure to make the effort to get the family outdoors.