THE exhilaration of having 800hp at your disposal on a 10m fishing platform with gunwale-to-gunwale fishing space is an experience that many of us don't often get. Recently, I was very privileged to be able to test such an incredible machine. Invincible 33
The Invincible 33′ Catamaran is not only one of the best fishing platforms I've ever been able to experience but it doubles as the perfect day boat for cruising offshore and bay waterways. What made the experience more impressive was the 1m of chop and the 20-knot wind we encountered on the day of testing.
First, let's talk about the boat. Invincible 33′
To put it in simple terms, it's an offshore racing hull underneath with the ultimate fishing platform on top, and the designers of this fusion have absolutely perfected it.
Of fibreglass construction, measuring 10.3m long with a beam of 3.1m and a weight of around 5 tonnes, it's a big boat. It has a fuel capacity of 1500 litres, which is held in two separate 750-litre tanks each side.
The boat we tested was running twin 400hp Mercury L6 supercharged motors that propelled this vessel to a top speed of almost 55 knots with four crew on board and almost 400 litres of fuel.
The vessel's finish and design detailing are incredible. All the right things are in the right places – including spacious helm seating adequate for three people, with additional seating for a total of 12 people onboard.
There is a massive live bait tank in the transom as well as plumbed under-floor bait or kill tanks.
There is also an onboard toilet under the centre console and enough room to have a sleep if staying somewhere overnight.
The dash is large enough to flush-mount any sized displays or sounders and all come factory-fitted with functional and good-looking switch panels.
No need to say anything about rod storage… have a look at the pictures.
There must be over 30 rod holders, with those either side of the centre console perfectly matched up with holes in the roof above for them to pass through.
A favourite feature is the full self-draining deck – large drains are located either side for those days when a wave comes over the bow or using the deck wash hoses to clean up after some serious fishing.
All of the in-floor storage compartments also have channels leading down either side of the boat to drain off.
Being a catamaran, the design of this vessel makes for an incredibly stable and soft ride.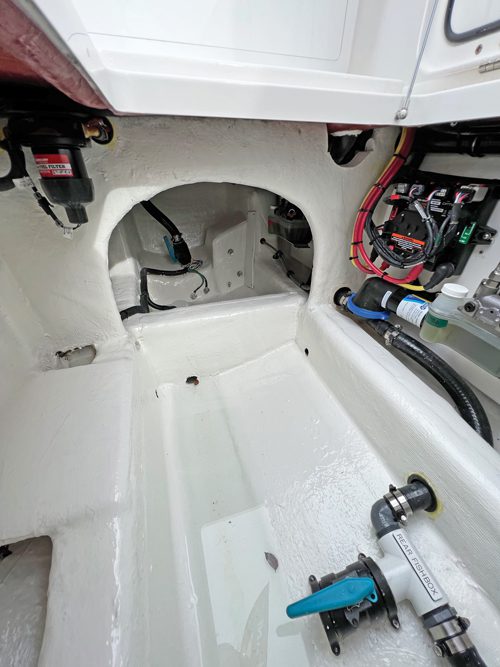 Through the choppiest sea and with the addition of an aerated hull, you don't feel how fast you're traveling.  And doing 40 knots is a walk in the park, which makes this vessel perfect for getting out to those deep fishing grounds in good time. Traveling at speed is very comfortable and noise levels are incredibly quiet, due to the shape of the windscreen on the centre console that channels air around you.
Motor noise is not a concern either, we were easily able to chat with each other while at speed.
The fuel economy was great considering the size and weight it displaces and at cruising speed, this boat has a massive range.
We stood four people on one side and had no movement of the hull – even with eight people, I don't think it would lean over.
It gives the feeling of safety and confidence, and in the 20-knot cross wind and heavy chop we had, not one of us got wet.
All the water and spray channels away and is deflected down due to the shape of the hull.
This vessel is quite possibly the ultimate choice for anyone wanting a serious fishing platform.
With so many options, I could go on for ever but the best way to find out more about this incredible boat is to contact Rod at Australian Marine Centre on 07 3808 733 or email sales@am
cboats.com.au