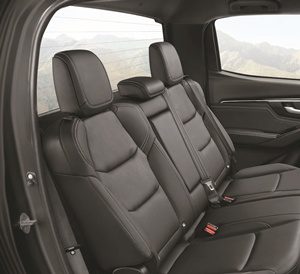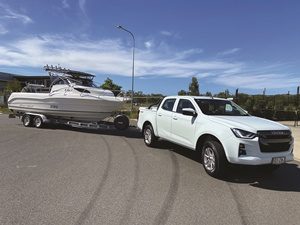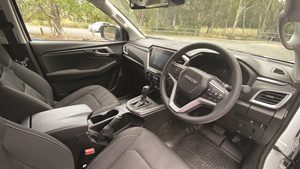 SMARTER, tougher and safer is one of the tag lines Isuzu use for the all-new D-Max, and it has proved worthy. The reborn workhorse has an all-new 3-litre turbo-charged engine that produces around 140kW of power and 450Nm of torque. And it doesn't stop with the engine – the whole car has been re-imagined, re-defined and re-styled to set it apart in the competitive utility market.
I recently had the opportunity to test drive the new LS-M crew cab model in a variety of situations and was very impressed. The first thing I noticed when driving the all-new D-Max, in comparison to the older model, was the soft steering and less engine and road noise. While not a car, it did have that feeling and was easier to drive, which was something I noticed particularly when towing the big Cruise Craft around the suburbs. New Isuzu D-Max
With a 3.5t towing capacity, it is going to tick the tow-vehicle box for many people. Combine this with a 4×4 Terrain Command and a Rear Diff-Lock, which is standard on all 4×4 models, you have a vehicle that will be able to take you almost anywhere. To truly test this vehicle, I spent three days on Moreton Island touring around through soft sand and pulling bogged schoolies out.New Isuzu D-Max
All of which the D-Max did with ease. Though not tested on this trip, it's worth noting the wading depth is a class-leading 800mm, which means you're equipped to handle even more extreme action that was experienced on the island.
Safety
In addition to the new power plant and exterior styling, Isuzu has taken it up a few notches in terms of safety and features. With eight airbags including dual front, curtain, side, driver's knee and far side airbags the D-Max receives a 5-star ANCAP rating.New Isuzu D-Max
Other safety features include Adaptive Cruise Control, Anti-skid Brake System, Autonomous Emergency Braking, Blind Spot Monitoring and the list goes on, with a whole host of acronyms that can be found at isuzuute.com.au In summary, this car can almost drive itself – though I don't suggest that.
A feature I liked and one that assisted me was the Traffic Sign Recognition function, which basically showed the relevant speed limit on the dash. It's hard enough to keep an eye on all the cars on the road and see every speed sign, so it was reassuring to have the speed limit displayed.
Interior
The Isuzu design team certainly need to give themselves a pat on the back because the functionality and look of the new D-Max is next level. The 7" touch-screen display in the LS-M model was easy to use and can be coupled with both Apple CarPlay and Android Auto plus voice recognition, making playing music and navigation so much easier. Combine this with a six-speaker sound system and you really do start to enjoy the ride.New Isuzu D-Max
Features
The LS-M D-Max had several features including four cargo tie-down hooks inside the ute's tub that were perfect for securing the load, so it didn't move around on the bumpy tracks. Colour-coded door handles and colour-coded front bumper with Bi-LED projector headlights that auto-level are standard on the LS-M model.
A back-seat USB charging port and rear are vents came in very handy keeping the kids cool and fully charged. It was also great to see a total of eight cup holders, 4 in the front and four in the back.New Isuzu D-Max
Performance
In terms of performance the 140kW turbo-charged diesel engine delivered smooth power through its six-speed transmission, though in this model you can also opt for a six-speed manual transmission if preferred. The low-down torque also enables smooth towing of large loads.
Economy wise, Isuzu quotes a fuel consumption – of a combined 7.7L/100km which is plausible although obviously with towing and beach driving expect more. Another feature of the Isuzu D-Max LS-M was the display option that showed current litres per 100km and percentage of throttle, so you could manage your fuel economy with your driving style.New Isuzu D-Max
Growing in popularity
Isuzu is climbing the utility market ladder, which is not surprising given they have been engineering quality engines for over 100 years. Though now it's not only their trucks that people are associating with quality. Over the two weeks I had the test vehicle, about four people approached me to talk about the D-Max.
They either had one or had a friend with one, and the feedback was all the same and very positive. Guess that's the best type of endorsement you can get – when owners or friends of owners are rating the car and wanting to talk to you about them.New Isuzu D-Max
Overall
The all new D-Max has certainly been reborn and is sure to impress. With its new look inside and out, including 17inch alloy wheels, front coil suspension, heavy-duty brakes and heavy-duty rear leaf suspension, the LS-M is a great mix of workhorse and style.New Isuzu D-Max
For more information on the full range of Isuzu D-Max Utes or to find your local dealer, go to isuzuute.com.au