Hi Everyone, hope you have all had a good week, it was great news to see the lockdown come to an end in South East Queensland giving anglers the green light to get out the water and go fishing. With the Snapper and Pearl Perch closure now over and some lighter winds on the way heading offshore will be on most fishos minds. At the time of writing my report both Saturday and Sunday were looking ok to hit the water on the weekend and have some fun. Let's see how the fishing was this week.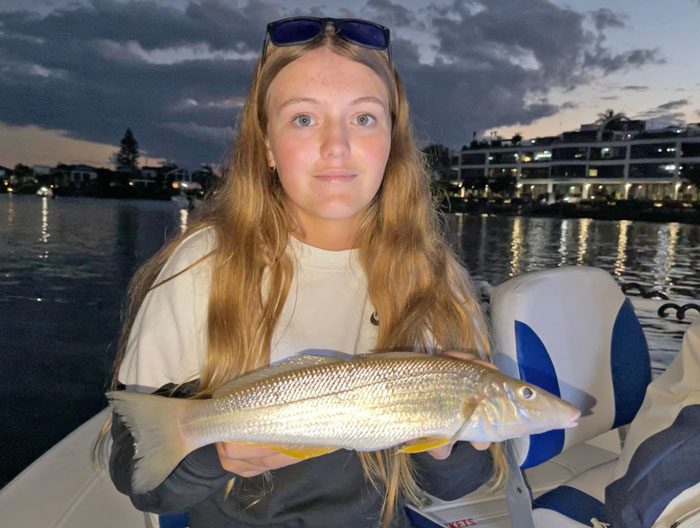 I was lucky enough to get an invite with my good mate Wayne Youngy Young last weekend to chase a feed of Whiting which I always enjoy, Wayne did the hard yards and gathered some prime bloodworms for bait. We headed up the Nerang River just before dark for a look at a few spots and managed to find some nice fish feeding which was great. We normally fish an area for about 30min and if it's quiet move on until you locate schools of Whiting feeding. Try to cast your rods into a few different depths of water to cover as much area to locate the fish as possible. Well positioned lights in the boat will make spotting the bites on your rods a lot easier so you don't miss the fish. A light whippy estuary outfit is recommended, spooled with 6 to 9lb mono line, matched with an extra-long 6lb fluro carbon trace and a size 6 baitholder hook works well. A large sinker is recommended current depending to help keep the bait in the bite zone, I normally use a 4 to 5 ball even in very shallow water. The best fish we landed was 37cm and we ended up with a great feed to split between us to top off a great night's fishing. Whiting are one of those species you can catch all year round with a pretty good success rate once you have located them. Some other good spots to try are Wave Break Island, Paradise Point, Coomera River, Pimpama River, Jacobs Well, Bedrooms, Tiger Mullet Channel and the Logan River. Best bait is bloodworms, beachworms and yabbies.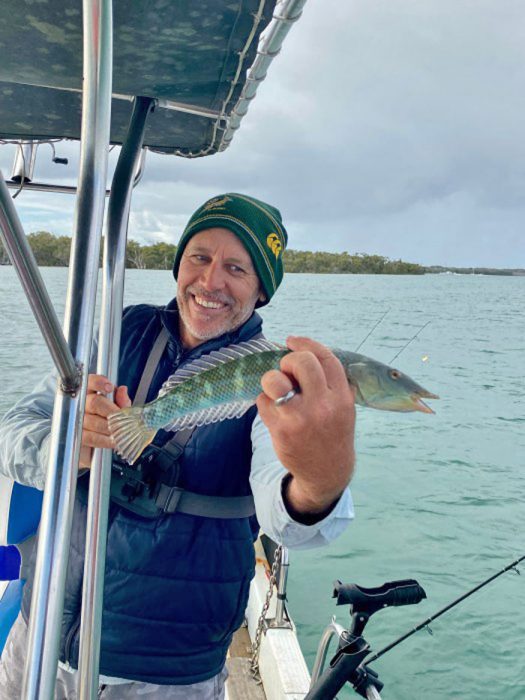 Bream have been on the chew this week making them a great target species for anyone keen to have a crack land based or head out in the boat for a session. We have plenty of public jetties, parks with rock walls and beaches with weed beds to try your luck land based, these types of spots are a good starting point as they provide a bit of shelter and will attract bait for the Bream to feed on. In the boat try your luck around Jumpinpin like Tiger Mullet Channel, Kalinga Bank, Whalleys Gutter and Cobby Passage and Short Island. Also the Coomera River, Pimpama River, Nerang River, Currumbin Creek and Tallebudgera Creek have some great options for locals to try. Prawns, White pilchards, Mullet Gut, Squid, Mullet Fillet or live Yabbies will be irresistible to a hungry Bream.
Fishos reported schools of Tailor with some good-sized fish amongst them have been caught around the Jumpinpin Bar mouth on the last of the run in and the first of the run out tide the past week. Also try the beach gutters along South Stradbroke Island they produced good numbers of nice fish. Throwing metal slugs, surface walkers and poppers is a fun and very visually rewarding way to target Tailor with some awesome bite action to fire you up. For the bait fishos WA Pilchards, Mullet Fillet, Bonito Fillet rigged on ganged hooks always does the trick
Clint from Brad Smith Fishing Charters reports after the lockdown ended, I fished the Broadwater for some Squid, Flathead, Flounder, and Winter Whiting. Ecogear ZX40 in colours 411 and 440, Ecogear Dartmax 3.0 squid jigs in colours D01 and D08G were the best performing lures, while live yabbies never fail as well. The snot weed is still around in areas North of the seaway, especially on run out tides. This coming week is lead up to the full moon on 22 August, hopefully the Mackerel turn on as well as Flathead, Bream, Whiting, Tuskfish, Tailor and Squire.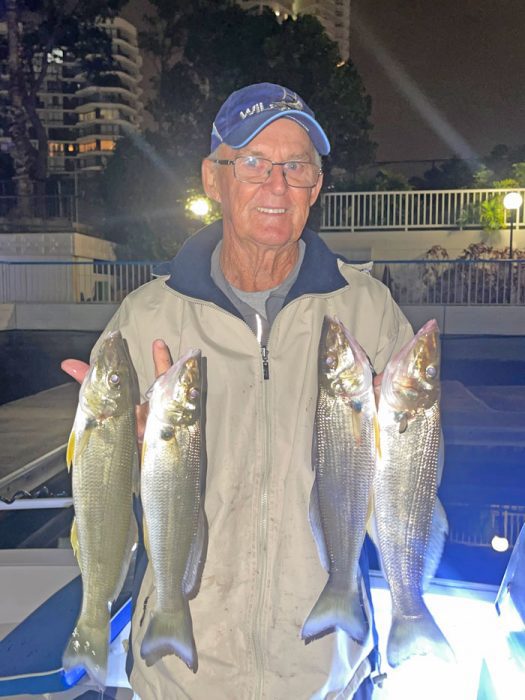 Gavin from Sea Probe Fishing Charters reports with the Snapper and Pearl Perch closure over, best to try the 50s,36s and 24 fathoms using floaters and plastics, also on the 24s the Silver Jew have been biting really good on the live bait.
If you have any great catches or photos you would like to share, please email us and let us know how you went. brett@coomerahouseboats.com.au or brett@fishotackle.com.au
Stay up to date with all fishing regulations in Queensland https://www.daf.qld.gov.au/business-priorities/fisheries
Fisho Tackle and Coomera Houseboat Holidays now have Hire Tinnies follow the link to view http://www.coomerahouseboats.com.au/our-fleet-type/hire-tinnies/
Seabreeze is a great website to access a local forecast http://www.seabreeze.com.au/graphs/
Good luck with the Fishing.
Brett