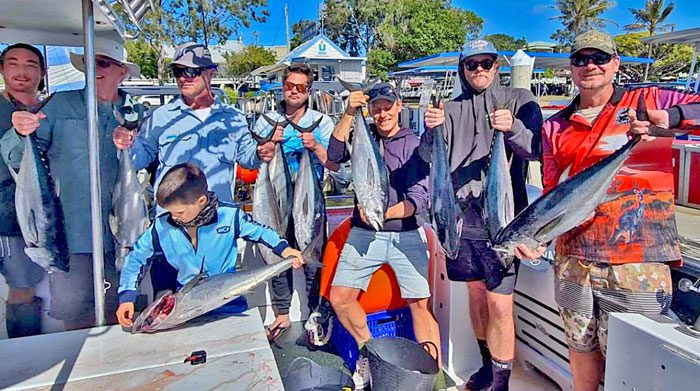 With a hot start to the week we had daytime temps of 27C and evenings that felt the same. Of course this time of year that didn't last for long and the weather soon changed to cold and fresh WSW winds.
Offshore
So, if you are heading offshore you are best advised to stick to the local reefs including Halls, Jew shoal and Sunshine Reef. If you are heading out then please don't forget we are still in the middle of the seasonal snapper and pearl perch closure. This means these fish are a no take species and must be returned. All other fish are fair game and with the water looking crystal clear you are best advised to go with lighter gear around the 20-30lb mark.
The new moon gave us higher afternoon tides and less run during the day making sitting on anchor possible. This is a great time to run a light burley trail of tuna oil, pilchards, burley pellets and sand mixed together. These can be made into balls and frozen for a slower release. If looking for a burley pot we have a great range from sea dog which you can hang from your anchor rope to get the fish really fired up.  Reports of longtail tuna and big ones are still about along with some XL Spanish mackerel. Other fish include some very fat sweetlip and mid water cobia around the 6-8Kg mark.  The Noosa bar has been easy to cross and be sure you check dates on flare kits and lifejacket visual inspection information as fisheries will be in the area. Should you need anything safety related we stock a full range of jackets including kids sizes, EPIRBS, flare kits and V-sheets.
Beach
Surf fishing has had a few reports of tailor but mainly after dark and around the mouth or beach gutters. These fish are picking up gang hooked pilchards and if about in the daytime then smaller slugs or micro jigs retrieved at speed are also great. Check out the range of wired assist hooks for use when toothy critters are about. Off the rocks there have been a few smaller sweetlip out wide with bream and trevally in the wash. Use light 1/8th jigheads and cast soft plastics into the foam and let it drop down to the fish for the bite.
River
The estuary has been pretty quiet this week but it continues to fish much like previous weeks. Flathead, bream and trevally feature mostly throughout the system. These fish love bait and lures and as previously mentioned the clear water means dropping leader thickness down to no more than 10lb. If you can use 6lb then the various YGK leaders will work perfectly and have proven themselves under test. Soft plastics like the Atomic Prong are great options as they are scented and mimic a prawn for which Noosa is well known for. The clear waters will also make fishing for whiting a great idea as they are an easy target and taste pretty great. Come in and grab some live beach worm and a few pea sinkers and we can tell you where to find them.
Freshwater
Freshwater access in the LGA's is currently on lockdown so Lake MacDonald is shut. For those reading this outside of this area it should be noted that parts of the Mary River are closed to ALL forms of line fishing. This is for the annual Mary River cod closure and features a wide range so please check before heading out that way. Elsewhere other dams and lakes will be quiet given SEQ is in lockdown. Ensure you have a SIPS permit and go and enjoy. Be sure you have a wide range of smaller hardbodies, jigs, spoons and soft plastics. The smaller previously mentioned Atomic prong will work well too as it is similar to a freshwater yabby/crayfish.
Now for all the  latest information log onto www.fishingnoosa.com.au for up to date bar and fishing reports, don't forget to drop into Tackle World Noosa, Noosa Boating and Outdoors and Northshore Bait & Tackle in Marcoola for all the right equipment, bait and advice to get you catching. Be sure to follow us on Facebook and remember Tight Lines and Bent Spines!
Click here for more Sunshine Coast fishing reports and tips!