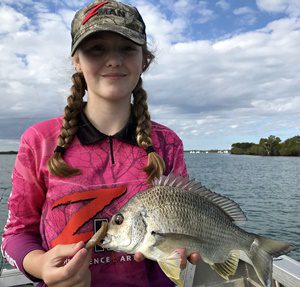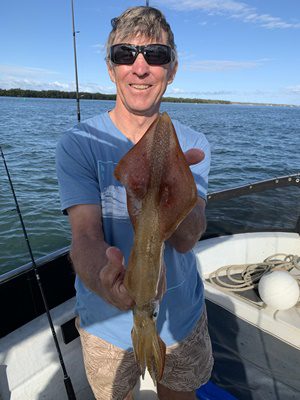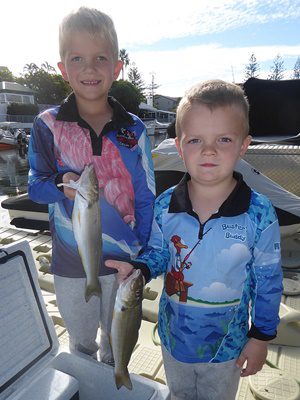 Hi Everyone, hope you have all had a good week, we have been lucky so far with some great weather for School Holidays, a bit of rain and wind around mid-week  on the Tweed and Gold Coast but the weekend is looking much better. Lots of activity on the water at the moment with the easing of restrictions, just remember with the waterways being so busy safety is very important if your heading out for a fish. Let's see what's on offer for all the Fisho's this week.
Just to keep everyone up to date I have included the link to Fisheries Queensland with information on the Snapper and Pearl Perch closure which commences 15th of July and finishes 15th of August 2020. Make sure you know your responsibilities https://www.daf.qld.gov.au/business-priorities/fisheries/sustainable/sustainable-fisheries-strategy/fisheries-reforms
Locals have been doing well on the Whiting, brothers Tyler and Cruise (see photo in report) had a great day fishing with their relative Wayne Young up the Nerang river landing an awesome feed for the whole family. The key to finding Whiting is to give each spot a go for 30min or so and see how many fish you catch or bites you get, if minimal even just a short move can pay off once you find where the school is mainly feeding. The Nerang river is a prime location, we also do well in the Coomera River, Pimpama River and Logan River during winter. Live worms are the best bait, a long 6lb leader, size 6 bait holder hook and a good-sized sinker either 4 or 5 ball will keep your bait on the bottom in the strike zone. Don't be tempted to strike at the fish, just leave it alone and let the fish hook itself, this style is great for the kids as they sometimes get distracted. lots of activity
The Gold Seaway has seen lots of activity the past couple of weeks with plenty of school size Jew Fish on offer, just remember that 75cm is the legal-size limit of these species. Work your sounder until to see the school of fish, live baits have been the go and have not lasted long in the water getting smashed. Some good-sized Trevally also starting to school up in the Seaway area, they fight hard making a great sport fish to target. Best time to try is at the end of the tide cycle, especially the last of the incoming and start of the run out when the current is a its slowest. lots of activity
Surf fishing will be a good option as the swell starts to drop off, hopefully the schools of Tailor will move into gutters from the Tweed Coast up to South Stradbroke Island. Early morning and late afternoon and night is the best time to target Tailor, another species worth targeting is Jewfish. Big Jewfish will enter the gutters as the tide rises chasing the Tailor or Mullet, using a fresh fillet of either Tailor or Mullet is a great way to land a prized Jewfish. We have also seen a few good Tailor showing up throughout the Broadwater and Jumpinpin areas, size of the Tailor will vary depending of the school but they are great fun to catch off the surface even if they are little. lots of activity
Brad from Brad Smith Fishing Charters reports this week was spent working around the middle reaches of the Tweed River working the tide changes in the deep holes. Flathead were the most dominant species smashing our lures which is to be expected as this is the best time of the year for them. There was also a few big Whiting, Bream and those small GT's are still moving around the river creating havoc on the schools of herring. This month and next month it's not uncommon to see some big tailor move into the river so I will keep you posted if they arrive. lots of activity
Clint reports another sensational week of fishing in the Broadwater. The dredging operation that has been going on in the Western channel North of the seaway has been a magnet to the whole food chain. In the last three weeks there has only been a couple of days with 20 or so fish, most days we are catching 50-100 various fish, Blue Swimmer Crabs, and big Arrow Squid. In the last month we've boated over 1000, kept a feed for guests, and released heaps too.This winter has been the best Squid season I've seen in the Gold Coast Broadwater, and they are so much fun to catch and delicious to eat. They only live for a year and grow very fast to over 50cm in total length. The little Ecogear blades we use with our new UV prawn Sax scent smeared on, fully gets them all fired up! The daily fish catch has included lots of big Winter Whiting, Flathead, Tusk Fish, flounder, Tarwhine, Bream, Trevally and Squire. Best areas Crab island, Ephraim reef, Paradise point.
Gavin from Sea Probe Fishing Charters reports 50 fathoms have been on fire this week with good quality Snapper in good numbers on paternoster rigs and floater rigs. Best bait has been Mullet and Squid adjust your sinker sizes to the current speed. Also on the 36s and 24s Snapper, Trag Jew, Tuskies and also big Silver Jew on live bait..
Hope you all have a good week and stay healthy and safe. If you have any great catches or photos you would like to share, please email us and let us know how you went.
Stay up to date with all fishing regulations in Queensland https://www.daf.qld.gov.au/business-priorities/fisheries
Fisho Tackle and Coomera Houseboat Holidays now have Hire Tinnies follow the link to view http://www.coomerahouseboats.com.au/our-fleet-type/hire-tinnies/
Seabreeze is a great website to access a local forecast http://www.seabreeze.com.au/graphs/
If you have any great catches to report or fishing photos please email them to  brett@fishotackle.com.au    Good luck with the Fishing.  Brett