The Lucky Craft Pointer has been designed with a very low centre of gravity through the use of special brass weights.
The low centre of balance causes the lure to wobble and vibrate whenever the retrieving motion is stopped.
Absolutely deadly with any type of stop-and-go retrieve, a short twitch will generate a 'walk the dog' action under the water.
Available in 128SP, 100SP, 100DD, 100XD, 78SP, 78DD, 65XD and 48DD.
Shallow is available in 65mm (5g dives to 1-1.2m), 100mm (18g dives to 1.2-1.5m) and 128mm (30g dives 300-900mm).
The go-to bait with an absolutely deadly twitching action.
A short twitching retrieve will generate a 'walk the dog' action under the water, this is a proven barra catcher.
Deep Diver is available in 48mm (3.5g) and 100mm (16.5g), the suspending DD Pointer dives to the 1.8-2.1m zone and has a large body that produces a unique action when strongly jerked.
The number one 'power' bait in the Lucky Craft family.
The DD Pointer will still produce a 'walk the dog' action underwater with a twitching retrieve and suspend in the strike zone to tempt shut down fish or pressured fish.
Extra Deep is available in 65mm (5g), 78mm (6.5g) and 100mm (18.5g), the XD Pointer will easily reach depths of 3m or more without losing its wobble or erratic action and while still being fished fast.
This allows anglers to cover more water, check more spots and keep the bait in the strike zone longer.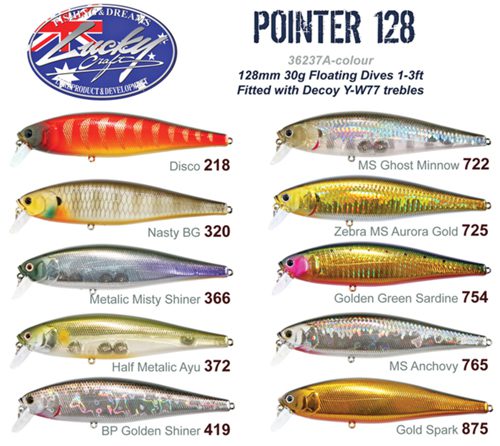 AU Barra Series
These Japanese-made lures have been tweaked to suit Australian fishing with larger species such as barramundi and mangrove jack in mind.
With the use of the light weight yet strong Decoy W-77 trebles, these lures will handle large hard-fighting fish while reducing snagging on structure due to the hook shape.
Lightweight trebles are very important as to not change the buoyancy and action of the lures original design but need to be strong enough to not fail on that fish of a lifetime – a balance that the W-77 can provide.
Available in three sizes and three diving depths, Lucky Craft AU Pointers will have you covered for a large number of fishing scenarios.
SP or shallow is available in 78mm (9.2g 1.2-1.5m) floating, 100mm (18g 1.2-1.5m) slow floating and 128mm (30g 300-900mm) floating.
DD or double deep is available in 78mm (9.6g 1.8-2.1m) slow floating in salt, 100mm (16.5g 2.1m) suspending in salt.
XD or extra deep is available in 78mm (9.5g 3m) suspending in salt and 100mm (18.5g 4m) suspending in salt.
Visit ejtodd.com.au