Fish for crabs responsibly this summer!
Crab fishing is a popular activity, particularly during the warmer months in NSW. Sought after crab species such as Mud Crab and Blue Swimmer Crab can be effectively targeted using traps and nets and make for a fun time on the water and provide exceptional eating when back on land.
Here are some useful tips to help ensure you fish for crabs responsibly and minimise your environmental impact:
Wildlife bycatch can occur with set fishing gear. Of the designs available, lift nets and round crab traps with small entrances are considered to be lower risk to wildlife. Lift nets are likely to have the lowest risk overall due to their "open" design, and with the mesh laying on the seabed, they have limited ghost fishing capacity. Choosing these gear types helps reduce wildlife bycatch.
Crab traps that have large entrances, such as the large, rectangular, open-ended crab traps can potentially allow wildlife such as turtles to swim inside and become trapped. Modifying these traps by reducing the entrance size by adding some twine and a cable tie in the middle of the  trap opening reduces the risk and still allows you to effectively catch crabs.
Witches hat nets can catch non-target species and wildlife by the animals becoming stuck in the entanglement mesh of the gear. These can be modified to operate as a lift net by removing the float from the mesh and re-attaching the float line with several lengths of lines directly to the ring. This results in the mesh laying on the seabed rather than being suspended, decreasing the risk of wildlife entanglement.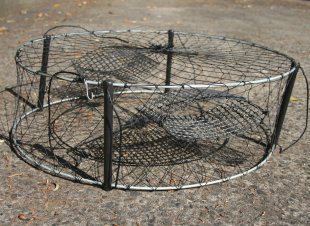 Check your traps as regularly as possible, rather than leaving them unattended for extended periods of time. Reducing the soak time will reduce the probability of air breathing animals (such as turtles) drowning and reduces the chance of someone else (illegally) lifting your gear. Checking your gear more regularly can also lead to better catches – particularly when using gear such as lift nets.
Do not allow traps to sit unattended for long periods of time and never abandon them. Fishing gear that has been lost or abandoned can continue to kill fish and wildlife through ghost fishing.
Avoid high current areas and locations with big tidal movement when choosing your fishing location. Placing your crab gear in these areas may result in lightly weighted traps being moved and lost due the strength of the water movement. Avoid main boating channels and think about navigation and boat traffic when setting your gear as this can impact other water users.
DPI has been holding a series of pop-up crab gear exchange days where fishers can exchange their witches hat or rectangular style trap for a new, more environmentally friendly, round crab trap or lift net.  Keep your eye out on the NSW DPI Fisheries Facebook page for any swap days near you over the summer and autumn period.
For more information on how to modify your crab traps and nets to reduce wildlife bycatch visit shorturl.at/wxS68.