WINTER days are certainly bringing out the very best in Moreton Bay. With the colder days and nights, we are seeing flathead caught in both good numbers and sizes. It has been a mixed bag, with people getting a feed by using bait, soft plastics and even trolling or casting shallow and deep divers.
ZMan Curl TailZ, Squidgies Wriggler 120mm in Bloodworm and RT Shads seem to be the plastics of choice. Nomad 70mm Styx Minnows and 68mm Maverick along the flats have been highly effective. From Nudgee to the small creeks in Pumicestone Passage, everybody seems to be doing well. July mixed bag
If you're not a lure fisho, white bait on a set of No. 4 gangs and a 000 sinker cast against the current and allowed to float back past has been a favourite technique of mine when chasing lizards. Hardyheads and small blue bait also picks a few up as well. Boaties have also been cleaning up on good-sized flathead when drifting or slow trolling over sandbanks and weed beds.July mixed bag
There have been quite a few tagged flathead showing up too. With tagged fish it is important to take the time to collect the details that are specified on the tag and give these details by calling the phone number, which will also be written on the tag. A lot of people release tagged fish so they can continue providing useful data.
Of course, these fish also make a great table fish as well, and you're allowed to keep them if you wish, just make sure you report the capture. When you venture out around the flats during low tide, take a minute and look around you to see how many flathead lies there are, as the number of lies seen at low tide can be quite significant.July mixed bag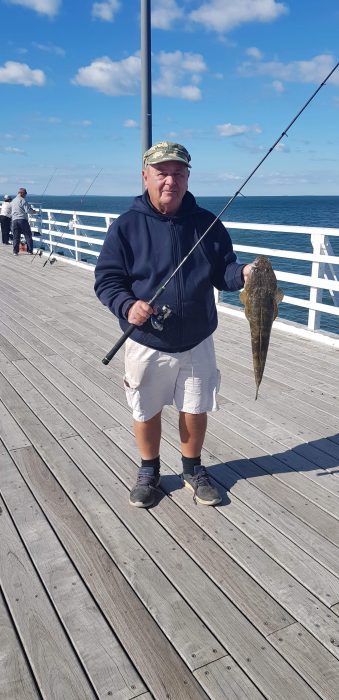 We have inspected approximately 150m of the foreshore and counted at least 60-70 lies in various sizes. Tammy decided to give Baxters Jetty a crack with Raesha. They snagged a discarded soft plastic and decided to have a go for laughs. Well, the laughs turned serious when she landed a cracking little flathead!July mixed bag
Plenty of other species were caught and released as well. Glenn has been at it again on the Shorncliffe Pier and has been catching plenty of quality bream and flathead. Glenn is traditionally a bait fisho when on the pier and is very successful. Glenn catches bream in the mid to late 30s, mainly by fishing under the pier with 000 sinkers or no sinker at all.July mixed bag
If you are out on the pier and see Glenn wetting a line, stop and he will happily show you his technique for pulling the bruisers out from underneath.  The best thing about flathead fishing is that people of all ages can get out there, soak a line or flick a lure in a few feet of water and come home with a feed. They are a reasonably easy fish to catch and they certainly satisfy at the dinner table!