Prewinter warmer – Well, that's about it for autumn and with winter knocking on the door, we can expect a mixed bag of weather. For now, the sun is finally out and with a predicted westerly wind and a brief drop in the swell, we could see a green light for the offshore crew. With the wind sitting strong from the southeast and consistent ground swell, the start of the week was on hold for most. With Friday the first offshore day for big boats, a few charters made it over the Noosa Bar to fish the local reefs in the 1.5m swell. Noosa fishing
Sunshine Reef is still holding a few pelagic fish, but the dirty water can make them hard to find. For anyone heading out, the best bait include unweighted pilchard on 5/0 Elkat gang hooks. To add more flash, try using a tinsel head – it catches any available light to help your offering stand out. Next in line would be a snelled rig on an 8-ball sinker fished hard on the bottom for the hungry reef species such as trout and sweetlip. These fish will be feeding hard as we approach the new moon, so make sure you are running 30-60lb leader because trout will take you to the reef in seconds. Noosa fishing
If wanting to try something different, we have fresh stock of spanner crab dillies in. With a few boat owners getting rewarded, it is always worth dropping one as they are supreme eating. Pop any crabs into a cold box or ice slurry and enjoy some fine crab meat. If you need help wetting dillies up, we can help you with rope and clips to get your started. Noosa fishing
Surf fishing is seeing the first of the winter pilot bream showing up. These old males are the prime brood stock and at over 40cm they should be returned after a quick picture. These fish are thought to go ahead of the main school only to return a short time later. If the returning numbers are significant, the school progresses forward. Regardless of this, catching one of these is something to enjoy because they resemble small snapper, and on the right rod they will fight very hard. Bait to use include pipi, worm and pilchard on light 6-8kg gear. Noosa fishing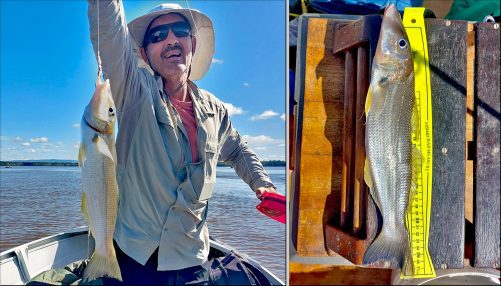 Did someone say flathead? Well, the Noosa River is the place to target them. Right now, good numbers are showing up around the mouth and sand flats of the dog beach. Given it's not their time for breeding, the amount of fresh in the upper reaches is what's probably bringing them down. You can expect to get them on herring, mullet, prawn, whitebait and worms. For those without a cast net, we have a wide range and offer help on casting for a successful outcome. Finally, don't forget that any fish intended for bait must be of legal size, so check regulations. Noosa fishing
With the fresh bringing flathead down, you can expect there to be a wide range of other species too. Trevally, bream and maybe mangrove jack will also be showing up. Lure anglers will do well with paddle tail Keitech plastics and soft vibes in the smaller 60-80mm sizes. Give these a good cast upcurrent and take your time to gently work them along the bottom. If looking for a great casting braid, the new YGK X-Braid is one of the finest braids around for sensitivity and distance.
Freshwater dams are still overflowing and with run-off still coming down from the hills, you can expect this to continue for some time yet. With the dirty water, slow-wound spinnerbaits are finding yellowbelly and bass. For those flicking edges, try using smaller suspending hard-bodies on 8lb leader. With the lack of sun and cool rain, you will probably have to rely on sounders to find the fish but once found, you can expect them to be hungry.
Now for all the latest information log onto www.fishingnoosa.com.au for up-to-date bar and fishing reports, don't forget to drop into Tackle World Noosa, Noosa Boating and Outdoors and Northshore Bait & Tackle in Marcoola for all the right equipment, bait and advice to get you catching. Be sure to follow us on Facebook and remember Tight Lines and Bent Spines!