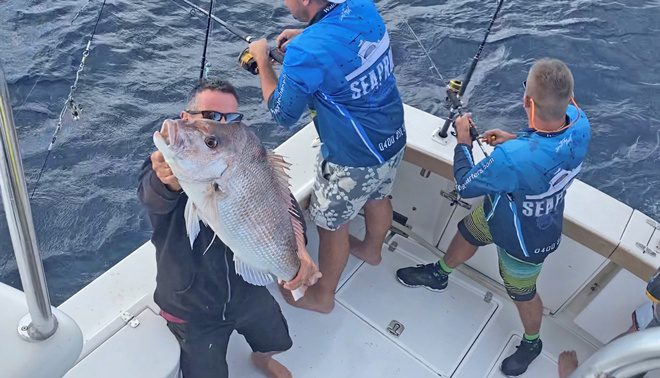 Hi Everyone, hope you have all had a good week, it was nice to see the great run of weather continue as we transition into Springtime on the Gold Coast, we will see the days starting to warm up and the fishing will continue to get better. Let's have a look at some options as we head into the weekend. Offshore Snapper
For the offshore fishos the hot Snapper bite continues with some consistent catches of big Snapper coming from the close reefs off both the Tweed and Gold Coast. Keeping an eye on the sounder is the key, keep looking until you can locate a good bait school or life to target. Bait holding around the reef will intern attract predators like big Snapper, Cobia and Jew Fish. Picking the current has been a bit of a lottery with constant changes daily, you will just have to adjust the size of your sinker to suit the flow. I always recommend getting a burley trail going to help draw in and attract the target species and then holding them in your strike zone, just a consistent amount but too much to fill them up. A good mixed bag of Pearl Perch, Moses, Tusk Fish, Maori Cod, Trag Jew, Spangled Emperor have made up the bulk of other species being caught. On the 36 and 50 fathom reefs reports of good catches of Snapper and bonus Yellow Tail Kingfish, Amberjack and Samson to give your arms a stretch. For those anglers heading out to the wide grounds for a troll you will always be in with a chance of landing a big Blue or Stripped Marlin and this time of year Yellow Fin Tuna can start to show up.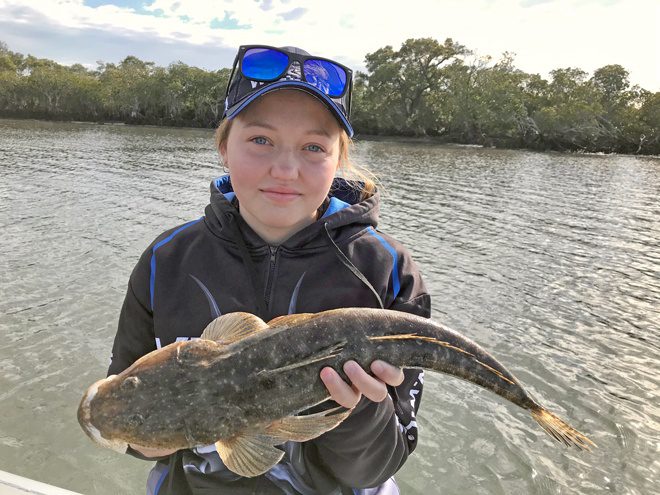 The warmer Springtime weather conditions will start a transition from cooler to warmer water in the estuary systems stirring up a few of our favourite target species like Mangrove Jack, Estuary Cod, Trevally and Bull Sharks. Again, bait schools will play a big part in the number of predators on the hunt for this time of year. Herring, Mullet and Garfish all make great live bait, if you locate schools of bait, it will be worth targeting that area. I have noticed quite a few Bull Sharks free jumping in the rivers, canals and main channels on the Broadwater and Jumpinpin the past few weeks indicating they are starting to get active; it will be worth targeting them. When you are targeting Bull Sharks freshwater Eel makes the best bait followed by Mullet or Bonito, a medium 20lb set up will handle most average sized Sharks, 50lb to 100lb nylon trace matched with a 6/0 to 9/0 hook will do the job nicely.
Anglers have been scoring some good quality Flathead this week on soft plastics and soft vibes. While targeting Flathead there has been plenty of Tailor getting stuck into the bait schools as well.  The early morning low tide has made finding fish in the gutters and drop offs a bit easier, on high tide you will have to cover more ground to find fish, they will sit in as little as a foot of water if there is bait to be had on the tops of sandbanks and along the mangrove edges. Jumpinpin has fished well around Kalinga Bank, Bedrooms, Crusoe Island, Tiger Mullet Channel, Eden Island, Jacobs Well and Cabbage Tree Point. The Broadwater has also been holding Flathead around the Never Fail Islands, Aldershots, Brown Island, Crab Island, Wave Break Island and the Gold Coast Seaway.
Brad from Brad Smith Fishing Charters reports seeing as I can't cross the border and fish the Tweed River, I have spent the week trying some different waterways. Apart from frolicking around the Broadwater I fished Currumbin Creek which is my local waterway and the Mermaid Waters canal systems. Using a combination of jigging and trolling lures we caught some Flathead, Bream, Whiting, Flounder, Tuskfish and Gt's. As it has been for the most of winter the Broadwater provided my clients with an abundant amount of good quality Squid.
Clint from Brad Smith Fishing Charters reports the Gold Coast Broadwater is fishing well for Dusky Flathead, Bartail Flathead, Flounder and Squid. This time of year, the Flounder are at their biggest size with the adult fish spawning in the Broadwater. They are delicious to eat and easily caught on Samaki vibes, Ecogear blades, and yabbies. Best areas to catch them are the main channel next to Ephraim Island, North Currigee and Labrador to Southport along the Western shoreline. I did a charter at Jumpinpin this week and we had a ball catching Tailor and Flathead.
Gavin from Sea Probe Fishing Charters reports some great catches of Snapper and Pearl Perch this week on the 50 fathoms on mullet and floating pillies, also on the 36s Parrot, Trag Jew, Moses Perch and in close on the 18s plenty of big Snapper. The secret is light line and leader and very light sinker.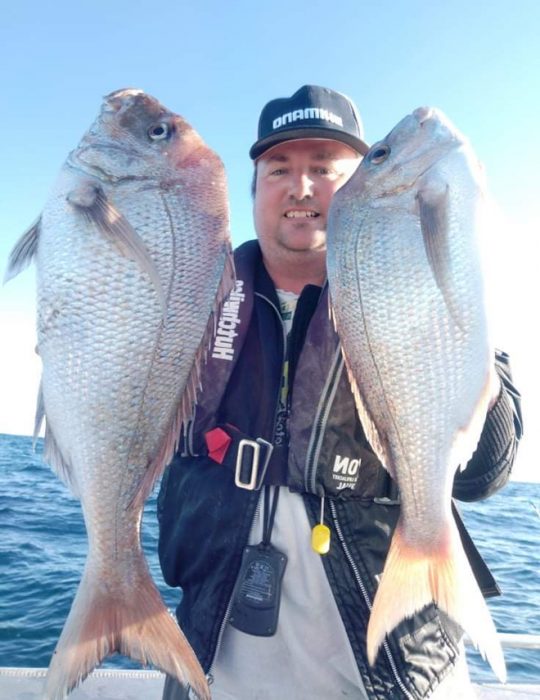 If you have any great catches or photos you would like to share, please email us and let us know how you went. brett@coomerahouseboats.com.au or brett@fishotackle.com.au
Stay up to date with all fishing regulations in Queensland https://www.daf.qld.gov.au/business-priorities/fisheries
Fisho Tackle and Coomera Houseboat Holidays now have Hire Tinnies follow the link to view http://www.coomerahouseboats.com.au/our-fleet-type/hire-tinnies/
Seabreeze is a great website to access a local forecast http://www.seabreeze.com.au/graphs/
Good luck with the Fishing.
Brett