End of winter
Well that's it folks! End of winter is here and it really feels like it's having one last go. As I write the morning temps are 7C and the skies are clear with light winds. To me this screams snapper especially with 2-3 foot of clean surf hitting the coast. Sunshine Coast Noosa
Offshore
The water clarity has been crystal clear and the best fishing appears to be in the deeper waters around the Banks and the Hards if looking for a big red. In close Sunshine has been holding very fat flathead which comes as a surprise. These bigger females have been reported as being very fat so if you do find one please consider returning them as we near their breeding cycle. Other regular catches of cobia, sweetlip, pearl perch and cod continue as do the occasional school mackerel. Schoolies have been on the bottom taking soft plastics, chrome slugs and even pilchards on gang hooks. If looking for a great slug then the TT Hard core is short and fat with great flash.
North Reef features smaller mid 40-50cm snapper, tuskies, pearlies, cobia and a few various cod and mid water cobia. Always have a pilchard floater out this time of year as everything will take one. Currently the pilchards are fat and very clean and perfect for 4/0-5/0 hooks sizes. The up and coming neap tides should see some great times to run a burley trail for those who sit on anchor. Be sure to pick up some tuna oil as this is the basis for any good burley mix.
Beach
Surf fishing has been picking up with a few good sized tailor getting caught along the gutters. The swell has possibly brought them in on the hunt along with the cold snap. One method to try is casting long slim hard body lures into the surf and wind and twitch them back with a medium fast pace for the bite. The new Berkley Pro Tech jerk 90 will also suit big flathead and trevally too.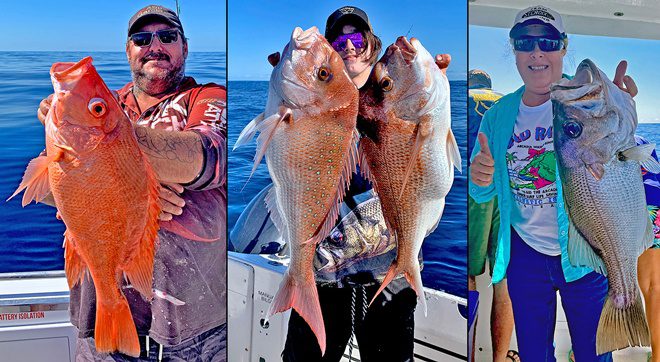 River
The Noosa River still runs super clear and flathead continue to dominate most daytime catches. These fish tend to be around the 30-55cm mark making them a great target. If you have yet to try soft plastics the humble flatty is a great first target. Be sure to look at plastics with inbuilt action like Powerbait grubs or Nemisis. Both of these are proven performers and when used with a fluorocarbon leader you will soon find the bites will come.  Stay around the mouth, the rock wall and the dog beach on the turn of the tide for success.
Trevally are still about and as things start to warm up you can expect to see them exploding on the surface first thing in the mornings before the boat traffic builds up. Both GT and big eyes will hit surface lures as well as tailor. This makes the next few weeks a great time to throw a few lures about. Try around Noosa Sound, Woods Bay and Munna Bridge. The ever popular MMD Splash Prawn is a great all round lure that works very well if you fish the flats for whiting.
Freshwater
The freshwater scene is still very much hit and miss. One day reports are amazing and the next the bite is quiet again. It is best to try everything in your power to locate the fish. Have sounders running in down scan and side scan, keep leaders as light as you dare and work edges exposed to the sunlight. Small weighted plastics like ZMan Slim Swimz on 3/8th jigheads worked through schools often gets the bite. For fish holding tight into structure a small jerk bait will often tempt an edge bite. Look at small Zerek Tango shads and even the Berkley Pro Tech bender in the smallest size. These often get hit on long pauses if you suspect there is a surface bit happening. It won't be long so get your casting accuracy up in preparation for the warmer weather just around the corner.
Now for all the  latest information log onto www.fishingnoosa.com.au for up to date bar and fishing reports, don't forget to drop into Tackle World Noosa, Noosa Boating and Outdoors and Northshore Bait & Tackle in Marcoola for all the right equipment, bait and advice to get you catching. Be sure to follow us on Facebook and remember Tight Lines and Bent Spines!
Click here for more Sunshine Coast fishing reports and tips!