Fast, easy and durable.
The Oztent Group again brings greater ease, speed, practicality and comfort to camping with the release of two Air Tents.
Known for innovation and design excellence in camping, the group's new Oztent Air Tent 6 and Oztent Air Tent 4 embody these credentials and support Oztent's desire to deliver awesome experiences to campers of many kinds.
Oztent Group chief executive officer Luke Eather said, "We concentrate on making smart high-quality products that are both comfortable and durable."
"They must also be fast and super easy to use – the less time you spend setting up and getting frustrated with your equipment, the better the experience will be."
While people may not immediately think 'air' when thinking of Oztent products, this is an exciting new direction for the group.
"It provides families with a generous space that can be set up quickly and easily while still being small and easy to transport," Mr Eather said.
"You simply peg them down, pump them up, kick back and create your own awesome experience."
Both tents use Oztent's rapid air frame technology, which was designed and developed in Australia specifically to endure our harsh, diverse and erratic conditions.
Combining robust high-quality air tubes with fast-flow valves, rapid air frame technology delivers high sturdy walls and a generous amount of space, with outstanding rigidity in all kinds of weather.
The Oztent Air Tent 6 is the ideal air tent for larger families.
When set up, it delivers over 50cu m – four horse floats – of usable internal space yet weighs only 28kg and packs into a heavy-duty wheeled case 100cm long x 45cm wide x 39cm high in size – less than 0.2cu m.
The internal space is extremely flexible, incorporating three bedrooms that can be reduced to two, one or removed completely if desired.
Beyond the bedrooms is a massive enclosed living area and, to extend the front coverage even further, the Oztent AT 6 comes with an additional zip-in awning for the front entry, making it more a homestead than tent.
Because of its size, the AT 6 has front and side entrances – both with overhanging awnings – and two massive screen windows.
They deliver lots of light and exceptional ventilation and all can be closed internally if the weather turns.
The Oztent AT 6 is great for longer-term stays at favourite camping grounds and holiday parks.
Other notable features include:
Three power cord inlets – one front and two rear – which zip tight to keep out unwanted wildlife, so internal lighting, appliances and tech can be located safely anywhere in the tent
Two internal power cord inlets for the bedrooms
Large light hooks in the living room and main bedroom
Internal privacy screens and doors between all rooms
Storage pockets in each side bedroom
Two sets of removable mesh hanging pockets, each with seven pockets for versatile storage and to keep the things you need close at hand.
The Oztent Air Tent 4 is the ideal air tent for smaller families of up to four and is perfect for quick getaways.
Also constructed with Oztent's rapid air frame technology, this fast, easy and durable tent sleeps four people comfortably and boasts an all-weather living area with space for chairs and a table.
Standing at 1.9m high on a 2.4m x 4.4m footprint, it packs down to about the size of a domestic pillow – 73cm long x 29cm wide x 26cm high and weighs only 9kg. You can keep it stored in your car boot for use at any time.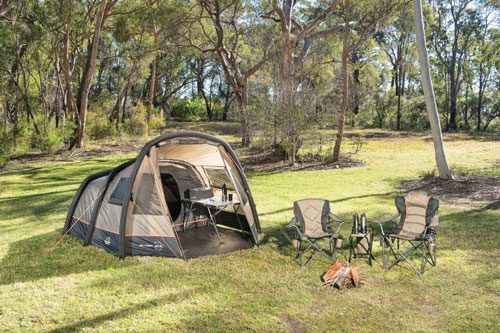 Like its larger sibling, the Oztent AT 4 has screen windows and an entrance for plenty of light and ventilation, all of which can be zipped shut internally.
The bedroom, which can also be removed completely if a single space is required, has two mesh double storage pockets, a light hook and an internal power cord inlet.
Externally, both tents come with reflective guy ropes for visibility at night, attached rope storage pockets and pegging loops that can be adjusted for firmness. Pumps are included with both tents.
The Oztent AT 6 will retail for about $2399.99 and the Oztent AT 4 for $949.99.
They are available through Anaconda stores nationally from Friday November 4.
For more information, visit www.oztent.com.au/collections/air-tents