IN the late 1800s, the Mary River, then called the Wide Bay River, was an important northern port and point of entry into the then-colony of NSW.
Its fertile banks and consistent water supply grew a thriving dairy and cropping industry and fostered a gold rush in Gympie until the early 1900s. The Mary is unusual for a river in Queensland. Unlike most everywhere else, the Mary flows in a northerly direction, from its headwaters in the Conondale Ranges to its mouth in the Great Sandy Strait near Maryborough.  It was the focal point of a bitter protest that gained international attention in the 90s to prevent a dam being built at Traveston Crossing, and continues to be an important preservation zone for some of Australia's most endangered turtle, fish and frog species.
The Mary Valley region, particularly the upper reach, has continued to grow and diversify over the years and has now become a major tourist destination in the Sunshine Coast Hinterland.  The river itself is a major drawcard for those who love the outdoors.  As it passes through the hills and gorges of Conondale and Kenilworth it provides stunning views of long, deep pools surrounded by tree-lined cliffs and sandy banks perfect for diving into for a swim.  It constantly changes from long, slow-moving sections to fast-moving and narrow twisty runs, which will provide a bit of excitement for paddlers travelling down the river.
You never know what you will find around the next bend!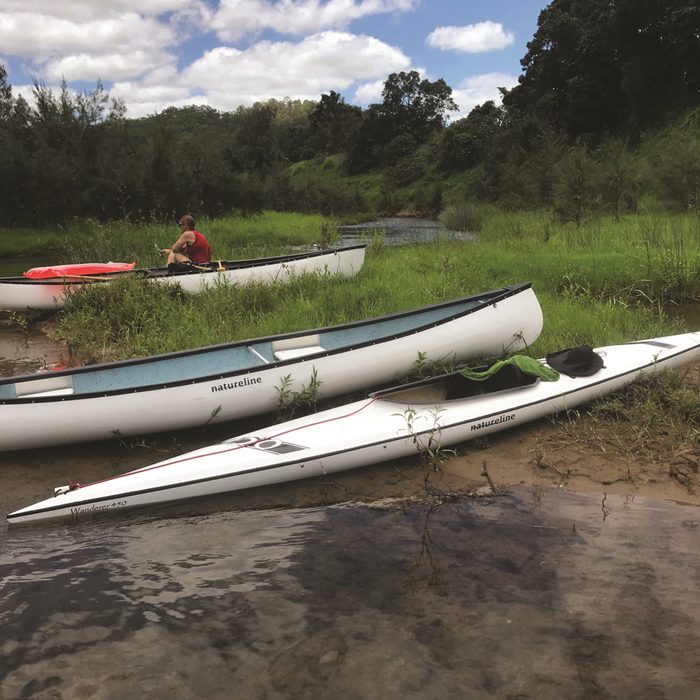 And that's why the Mary River is one of my favourite paddling destinations. What the Mary offers better than most other locations in Queensland is a trail. A trail offers a challenge and some excitement on a paddling journey. It gives a traveller a sense of purpose, a one-way journey through new country with new things to experience around each bend in the river. It's this sense of anticipation that make downriver trips so exciting, with the opportunity to spend two or three days on the river, paddling downstream and camping on the riverbank at night. It's like a Mark Twain book come to life.
Gympie Regional Council has recognised the potential of water-based trails and commissioned a study in 2015 to investigate the potential of establishing water trails on the Mary River and its tributaries. In its study the council has identified a range of water trails in the region to suit paddler capabilities from novice to advanced over distances ranging from 2km to almost 150km. The plan outlines a series of project stages to introduce regular river access points along with the necessary infrastructure at each, including all-weather roads, picnic shelters and launching ramps. To date, council has installed six new launch sites in the region, with three on the Mary River along the town reach section of Gympie and a further three in the townships of Imbil and Kandanga.
Plans are also well under way to have improved access points installed at Moy Pocket and Walker Rd bridges, opening up one of the most scenic and ecologically diverse sections of the river. With increased access to the river comes increased risk of damage to the delicate ecosystem. I asked the Gympie Council what we as users could do to ensure the long-term sustainability of this project. The answer I received was a timely reminder of the responsibility we all have to protecting our natural environment.
"Our waterways are unique, diverse and incredibly ecologically significant, and we want others to love them as much as we do. It will be very important for users to take an active role in caring for the environment they are paddling in, including taking rubbish with them, staying in the river, protecting our native species and their habitat and being safe."
While many of the proposed water trails may take some time to be formalised, the good news is you can already paddle in most of the stretches of river nominated. Here are a few of my personal recommendations for great day paddles on the southern section of the Mary River.
Moy Pocket to Walker Rd (11.5km)
This section of the Mary River is stunning! It consists of clear, deep pools overlooked by sandstone cliffs, with native timber interspersed with twisty and quick flowing gravelly runs. It's a short and reasonably challenging section of the river that should present no problems to paddlers with a bit of experience. Walkers Rd Bridge is not a great access point and has limited parking, though it may be OK to leave a car for a shuttle back to the departure point. Return trips on this section are not advisable. Another option is to carry on to Vic Olsen Bridge.
Walker Rd to Vic Olsen Bridge (15.4km)
Similar to the Moy Pocket section, but slightly longer and with similar conditions. Allow adequate time to portage canoes and kayaks through the gravelly shallow sections on low water. As mentioned above, Walker Rd is not a great spot to park multiple cars, so arrangements should be made to car shuttle. Return trips on this section are not advisable. Another stunning section of the river.
Vic Olsen Bridge to Traveston Crossing (22.2km)
A longer section but somewhat easier because sections between shallows tend to be longer and deeper. This section will suit experienced paddlers because 22km is a long way to paddle in a day. Access points at Vic Olsen and Traveston are good and have been established, if informally, for quite some time. As with the upstream sections of the river, allow time to portage canoes and kayaks through shallow sections of low water at times.
Traveston Crossing to Carlson Rd and return (14.6km)
An easy section of the river to paddle without having to organise a car shuttle. Traveston Crossing is a good place to leave a car and access to the water is easy. The river is wider in this section and as a consequence the current is not too strong for the return journey. It's still a pretty section of the river, with opportunities to see lungfish and turtles as you paddle along. The Mary is a seasonal river and as such river levels should be checked prior to departing on any section. Low water will mean a lot of carrying or dragging craft through shallow sections, which are often just too shallow to paddle through.
The reward however, is great. Few rivers in Queensland provide such an opportunity for an extended trip through pristine countryside. The Mary features an abundance of wildlife in and around the river that can't be seen in many other places, and the untamed element of the upper reaches will excite adventure buffs.
So, don't delay! Grab a canoe, kayak or stand-up paddleboard and get out onto the Mary River today. Because there really is something about Mary…
For further information on the Mary River and the canoe and kayak trails, visit gympie.qld.gov.au or call Natureline's showroom team for advice on this and other destinations on 0424 00 1646.