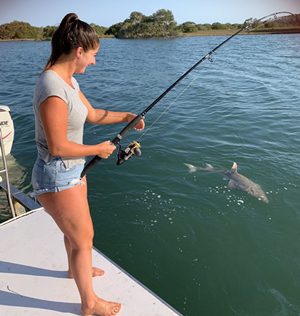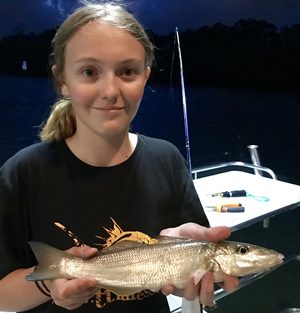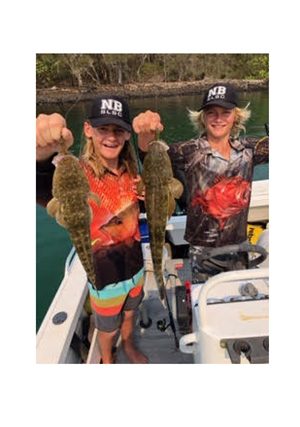 Hi Everyone, hope you've all had a great week, the wind has been persist on both the Tweed and Gold Coast blowing hard from the North then South it just can't make up its mind. Not a lot of rain on the forecast we may see a drop over the weekend. We have some hot windy Northerly's on the way for the weekend, let's have a look at some fishing options.
Looking for feed of Whiting would be a great option this weekend on the Tweed and Gold Coast, the Tweed River, Currumbin Creek, Tallebudgera Creek, Nerang River, Coomera River, Pimpama River and Logan River all offer you some good spots to hide out of the wind and chase a feed of yummy Whiting. Chasing Whiting is a nice relaxing form of fishing, great for young kids who can get invoked in gathering bait and winding in their catch. You only need a basic light estuary combo 2-4kg spooled 6 to 8lb mono,  run a long 6lb fluro carbon leader, size 4 to 5 ball sinker matched with a short shank size 6 bait holder hook for using worms or a size 4 long shank hook bait holder hook if you are using yabbies. Gathering bait is fun for the kids, pumping Yabbies or catching beach worms is a great experience.  You are looking for a spot that has good tidal flow with a sandbank on one side and deeper water on the other, just vary where you cast until you find the depth of water the fish are feeding in. Other species like Bream, Tarwhine, Grunter, Flathead and Jew Fish just to name a few are always an option and will put up a great fight.
Plenty of solid Mangrove Jack have been landed this week from the Nerang and Coomera Rivers. The Coomera River is still holding plenty of bait schools of Herring at the moment which is good news for anglers chasing Jacks, Trevally and Cod to name a few species on offer. The Nerang River has been fishing well around the bridges from Sundale all the way down river. Try targeting jetties, pontoons, bridges, rock walls and snags will be the best places to encounter a Jack or other species. Casting hard body lures or Zman 3' or 4' minnows are a popular choice, 30lb trace will be a good starting point to avoid getting busted off although you may have to upgrade to 40lb+ around heavy structure as there are a few submarines been getting around. Bait fishing is a very successful method and either Live or well-presented dead baits will prove irresistible. Herring, mullet and pike will work or mullet filet will also work a treat.
The Gold Coast seaway Pipeline has produced a few nice Jew Fish and Trevally this week, drifting through the Seaway and in the main Broadwater channel is also a good option.  Live Pike, Herring or Mullet are great live baits.  Large Zman Plastics, Micro Jigs and Switch Blades will do the job.  Best to fish this area the hour before and hour after the tide change when the tidal flow slows down.
Smithy from Brad Smith Fishing Charters reports on the Tweed fishing around the areas close to the Tweed River mouth has been tough again due to the huge amount of cornflake weed being carried in by the constant northerly winds that have been blowing. The mid to upper reaches of the river is the place to be for success. Casting mmd splash prawns and bassday sugerpen lures across the surface around the shallow flats has provided some great visual action on some whiting and bream. We had the opportunity to watch a huge flathead trying to swallow one of the Whiting my client was trying to land. The flattie was snapping at the fish all around the boat in about a foot and half of water it was dramatic to watch and shows what mean and aggressive fish flatties can be. Speaking of Flathead we have been getting a few but mainly very early in the mornings around the tide changes. During this hot weather period the water temperature has been getting a bit too warm for them through the middle of the day.
Clint from the Gold Coast reports this week a nice mix of fishing trips this past week for me with some night time Mangrove Jack charters, Whiting charters, day fishing up the Nerang River for Trevally, Grunter, Flathead and Whiting, and a few trips to the Broadwater. The bigger jacks are firing up more with the water temp exceeding 28 degrees in some places. We have had some monster fish hooked up for guests and soon we will stop one haha. The Whiting are not in big numbers yet but there are some decent ones around, our biggest this week was 41cm caught by Evan, who also caught a solid bigeye Trevally on a whiting rod with yabbie as bait. Some nice Giant Trevally are hunting baitfish in Nerang river, these bruisers are top fun on light tackle and definitely keep us on our toes. Trolling hardbody lures such as Pontoon 21 crackjacks and Savage Gear xdr 3d 50mm shrimp over shallow sandflats will often result in a savage strike and long sustained run on 6 lb line. The Ecogear ZX40 blades and Samaki Vibelicious 70mm soft vibes are still working well in 5-7m deep holes for flathead and trevally.
Hope you all have a good weekend and get out for a fish, if you have any great catches or photos you would like to share, please email us and let us know how you went.
New fishing regulations now effective fisheries Queensland http://statements.qld.gov.au/Statement/2019/9/1/new-fishing-regulations-now-effective
Fisho Tackle and Coomera Houseboat Holidays now have Hire Tinnies follow the link to view http://www.coomerahouseboats.com.au/our-fleet-type/hire-tinnies/
Seabreeze is a great website to access a local forecast http://www.seabreeze.com.au/graphs/
If you have any great catches to report or fishing photos please email them to  brett@fishotackle.com.au    Good luck with the Fishing.  Brett  solid Mangrove Jack solid Mangrove Jack solid mangrove jack