Ironman 4×4 introduces a new complete range of roof and tub-mounted racking solutions.
Roof racks and roof platforms are an important element of setting up our touring or off-road vehicles – they allow us to store additional bulky and necessary gear outside of our vehicle's cargo areas.
Ironman 4×4's new Atlas range of roof racks, crossbars, platforms and blade systems are designed to integrate seamlessly with wagon and ute cabins, canopies, and even Ironman 4×4's own Slide-Away electric tonneau cover.
Solutions to suit four-wheel-drive dual-cab utes
For our dual-cab ute customers, we have the most extensive range of options to allow you to set your vehicle up the way you need it.
For the cabin of your dual cab ute, we have vehicle-specific mounts that offer either leg mounts for use with traditional roof racks, crossbars or a blade system for use with platform range.
For the 79 Series and Jimny, there are gutter mounts available.
Crossbars are available in four different lengths and are sold in singles:
1.25m
1.375m
1.50m
1.65m.
Platform racks are available in three different widths and four different lengths across a total of six variations.
Platforms are affixed to the cabin using a reinforced blade system for optimal strength and looks.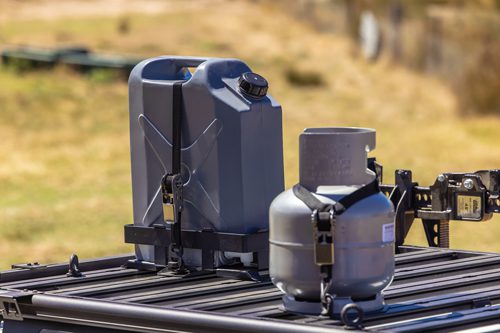 For use on dual cab utes, we have the following popular sizes to choose from:
1.24m W x 1.39m L
1.24m W x 1.53m L
1.38m W x 1.53m L.
For our customers who are sporting a canopy on their ute, we have an option of fitting either roof rack, crossbars or a platform rack supported on a set of legs.
Ironman 4×4 canopies offer a 90kg dynamic load-carrying capacity as standard both on and off-road.
Crossbars are again available in lengths of 1.25, 1.375, 1.5 and 1.650m.
Platform racks are also fitted to canopies via a pair of feet.
Ironman 4×4 recommends the same size options for canopies as we do for ute cabins and customers can match the best width and length to suit their vehicle:
1.24m W x 1.39m L
1.24m W x 1.53m L
1.38m W x 1.53m L
1.485m W x 1.39m L – custom canopies.
For customers who are running the Ironman 4×4 Slide-Away electronic tonneau cover, a blade mountain system is available which will allow for fitment of either a platform or crossbars above your tonneau cover.
The best size for use in conjunction with a Slide-Away is the 1.485m wide platform or 1.5m crossbar:
1.50m crossbar
1.485m W x 1.39m L platform.
Wagon options
For our wagon customers, we offer the same range of crossbars and platforms plus some longer platforms to suit… well… longer vehicles.
A range of vehicle-specific fit kits are available across popular models.
Crossbars are attached using a vehicle-specific foot-pack and pedestal combination – the most popular size for crossbars on wagon cabins will be:
When it comes to platforms for wagon owners, we have options for both sunroof and non-sunroof models, which would equally suit shorter vehicles:
1.24m W x 1.53m L – sunroof / short variant
1.38m W x 1.53m L – sunroof / short variant
1.24m W x 2.13m L
1.38m W x 2.13m L.
Crossbars – also known as roof bars and roof racks
The Ironman 4×4 Atlas Crossbars are fundamentally available in four lengths – 1.250, 1.375, 1.5, and 1650mm – however, the widest version only suits a handful of applications.
The Atlas Crossbars are constructed of extruded aluminium, designed with an integrated T-slot channel for easy fitment of a wide range of accessories and tie-down points, while each end also incorporated a tie-down point that will withstand the strongest ratchet straps.
The Ironman 4×4 crossbars are rated to 50kg per crossbar in a pair capable of 100kg.
But do us all a favour and check with your manufacturer what the roof load limit is for your vehicle – subtract the weight of the roof rack system and then only load your crossbars to the remaining capacity!
The Atlas crossbars paired with a fit kit are unlikely to be more than about 10kg.
Crossbars are attached with a pedestal either to a vehicle-specific foot-pack or mounting track ensuring seamless and strong integration to your vehicle.
The pedestals are also lockable for additional security.
Platform Rack – also known as flat racks and flat trays
The Ironman 4×4 Atlas Platform Rack is constructed of extruded aluminium beams, secured within an extruded aluminium perimeter.
The rack is designed with the beams running perpendicular to the vehicle – side to side, rather than front to back.
This setup makes for easier loading and securing of cargo, with far less chance of longer items dropping down and hitting your roof.
The Platform Racks are available in three different lengths and three different widths across a total of six variations to ensure an application that suits your needs.
Platform Racks are perfect for carrying a huge range of accessories and loads including gas bottles and jerry cans, swags and soft luggage, spare tyres, and chainsaws.
Atlas Platform Racks are secured to most vehicles via a reinforced stainless-steel blade and can be affixed to an Ironman 4×4 canopy via a pedestal mount.
The full specifications can be found on our website ironman4x4.com
However, the crux of it is that these platforms are going to be stronger than any vehicle or fiberglass or ABS canopy roof load limit.
For steel canopies, you can expect to hold at least 100kg dynamically.
A platform kit, including all mounting hardware weighs between 24 and 39kg.
It is imperative that you subtract these total weights from the total roof load limit outlined by your vehicle's manufacturer!
Loud noises
Roof racks will inarguably add some additional noise to your vehicle.
If you have been told someone has a 'silent' one, they are confused, or it's mounted to their canopy and they can't hear the additional noise it's making in the canopy.
All options within the Atlas system have been tested and are designed to minimise this noise as much as possible.
Taking a closer look, you will see a small unintrusive but very effective wind deflector under the front leading beam of our Atlas Platforms.
Additionally, the soft rubber inserts in the front and rear T-slots are provided to reduce wind noise.
Finally, the rack can be adjusted in its position forward and backward up to 20mm once installed to find the sweet spot!
Bolt it down
Something this good looking needs to be bolted or it might go walk-about!
We've not spent the past few years with our heads in the sand, we understand the concerns over how roof rack solutions are attached to the vehicle and rest assured that in most cases we are able to utilise hard-mount fixing points that are already installed by the vehicle manufacturer.
Where this is not an option, a customer track mount has been developed and secured to the vehicle for a robust and dependable mounting base for your Platform Rack.
Atlas accessories
The Atlas accessory range is designed to safely secure accessories and cargo to your roof in transit.
Using the existing accessory slot on your Crossbars or Platform Rack, the Atlas accessories provide an easy way to carry anything from a gas bottle and jerry can to timber or even a spare wheel.
Keep in mind that Crossbars and Platforms each have their own advantages when it comes to carrying gear.
Crossbars are typically better for mounting rooftop tents and awnings or transporting longer items that can span between the two roof bars, such as timber, swags, recovery tracks and such.
Whereas Platforms are a great base for carrying a huge range of accessories and loads including gas bottles and jerry cans, swags and soft luggage, spare tyres, and chainsaws.
For more information, visit ironman4x4.com