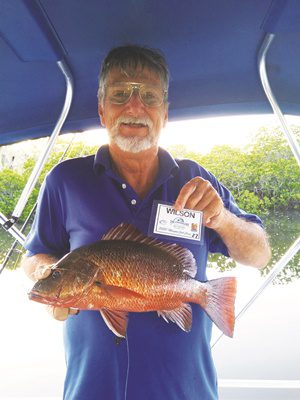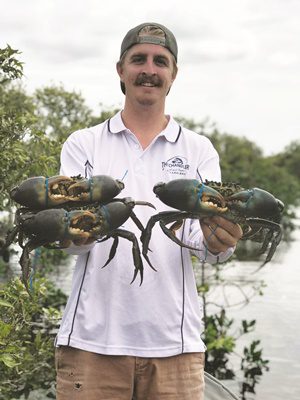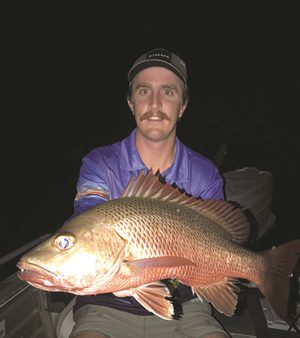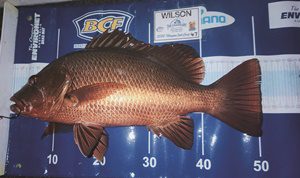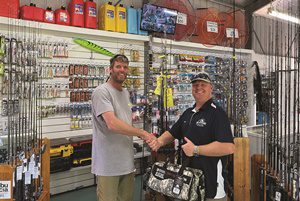 G'DAY fishers. I hope you've been keeping well and have been able to get out to catch a couple of quality fish.
Our catch and release 2020 Mangrove Jack Fishing Competition wrapped up recently and boy, what a close finish it was! As we said at the start of the comp, it was going to come down to the time the quality fish caught were registered.
And it rang true at 3.19am on the final day, when Simon Williams sent me a message via Facebook with his latest upgrade. Good job I was actually awake mate, but that's another story. Simon said he was just about to pull the pin but decided to sling out the last of his live bait, with little hope of a quality fish because of the very slow night he'd been having.
Simon said as soon as the poddy mullet hit the water it was game on, and after a short tussle he reeled in a 50cm-plus model, securing him the top spot. As it turned out, this was the last fish measured in for the comp. For the final weeks of the competition, we had a huge amount of rain at Tin Can Bay and some very dirty water flowing as a result, but the diehards got out there and fished hard.
The jacks were loving the dirty water and turned it on. Mitch who works in the shop had one session boating 25 mangrove jack, with only three under 40cm and the biggest coming in at 51cm. So, who won what and what was the biggest fish for the comp?
The longest total bag was won by Simon Williams with 152cm. Simon took home the Blade N Tails and ATC Virtuous reel combo as well as a Wilson tackle bag loaded with tackle. The largest fish was also taken out by Simon with a 51cm jack, earning him the B.J.'s Custom mangrove jack rod. Though Simon's was not the only 50cm-plus jack of the comp.
The mystery length went to Joe Cox with a 43.5cm model. Joe won a half-day charter with Great Sandy Straits Sport Fishing.
Also worth a mention is Mitchell Cooper who had a total bag of 151cm and took out second largest bag, and Ron Cox who came in third with a total bag of 147.5cm.
We had 64 registered anglers take part in the catch and release competition, with a total of 95 fish registered and most of the crew managing to upgrade a number of times. All the anglers said plenty of jacks didn't make the cut. The fish we saw were fat, healthy and in great condition, with 40cm fish pulling like 50cm models and 50s like 60s. A great sign of the mangrove jack fishery we have here in Great Sandy Strait.
Going by the final total of full-registered bags, we calculated 17.54m of mangrove jack end to end – and that was only 39 fish. That is one big red line!
Due to the success of this year's comp, we're looking forward to the 2021 Mangrove Jack Fishing Competition. It will be a blinder, so we expect to see more anglers registering for the contest next year.
Thank you to our sponsors for providing such great prizes in this quality fishing comp – Wilson Fishing, Brodie Spedding from B.J.'s Custom and Jonathan Mallard from Great Sandy Straits Sport Fishing. We would also like to thank the competitors who helped make the event a resounding success.
Now to what else has been caught in Tin Can Bay over the past few weeks. Despite the dirty water, we have had reports of good-sized squid catches. The Lady Woodward has been a hot spot and the Yamashita W A R jigs have again been slaying. Good catches of mud and sand crabs have been on the cards and don't our crab pots know it.
Don't worry, we always have plenty in stock. Barramundi have also been loving the dirty water, with a mixture of live bait and luring producing quality fish. To date, the biggest I've been told about was a 106cm fish that took a live mullet. Recently, only a handful of days have allowed most fishos to get offshore, and when they did the reports of spanish mackerel were good. The only problem was the taxman, yet again.
Mixed tuna schools appear to be everywhere out the front, so the sashimi is a little hit and miss depending on the species you find yourself connected to. Reef fish were playing the game and good-sized snapper, tuskfish and grass emperor added to the welcome fare. Just an FYI, anyone who has good fishing and boating pictures of the Tin Can Bay area, feel free to send them in to chandlery@bigpond.com 
We love to see what you've been getting up to. And don't forget, we run a monthly fishing photo competition on our social media forums, with a $100 in-store credit up for grabs every month for the best photo submitted of any species. Check out our Facebook and Instagram pages to view previous entries and winners, then get out there, catch a couple and send us a pic for your chance to win.
Well crew, that's about it from Tin Can Bay this month. We hope you get out for a fish in coming weeks. Find us at Tin Can Bay Marina, Emperor St for all your boating and fishing needs.
For more Tin Can Bay action, click here!
Cheers and tight lines.