The perfect recipe for creating a delicious smoky pork brawn.
Ingredients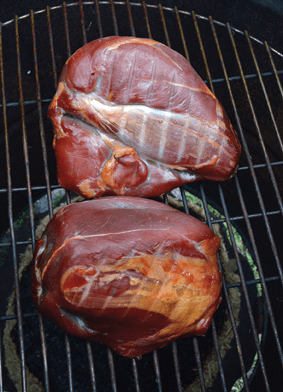 1 pig's head
2.5kg corned beef shin
1kg venison silverside
1 tbsp Keen's curry powder
1 tbsp Keen's mustard powder
1 tbsp marjoram
1 tbsp thyme
1 tbsp freshly chopped garlic
1 tbsp ground black pepper
2 tbsp salt
4 medium onions, finely chopped
Method
Place pig's head, beef shin and silverside in a boiler and cover with water. Bring to the boil, turn cooker to low and simmer until meat falls from the head.
Drain water off the meat, keeping it to use as stock.
Remove the skin and all bones from the inside lining of the pig's mouth and discard. Dice meat from head into 1cm portions and fat and skin into 0.5cm portions. Dice venison silverside and beef shin into 1cm portions.
Place meats together in a large container.
Add remaining ingredients to the container of meat and mix thoroughly. The meat will crumble and combine with the herbs, spices and onion.
The meat needs to have a moist texture and consistency. Add some water from the stock if the mix feels dry. Add a 1/4 cup to start with, then mix again and check texture.
Place a 5cm layer of mixture in setting tins and evenly compact with fingertips. A slight bit of moisture should rise out of the meat when pressed.
Repeat the layering process and compress each layer with fingertips until your meat press is 1cm from the top of the tin.
Refrigerate for four hours to allow jelly to set.
Remove from meat press and serve.