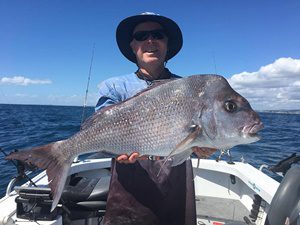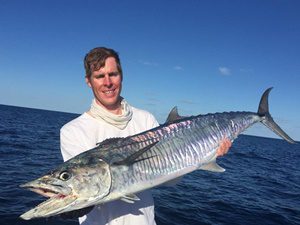 G'day everybody, I hope you all enjoyed the Australia Day long weekend and managed to spend some time on the water. Unfortunately it's looking like we will be in for another breezy weekend with consistent 15 knot southeasters forecast Saturday through Sunday. Luckily there are still plenty of opportunities to fish the southern end of Moreton Bay when there is a bit of wind around.
Over the past couple of weeks there have been consistent reports of snapper, grass emperor and cod coming from the Southern Bay islands as well as the shallow rubble flats that run from the Huybers light, right down to Cleveland Point. Anglers throwing lightly weighted soft plastics like 3.5" RT Shads or 4" ZMan StreakZ having been doing well during long drifts across rubble and weed bottom in 2-3 meters. These areas are best fished on the making tide and when the sun is low, so it might be worth having a crack this weekend on the lead up to the 8am high. Anglers fishing baits in the same areas have been having success on lightly weighted flesh baits and large banana prawns fished on the edge of the flats or in the deeper holes. The bait fishers have been accounting for some of the better sized grassies but are having to work through a lot of small fish to find them.
There have been plenty of reports of surface feeding longtails in the Northern Bay, from Tangalooma right down to the paddock east of Mud Island. If you travel out this way chasing them, it pays to bring the heavy gear as there are sharks hanging around most schools of fish. When targeting longtail tuna with lures, good boat positioning and accurate casting is essential. Try and position yourself upwind of the fish and blind cast small baitfish profile lures such as 20-40g Metal Slugs or Bassday Sugapen 95s as they feed towards your boat. If the fish are not interested in lures, drifting live baits around surface feeding fish or deep bait schools will often produce a bite. Fingers crossed that the couple of days of Southeasters forecast will be enough to clear up the water and push some pelagic further down into the Southern Bay.
A bit further afield there have been plenty of good fish taken offshore including decent spanish and small yellowfin tuna from around the Group and on Sevens Reef. Slow trolled live and large dead baits have been most productive on the spanish but it often pays to mix things up if you're marking fish and not getting bites. On the offshore scene there were also a few half decent snapper and pearlies taken early last week from the 80m+ ground north east of Flat Rock. Unfortunately, between now and then the current has picked up significantly and is currently fluctuating around 3 knots which makes fishing these deeper areas difficult. When the currents running hard it can be worth heading into the shallower reef to target parrot or trolling around out wide for wahoo and dolphinfish while looking for new ground.
I hope you all have a great weekend and get into the fish
Nick
Wellington Point Marine
3207 2235