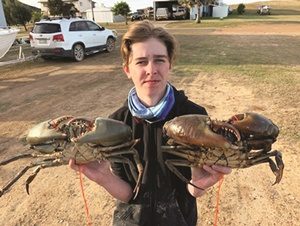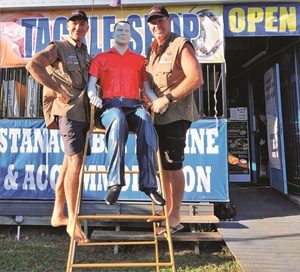 HI to everybody from Stanage Bay. The fishing during October at Stanage was very slow, with a heap of barramundi and fingermark being spotted, though not many actually landed. Several anglers found success using dead bait, however lures and live bait were also successful on occasion.
Chris caught a dream catch saltwater barramundi in late October using a live mullet as bait. At 119cm in length the barra was returned to the water. The fishers continued to catch more barra and grunter, keeping a few for the table. Stanage Christmas
Anyone coming to Stanage is welcome to call in and see me at Stanage Bay Marine, and I'll let you know of the local catches where possible and what fishers have been up to. Crabbing has been very quiet, but as we've had a bit of rain recently, they'll be flushed out in time for the beginning of our real crabbing season.Stanage Christmas
Outside and reef fishing has also been a little quiet, with only small suitable weather windows. Yet, we had a couple of guests catch fish every day bar one because they were touring around looking for new areas each time they went out.Stanage Christmas
On a windy day, a few of the fishing groups that come to Stanage appear to sit and wish they could get outside in their boats. Though, it is well worth the effort of going for a walk along our wonderful beaches or taking a rod and chasing tuskfish and other delights off the rocks on the incoming tide.Stanage Christmas
We have seen great fish being caught by anglers off beaches over the years, and what better pastime than relaxing on a deserted beach and maybe even catching a fish? You could explore our bat caves or meander on the rocks at Spider Bay at low tide, searching the rock pools and around small rocky sections could reveal an abandoned spider shell.
How cool that we can find these shells on our beaches? Earlier on this year, the team from All 4 Adventure – Jase, Simon and crew – spent a little time in and around Stanage and, as I understand it, this will feature in Series 12.Stanage Christmas
Hopefully, they will be displaying footage of the local area and maybe even a bit of a fishing – showing what Stanage did or didn't produce while they were here. For what it's worth, I spent a little time with the crew and found them very genuine down-to-earth people, with a passion to show off what they see while they're living the dream.Stanage Christmas
Stanage had a bit of rain towards the end of October and, in preparation for the upgrade and future bitumen, the road in has had new culverts placed along part of it. Until next time, tight lines and please remember the barramundi closed season currently in effect.