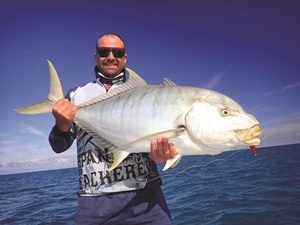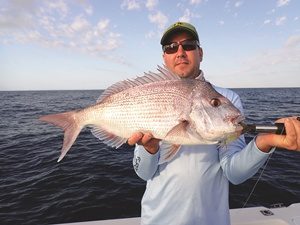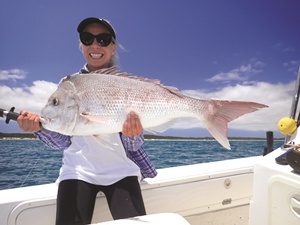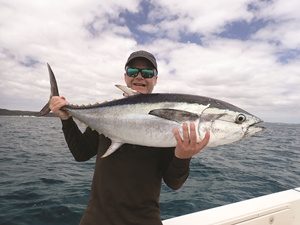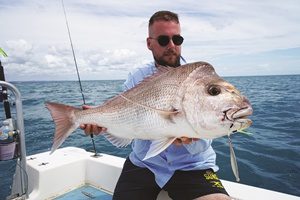 THIS month I found myself sitting around whinging about the weather. The spring northerly wind has given me plenty of time to get my article written and in on time! We've had plenty of storms, so I hope many areas are getting decent rain.
Ironically, I spend most of my year hating rain because my house turns into a swamp, but back to fishing. Fishing over the past month hasn't been great and big numbers of fish marauding bait on the surface haven't been a feature. You would expect mack tuna by now or maybe even a few spotted mackerel. Hervey pelagics
Tuna were seen near Rooney Point but mostly flighty and not easy to catch longtail and mack, with many sharks in tow. The marlin we catch by the point have been getting a short tow into the shallows for release. I don't do the 'angler-in-water' photo because we aren't fishing from the shore.
Near Rooney Point particularly, I bring marlin into the boat because I can see sharks on the sounder. Lowrance side imaging often shows 3m and larger grey suits waiting in water deeper than 6m, which is concerning when leading a marlin boat side. The unthinkable hasn't happened yet, though I believe it is only a matter of time.Hervey pelagics
We have had marlin eaten before but not at the boat. I feel sharks are less likely to eat marlin because they spend much of the fight on the surface, similar to longtail, but if you release a weak fish to swim deep, I'm almost certain of the outcome.Hervey pelagics
Recently I found trevally roaming near the point and though they hooked up, not one fish was landed due to the sharks making sure the fights were very brief! I have spoken about it many times before – fish that battle deep are more likely to get taxed. So, with the no show of surface schools, I targeted fish deep.Hervey pelagics
My only option was to search for small schools with a smaller shark school following. Occasionally, one lone fish was targeted. The bigger the school of fish, the higher the probability of sharks. In saying that, we still lost fish.Hervey pelagics
One day of note was when we had a big golden trevally eaten, though not long after a large snapper was landed by my wife. Speaking of snapper, they were making a strong show recently, with several quality fish hitting the deck. They were eating plastics, vibes and even jigs.Hervey pelagics
We found them mixed in with schools of longtail, trevally and school mackerel. It was a great last-ditch show by them over October and November, so I've included pictures of them.