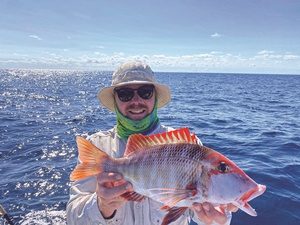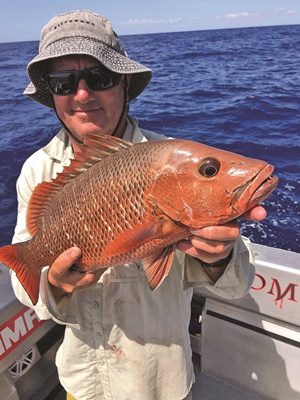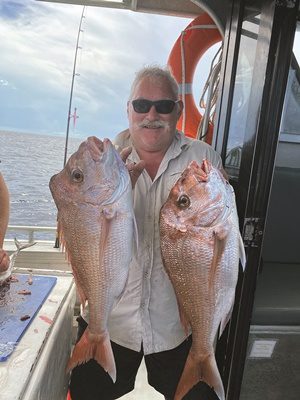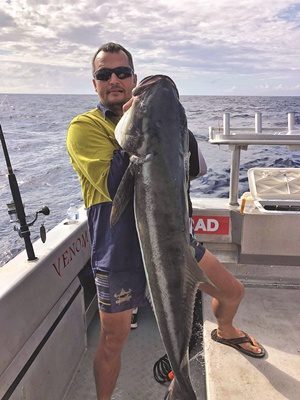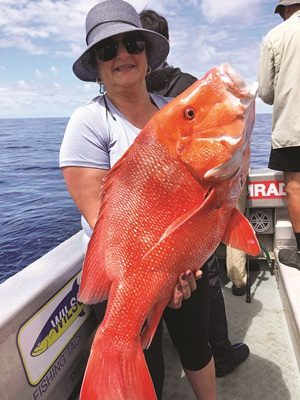 I HOPE you have all been keeping well and smacking a few for a feed lately. So, what's happened in the bay this past month? Well, thumper whiting have been caught, with consistent catches of cracking fish up to 38cm.
Christmas feed
Customers fishing the mangrove lines at creek mouths on incoming tides have been doing well, but the first couple of hours of the run-out tide has also been producing. Live yabbies and worms have worked a treat. Kauri Creek was the hotspot over the past few weeks, with plenty of fishers reporting that they had caught their bag limit of fish.
Flathead have made themselves known recently and bigger models have bumped up their activity, with catches of nice specimens in the mid to high 80cm range. Fishing the last couple of hours of a run-out tide, as bait drains out of the mangroves or off the flats and targeting the draining points should see you find a few fish.Christmas feed
I also like the first few hours of the flood tide and targeting the flats as bait begins to move back onto the flats. The hot seller in the shop has been the Biwaa Deus Paddle Tail 4″ in Pink Ice and rigged on a 3/0 size 1/4oz TTs jig head. For anglers who enjoy trolling, the Samaki Redic Jerkbait MS60 has been getting the job done and the two stand-out colours have been Pink Lady and Pearl Perch.
Mangrove jack are also starting to fire up as the temperature rises. Bird Rock has been producing the goods early in the season and a few anglers have reported barramundi as by-catch. Good sized estuary cod have been on the chew and mixed in with decent Queensland groper.Christmas feed
Snag bashing the upper reaches of Teebar and Kauri creeks with hard-bodies and skipping soft plastics under structure has also been producing quality mangrove jack. Queenfish have been on the chew in the Great Sandy Straits and 1m models are being caught.
Live baiting around Inskip Point on a bigger tide with lightly weighted bait has been generating. Reports have come through of large numbers of both longtail and mack tuna along with school and spotted mackerel in the Straits. The bait has been small, so 10-15g Halco Twisty lures or a 1/0 Clouser Minnow are going to be the best bet for making your cast count.Christmas feed
Mud crabs have been a little slow this month, with most fishers saying many are just undersized though with full shells. This is good as they're only a few weeks away from being legal, so muddies for Christmas look possible, though sand crabs are a little patchy from all accounts.
Offshore fishos were treated to quality catches of coral trout, with a mixture of slow pitch jigging and live baits around the Pinnacles working. Catches of tuskfish, snapper, redthroat emperor and nice reef mangrove jack have been coming from further afield.Christmas feed
Pelagics have turned up too, with solid catches of cobia, amberjack and kingfish using live bait and knife jigs. There have even been a few black marlin making an appearance out wide. Inshore wrecks such as the Taipan Star have been the go-to for cobia recently.
Using slow pitch jig or 5'' jerk shad style soft plastics have resulted in anglers getting buckled by good fish. The trick is to try and get past the tea-leaf trevally – that can hang around in plague proportions at times – and if you do there's a good chance of getting a few nannygai or jewfish.Christmas feed
Well, that's all from me for this month. Pop in and tell us your latest 'the one that got away' tale, or if you landed it throw your picture up on our Facebook page for your entry in our monthly fishing photo comp! The Chandlery Bait and Tackle has all your boating and fishing needs.
For tips on catching a Christmas feed further south, click here!
Cheers and tight lines.